Mon., Dec. 20, 2010
Just enjoy UConn's streak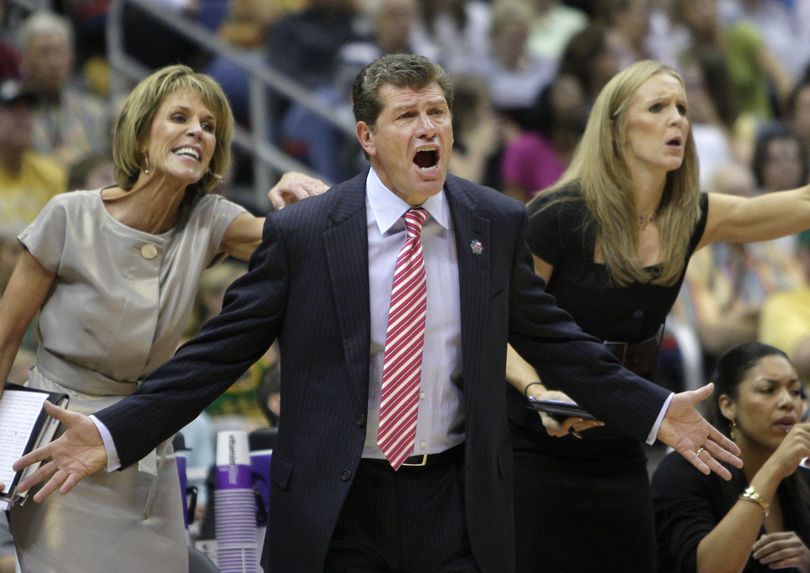 It's been interesting as the UConn women's basketball team neared, has now tied, and will soon pass the record of 88 straight wins achieved by the UCLA men's team when I was young enough to be influenced into becoming a sports writer.
What we have here is a bunch of fruits comparing apples and oranges.
When talking records, eras and different sports have always been compared, even if it is an apples-to-oranges discussion. Whoeve has a connection to the side nearing or breaking a record think it's a positive comparision, those who oppose take an opposing negative view.
The UConn women beat what was supposed to be a formidable opponent, Ohio State, on Sunday. The game wasn't interesting but Husky coach Geno Auriemma (above,when the Huskies were winning the NCAA title last spring) was. He called out the "miserable bastards" who are "pissed" a bunch of girls are challenging a men's record.
I'm not sure what Auriemma hoped to accomplish with his tirade, but he's right, you know.
Of course plenty of folks have weighed in, and you can pick up some of those opinions right there with the Auriemma story or you can surf for them on your own (you can start here) The reaction from some former UCLA players was interesting, especially a comment from Bill Walton.
I have always enjoyed women's basketball. Maybe that's because I never had a daughter but wish I did or maybe it's because I wasn't a very good basketball player so I can't relate to the high-flying men's game. The secret to enjoying the game is to not compare men and women. (if basketball is a fruit, then men are from Venus and women are from some other planet, right?)
My job has always included covering female athletes and even if they don't run as big, strong and fast as their male counterparts they're still good athletes, competing against their equals. There are more good male athletes, if only because more males play. So there are more good games involving males than females but I have to challenge you: How many games have you seen that were better than the Stanford-Maryland regional final at the Arena in 2008? And which boy's or men's game would you like me to single out as one of the all-time worst?
I remember a Stinky Sneaker game at the Arena four years ago ... Angie Bjorklund was the best basketball player in either game that night, even if she wasn't the best athlete in a mano-a-mano matchup.
There are many who don't like the women's game, which is fine, but those who go out of their way to bash it, I can't understand, nor can I respect. I hear the negatives all the time, especially with the 24/7 electronic bombardment. It's discouraging to hear the comments, which goes against what my mother taught me: If you can't say anything nice, don't say anything at all. But I understand, I'm not always nice and many of my friends and peers make the same degrading comments. But this was a tweet I just received under my women's basketball search: "hey geno auriemma...anyone who follows mens basketaball doesnt give a rats ass about womens basketball. sorry, shutup, no one cares."
Funny thing is, John Wooden, the late UCLA coach, was one who enjoyed the women's game. And if that wasn't true, he was kind enough not to belittle something else in a midguided effort to enhance his own legacy, which, by the way, needs no enhancing.
Auriemma said all the right things in the build up to win No. 88. Finally, though, the mouths that couldn't leave well enough alone got to him.
The good thing about the streak, positive or negative, is that people are talking about it, as Carolyn Peck pointed out.
The Huskies will break the record Tuesday against Florida State - which just lost to an Ivy League school. I know I'd be watching it if I wasn't at Gonzaga's game against BYU Tuesday night. (The Zags are 6th in LeftCoastHoops rankings - and I disagree with the change at the top.)
Quite simply, an all-time successful streak in any endeavor is amazing. I'm not sure I could win 88 games of HORSE if I was playing by myself.  
Do you have an opinion?
---
---