Wed., Dec. 29, 2010
Local duo come up big in win; GU faces No. 16 Irish in Seattle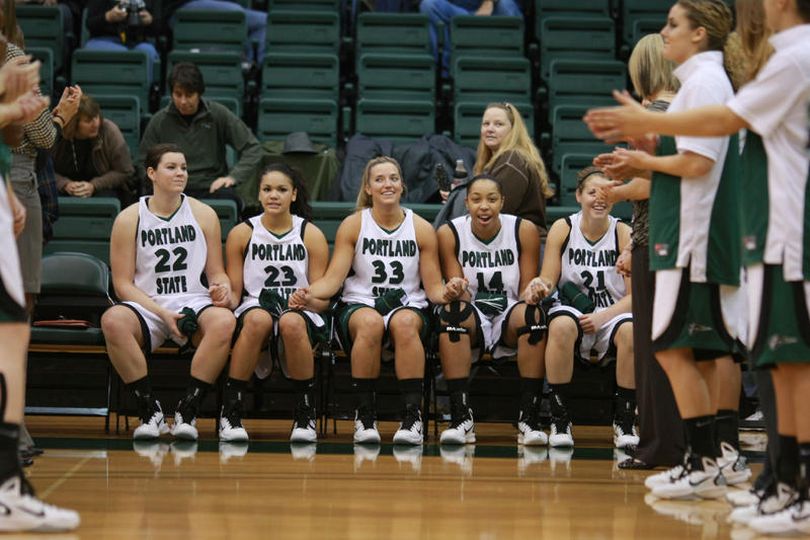 Due to a breakdown in communications in the communications business, the women's basketball notebook didn't get posted. But in addition to adding that link, we've got a few others for you.
The focus of the notebook is Portland State's two seniors from Spokane, who open Big Sky Conference play next weekend at Eastern Washington. Kelli Valentine (No. 22, Mead) had a memorable night and Lexi Bishop (No. 33, Shadle Park) a clutch game as the Vikings rallied past Portland and Tara Cronin (G-Prep), who had 14 points, by two last night. More notes follow.
Jayda Evans of the Seattle Times has a quick look at the point guard matchup between Gonzaga and No. 16 Notre Dame. They tip-off at 4:30 today at Key Arena in Seattle. There is also a story from the South Bend Tribune. Both teams have lost three games to big-name opponents. GU lost to USC, Stanford and Mississippi; Notre Dame to UCLA, Kentucky and Baylor. The difference is Ol' Miss and USC are not ranked, which is why the Zags dropped out of the Top 25.
Freshman Kate Loper (Post Falls) had a nice game but her shot at the buzzer missed and Hofstra lost a tough one at San Diego.
On the national scene, No. 8 UCLA suffers its first loss, at home against LSU, and Stanford routs visiting Xavier in a Top 10 matchup. Now the focus is on UConn at Stanford on Thursday. The Cardinal handed the Huskies their last loss 90 games ago ... in a game The Spokesman-Review covered of all things.
For more on the goings on in Seattle, Pac-10 and the UConn-Stanford tilt, go to the Jayda Evans' blog or LeftCoastHoops, courtesy of Michelle Smith.
Can't find a way to link the story, so just for fun, here's a look at history.
By Dave Trimmer
TAMPA - The Candice Wiggins and Maya Moore Showdown was every bit as good as the pre-game billing.
The difference is Wiggins is a senior with a far superior supporting cast, which is why the Cardinal reached the championship game of the NCAA tournament with an 82-73 win over top-ranked Connecticut on Sunday night in the St. Pete Times Forum.
Moore did what stars do, but despite 20 points, the freshman couldn't do it herself and she couldn't do what Wiggins did – which was give the Cardinal a date with defending national champion Tennessee in Tuesday's title game.
The Huskies (36-2) cut Stanford's seven-point halftime lead to one at 47-46 with 14:07 to play. Then Wiggins hit back-to-back 3-pointers from the right corner to kick-start a 10-0 run.
"I was kind of struggling in the beginning of the second half and they went in a zone," Wiggins said after scoring 25 points, grabbing 13 rebounds and dishing five assists. "I just caught it and made a few 3s. I think that really helped our team's confidence, where the pressure wasn't really on us."
Stanford (35-3) never allowed UConn to get closer than five the rest of the way.
"I knew we could get here," Stanford sophomore guard JJ Hones said. "Our coaches had an amazing game plan. … They placed their jobs in our hands by making sure we knew the game plan, and obviously we executed."
The pace was just right for the Cardinal, who raced to a 40-33 lead at the half against a team that gave up 51.5 points a game. Stanford became the first team to crack 80 against Connecticut this year and the second to break 70.
"The thing that's driving this team is the fact we don't want to stop playing with each other," Wiggins said. "We got killed by Connecticut back in November, absolutely killed. They changed the whole dynamic of our team. We grouped before the game and we said, 'Let's see how much better we've gotten.' "
Kayla Pedersen, a 6-foot-4 freshman, added 17 points, 6-4 sophomore Jayne Appel had 15 with 10 rebounds and Hones had 11 with a game-high six assists.
Stanford had a 43-37 rebounding edge over a team that outrebounded its opponents by almost 12 a game.
Hones also started with the defensive assignment on Moore, which kept the 6-foot-1 All-American from getting off a shot until more than 6 minutes elapsed in the game.
Just as big, in addition to reserves Jillian Harmon and Jeanette Pohlen taking a turn dogging Moore, they helped on the offensive end. Harmon had nine points and four boards, three on the offensive end, and Pohlen had two points with a pair of assists. The 11 points is more than the Cardinal got off its bench in two games in Spokane last weekend.
"They didn't make too many mistakes today," UConn coach Geno Auriemma said. "I think the first 10 minutes set the tone for the game. … We shouldn't have played like that today … we didn't do enough to make them play more defense."
Moore led her team with nine rebounds, three blocks and two steals. Rene Montgomery had 15 points for UConn but made just 4 of 18 shots.

Stanford 82, UConn 73
Stanford (35-3)—Pedersen 8-14 0-1 17, Appel 6-11 3-4 15, Hones 4-7 0-0 11, Wiggins 7-19 8-9 25, Gold-Onwude 1-5 0-0 3, Pohlen 0-1 2-2 2, Cimino 0-0 0-0 0, Clyburn 0-1 0-0 0, Harmon 2-5 5-6 9. Totals 28-63 18-22 82.
Connecticut (36-2)—Moore 8-19 1-1 20, McLaren 1-3 0-0 2, Hunter 0-3 0-0 0, Swanier 4-9 2-2 13, Montgomery 4-18 6-7 15, Gardler 0-0 0-0 0, Houston 4-8 2-2 10, Dixon 1-2 2-2 4, Charles 4-5 1-2 9. Totals 26-67 14-16 73.
Halftime—Stanford 40-33. 3-Point Goals—Stanford 8-21 ( Wiggins 3-6, Hones 3-6, Gold-Onwude 1-3, Pedersen 1-3, Pohlen 0-1, Harmon 0-2), Connecticut 7-26 (Swanier 3-6, Moore 3-11, Montgomery 1-9). Fouled Out—Hones. Rebounds—Stanford 43 ( Wiggins 13), Connecticut 37 (Moore 9). Assists—Stanford 20 (Hones 6), Connecticut 14 (Swanier 5). Total Fouls—Stanford 17, Connecticut 19. A—NA.
---
---