Notre Dame pulls away from Gonzaga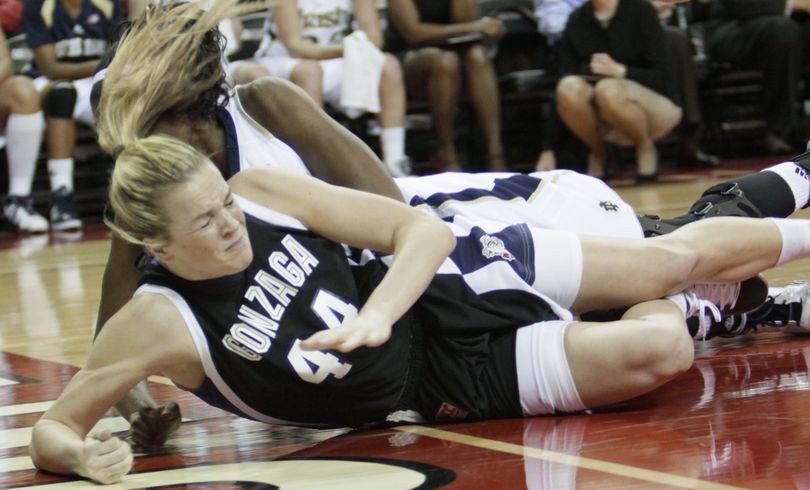 Gonzaga faded down the stretch in its battle with No. 16 Notre Dame in Seattle Wednesday afternoon. We ran the Associated Press story. The Seattle Times had a story by Jayda Evans with a sensational photo of Courtney Vandersloot and the South Bend Tribune was there with this take. The Bulldogs, who are 0-4 in the big games on their schedule this year, face Seattle tonight at 7, after Notre Dame plays Loyola Marymount.
Also tonight, Eastern Washington is home against Willamete with Kyla Evans on the verge of breaking the school's 3-point record and Idaho is at Portland.
Another 3-point record should fall tonight - at Tennessee, with local product Angie Bjorklund (University) entering the game with Rutgers' tied for the Lady Vols mark with 267. Dan Fleser of the Knoxville News-Sentinel writes that records aren't what motive Bjorklund.
Katie Baker (Lake City) was named to the All-Tournament team as host Montana won its own gathering. ... Alyssa Green (Mead) had 21 points as Carroll College thumped visiting Whitworth. ... LC State is 2-0 on a trip to California and tonight play at The Masters, which will put the Warriors' Loree Hill (Central Valley) opposite the Masters' Zoe Scott (University). Hill is averaging a couple points and a couple rebounds in 10 minutes for 12-1 LC, ranked third nationally. Scott is averaging almost nine points and three rebounds in 20 minutes for 10-2 Masters.
---
---