Tue., June 22, 2010
Raul on a roll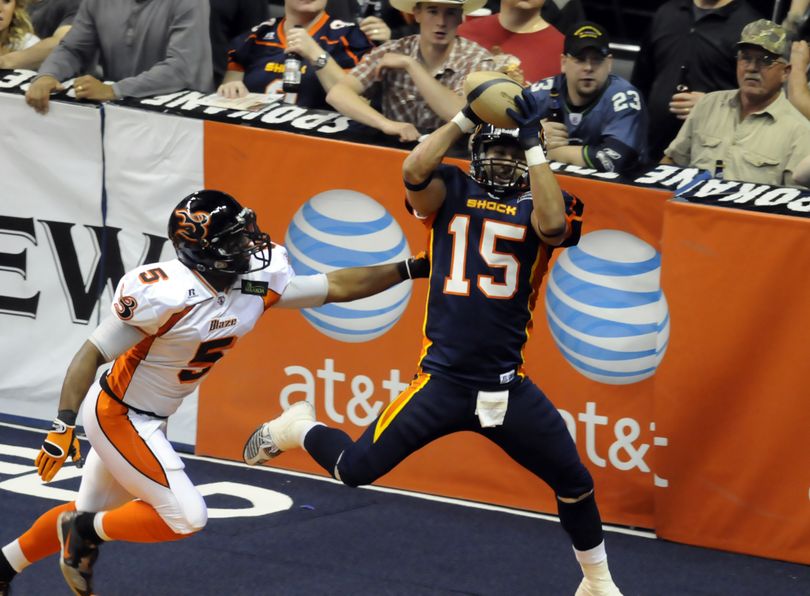 Back with a Shock notebook, which begins with Raul Vijil's remarkable five-game stretch. Read on for that and other notes in an unedited article that will run in Wednesday's S-R.
By Jim Meehan
jimm@spokesman.com, (208) 765-7131
Raul Vijil has been a quality player since joining the Spokane Shock in its inaugural season in 2006. He has been part of championships in 2006 and 2009. He was first-team All-arenafootball2 in 2008 and 2009. His name is stamped throughout Spokane's lists of single-season and career records.
All of which makes Vijil's production of late even more impressive. Four games into the season, Vijil had 26 catches for 345 yards and seven touchdowns. Good numbers.
Over the last five games – he sat out Oklahoma City in mid May – Vijil has piled up 51 receptions, 684 receiving yards and a whopping 24 touchdowns. His five-game stats compare favorably with Arizona's Rod Windsor (61 catches, 695 yards, 18 touchdowns) and Cleveland's Ben Nelson (52, 657, 15), the AFL's top two receivers statistically.
"It's just the right place and right time, and he's getting the proper exposure," head coach Rob Keefe said. "And he's the perfect age: 26-27 is a great age to be playing pro sports."
Vijil said the line is providing protection, he's on the same page with quarterback Kyle Rowley and the talent at receiver prevents opponents from focusing on one player.
He's also benefitting from preventative maintenance before and during the season.
"I knew (the AFL) was going to be a whole new level. I was comfortable with my ability to play here, but I took that into consideration when I was in the weight room, eating right and taking care of my body," Vijil said. "When I first came here I didn't want to stretch before I got on the field and I was ready to go. Now, I'm out there 30 minutes before practice, stretching and working."
He's become adept at limiting the number of hits he absorbs. It helps that he's not running the ball (just one carry) or returning kicks (21 attempts thus far compared to 54 in 2009) as much.
"My first few years, even last year, I'd do anything in my power to stay off the ground," Vijil said. "This year I make one or two moves and hopefully make somebody miss. After that, if I see the rest of the defense coming, I'm getting down."
Return engagement
It's a little unusual when your backup quarterback has suited up for two games without having practiced with the team. But that's what happened to Brian Zbydniewski, who was waiting tables at a seafood restaurant in Fort Walton Beach, Fla., when Keefe asked if he could fill in as an emergency quarterback for the June 12th game against Orlando. Zbydniewski got permission from his boss, drove six hours to Orlando and watched as Spokane won 53-52.
His time with the Shock was extended when No. 2 quarterback Erik Meyer went on I-R last week. However, Zbydniewski had to work 50 hours last week and flew into Spokane on Friday, about six hours before the game. His first official practice was Tuesday.
"I probably only threw the football one or two times with my brothers over the last nine months, just for fun," said Zbydniewski, who was with the Shock for six weeks in 2006. "When Rob called, I said, 'I'd better go sling it around a little.' The playbook is a little different, the terminology is a lot different, but we have great coaches and Kyle has been helping me out."
Zbydniewski finished the '06 season with Amarillo and played for Quad City in 2008-09. He was content working at the seafood restaurant alongside two brothers and two sisters, but he didn't want to pass up the opportunity with Spokane.
"I was excited, but I had to talk to my bosses," he said. "The only condition was I had to get my shifts covered and that was really easy because everyone was excited for me."
Notes
Offensive lineman Rob McMackin practiced, but Keefe wasn't sure if he'd be activated from I-R for Saturday's game against Milwaukee. … Lineman Ed Ta'amu scored his first touchdown at any level on a 7-yard pass play Friday. His celebration? "I did the whole baby-cradle thing and burped the ball and I blew a kiss to my girl," said Ta'amu, referring to 2-year-old son Noa and girlfriend Jessica. … Emery Sammons was solid in his Shock debut with five catches for 80 yards, including a 47-yard touchdown. "He's good," Keefe said of Sammons, a 2009 all-af2 receiver with Manchester who joined the Shock on May 19.
---
---