Wed., March 3, 2010
Day after Cal State-Bakersfield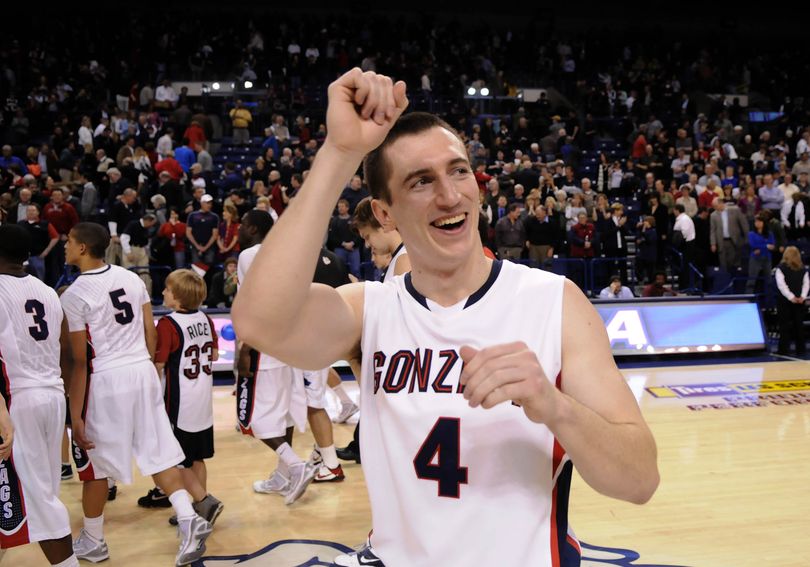 Back with the day-after post following Gonzaga's 78-59 (it wasn't that close) win over Cal State-Bakersfield.
The links: S-R gamer, S-R photos and A.P.
The rest below.
--Let's begin with what probably worried GU fans much more than the actual game: As mentioned in my game story Tuesday night, Steven Gray didn't play in the second half because he was sick. He said the bug hit him a little Monday, then grew worse Tuesday before the game.
He logged 13 minutes in the first half, scoring five points and grabbing three rebounds. And then, "I came in and threw up at half," Gray said.
Gray said he wasn't aware of anyone else on the team having the bug.
Also, Matt Bouldin was limping for a few moments after an awkward landing on a drive to the basket with 6:17 remaining in the first half. There was a timeout at that point and GU coaches quickly checked on Bouldin. The senior returned, hit both free throws and didn't seem bothered during his remaining minutes.
"I just hyper-extended (his knee) a little bit," Bouldin said. "It's a little sore. I don't think I would have been running up and down and jumping if it was serious."
Bouldin, you'll recall, tweaked his ankle in Saturday's win over USF.
--Bouldin's 15-point night pushed him past Richie Frahm into No. 8 on the school's all-time scoring list. Bouldin has 1,632 points. Jeff Brown, with 1,646 points, is No. 7.
--With the presence of seniors Chris Pontarolo-Maag and Will Foster in the starting lineup, it meant just the third time Gonzaga has had a different starting five. The combo of Goodson, Bouldin, Gray, Sacre and Harris has started every game except for two. The first was the Davidson game when Bouldin was sidelined with a concussion and Grant Gibbs started. The second lineup change was Tuesday night.
"I was a little nervous, then I realized if I played hard enough I wouldn't be in there forever," Pontarolo-Maag said. "It was a blast."
The newcomers to the starting lineup tired quickly.
"I think P-Maag was trippin', he was nervous," Bouldin said. "It's tough coming in and do that. I remember my first start. I'm sure he came in really nervous. For most people, the first thing they say is that first 4 minutes, if they haven't been playing a lot of minutes, those are the most tiring minutes of your life."
Said Foster: "I'm getting to be an old man. I can't even play 3 minutes without halfway dying."
P-Maag started in Goodson's place. In the second half, P-Maag started in place of Gray.
--Gonzaga has blocked at least six shots in each of the last five games. That only happened twice in the previous 16 games.
Robert Sacre had four more blocks, giving him 29 in the last nine games. Sacre has 58 blocks on the season, moving past Casey Calvary into third on the single-season list. Calvary swatted 57 shots in back-to-back seasons (1999, 2000). Ronny Turiaf is No. 2 at 59 with Austin Daye No. 1 with 70.
--Tuesday was a good night for current and ex-Zags. Adam Morrison scored six points in 15 minutes in the Lakers' easy win over Indiana. He hadn't played since Feb. 16 vs. Golden State and that was in only appearance in a game in February. Turiaf had 15 points as Golden State lost to Miami, but endured a frustrating sequence near the end of the game. Detroit's Austin Daye scored nine points in a five-point loss to Boston. Daye led the Pistons, who are trying to learn more about their crop of rookies, with nine first-half points but didn't score after intermission.
--Head coach Mark Few likes the notion of playing a non-conference game between the WCC regular-season finale and the opening of the WCC Tournament, an eight-day gap.
"We have such a long break," he said. "It's good to have something in between. And it also allows us to kind of break up the preseason schedule, taking one of the nonleague games and moving it back."
GU entertained USC-Upstate last March (won, 90-40) and Northern Colorado (won, 87-60) in March, 2005.
--Bol Kong continued to show that his shooting form has returned. He made 3 of 5 3-pointers and scored a season-high 13 points. Kong went through a rough patch for most of the WCC season, but hit his only 3-point attempt against USF en route to seven points and was 1 of 2 on 3s while scoring 12 points vs. Santa Clara.
Stats of note: Harris had six boards in 21 minutes after having zero rebounds against USF. … Manny Arop collected 10 rebounds in 18 minutes. … GU made 53.3 percent of its first-half shots, and that included one 0-for-4 possession. … When Kelly Olynyk scored with 7:45 left, he became the 12th Zag to score. Only Mike Hart, who played three minutes, didn't crack the scoring column. … Free throws were a sore spot again: 11 of 19 (Foster 0 of 4). … Kong had three steals.
QUOTEBOOK
P-Maag on the evening: "It was great, everything I hoped it would be. I got a basket, some rebounds, I played decently. I'm sure the coaches will probably find a lot of things to work on, but the crowd was great. Just a great experience."
Few: "We wanted them to go as hard as they could to honor the seniors, then tug on the jerseys and we'll get in some subs for them. I think for the most part everybody did good job of that."
Foster: "I went out there and tried to have some fun. We made some mistakes, especially myself, but I tried to push through it and have fun. It's definitely nice to go out with a little bit of a bang. It wasn't a big bang by any means, but it was a bang nonetheless."
Few on what GU will do rest of the week: "We have a lot of things we can improve on. We need to take a day off and rest up and start gearing up."
Bouldin on Zag fans: "I don't think I've played in front of crowd that hasn't been sold out. They took this journey with me. This community, these fans, they make Gonzaga what it is. It's amazing. They're as dedicated as we are."
---
---