Thu., Feb. 10, 2011
Evans gets record, Gonzaga at home, Bjorklund still out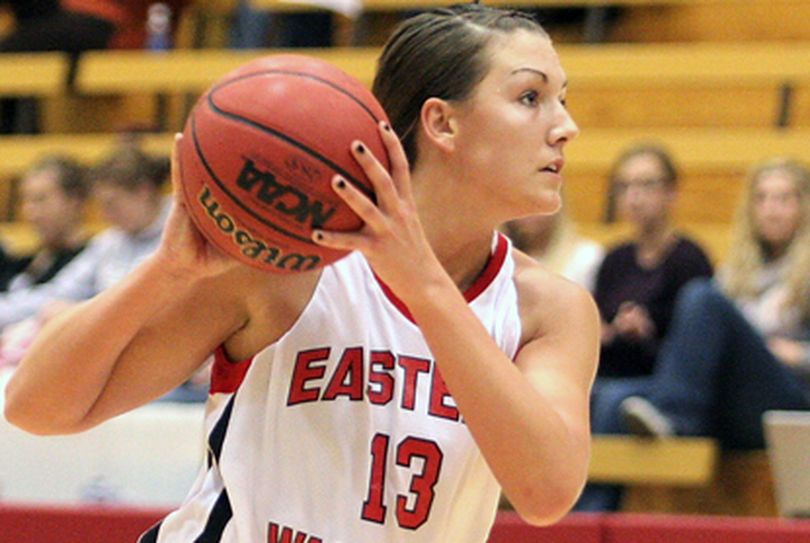 Before I get to the women's basketball preview for the weekend, kudos to Eastern Washington senior guard Kyla Evans. Despite missing too many games with a bad back that has hampered her throughout her career, she returned Tuesday night to set the Eagles' career record for 3-pointers. However, the struggling Big Sky Conference champions lost badly at Seattle.
Read on for more, including an injury update for the most heralded member of the local Class of 2007 we've been following this year.
UPDATED: A link that dicusses the professional potential of Angie Bjorklund.
Gonzaga is home tonight against Loyola Marymount, the only WCC to play the Bulldogs to a single diget loss this year. It will be interesting to see what kind of crowd shows up. The fans have been piling into McCarthey, with five of their top 10 careers this season, including No. 4 last time out when there was no conflict with a men's game. Tonight the Zag men play at 8, plenty of time to see the women open a 20-point lead and Courtney Vandersloot get a bushel of assists on her way to the 15 she needs to become the fourth play in NCAA history to reach 1,000 before retiring to the easy chair for the TV game. Saturday the women could face a challenge from Pepperdine. Don't forget Saturday is the Pink Zone game.
Washington State is on the high-end of its up-and-down season but unfortunately tonight they'll be part of the ESPN crawl because the Cougars are at No. 3 Stanford. Saturday's game at Cal, 7:30 tip-off, is on FSN. Cal will be loaded for Bear since being swept on the Washington road trip. Both games are Pink Zone games.
Idaho faces Utah State tonight.
EWU's lone league game is Saturday against Weber State.
On the other side of the country, senior guard Angie Bjorklund (U-Hi) will miss her fourth straight game for Tennessee tonight because of a foot injury. I talked with her on Wednesday and she said she is progressing fine and might be back next week but Lady Vols' coach Pat Summitt is being cautious.
"We're erring on the side of caution,'' Summitt said in a Knoxville News-Sentinel story. "I don't care if it's the postseason. Right now, it's all about this team having the focus they need to have and her getting better."
When asked about what she misses with Bjorklund sidelined, Kamika Williams told Dan Flesher "everything." She noted that her teammate not only is a good passing target but also occasionally covers for her in getting back on defense.
"When she's on the floor, she's constantly talking to us,'' Williams said. "That's something we're missing."
---
---