Fri., March 25, 2011
Gearing up for Gonzaga Sweet 16 in Spokane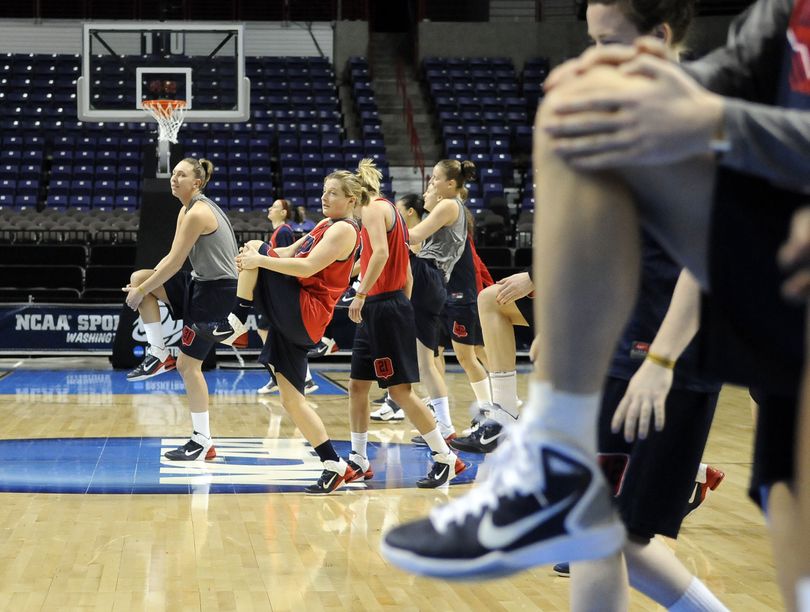 Home from the Arena and time to catch up on the women's basketball news.
We have filed our game advances for the Spokane Regional. I'm on the Gonzaga-Louisville game, Greg Lee has the North Carolina-Stanford game. Do you think I need to thank Courtney Vandersloot for the Zags drawing the 6 p.m. game? That 8:30 tip is going to be a deadline nightmare. There is also today's column with John Blanchette's column questioning Gonzaga playing here and the Chris Anderson/Dan Pelle slide show from today's practices at the Arena. (By the way, there are 11,200 tickets to be sold - 600 seats go to bands and other necessary personnel - and less than 1,000 remained as of 4 p.m. on Friday.)
Read on for more.
The Louisville Courier-Journal has a piece on Shoni Schimmel, who is going to be critical for Gonzaga to keep under wraps.
Tim Booth of The Associated Press produced advance stories on both games from the Arena and they are here and here. Meanwhile, old (but young) friend Janie McCauley of the AP had a story on an unsung but critical freshman for Stanford.
(There should be a lot more tomorrow about the Spokane Regional, but I have to cut and run ... to keep tabs on a hockey game.)
For the Angie Bjorklund (U-Hi) and Tennessee fans, stories on the Lady Vols' shortening their bench and guarding Ohio State's quick point guard. (The game is at 9 a.m. on ESPN). And there is the Associated Press advance story and Graham Hays of ESPN.com on Tennessee expectations, helped explained by Bjorklund, a senior who won a national title as a freshman..
---
---