Sun., April 15, 2012
Chiefs need to regroup in Game 6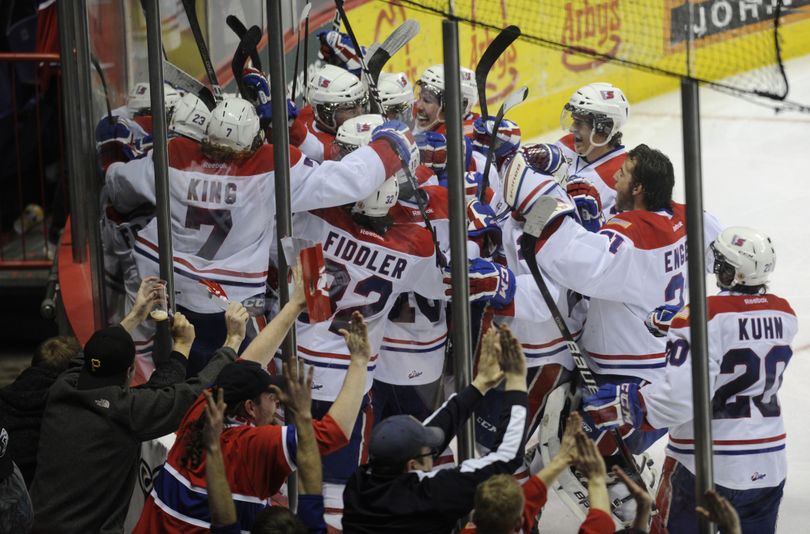 The Spokane Chiefs are hoping Monday isn't that dreaded night that their Western Hockey League season comes to an abrupt end, and they know what they need to do to prevent that from happening.
"We have to play to our identity and if we do that we're going to have success," Chiefs captain Darren Kramer said. "We have to find that. We have to put pucks in deep and play off their goal line."
That was something that was missing in much of Game 5 on Saturday night in Kennewick, which the Chiefs lost 5-3 with an empty-net goal. The loss gave the Tri-City Americans a 3-2 lead in the best-of-7 Western Conference semifinal series.
Game 6 is tonight at the Arena, with game 7 – if necessary – set for Wednesday in Kennewick.
"Some guys let their foot off the throttle," Chiefs coach Don Nachbaur said following Game 5.
"It was a wide-open game, and it was run-and-gun, and that's not our style," Kramer added. "Once we get into the trap of running around, that's the game they want and that's where they find success."
The Chiefs' success lies in simplicity and physicality, and as Nachbaur has stressed all season, not getting too fancy with the puck. The Americans are a deeply skilled hockey team, and each team causes trouble for the other when it forces its style to be played.
The one thing in this series that has been a constant – on both sides of the ice – has been the goaltending from Spokane's Eric Williams and Tri-City's Ty Rimmer.
"I think this is the real Williams and he's finally gotten the chance to really prove himself," Kramer said. "He's won us games here in the postseason and I believe he's going to continue to do so. He's given us a lot of belief and confidence in the games we've played."
Kramer – and the rest of the Chiefs – will have to draw on that confidence to ensure that there will be more those games to play.
"Nobody is ready for this to be over," Kramer said. "I think you can expect another battle on both sides."
---
---