Wed., Aug. 29, 2012
Prep football aplenty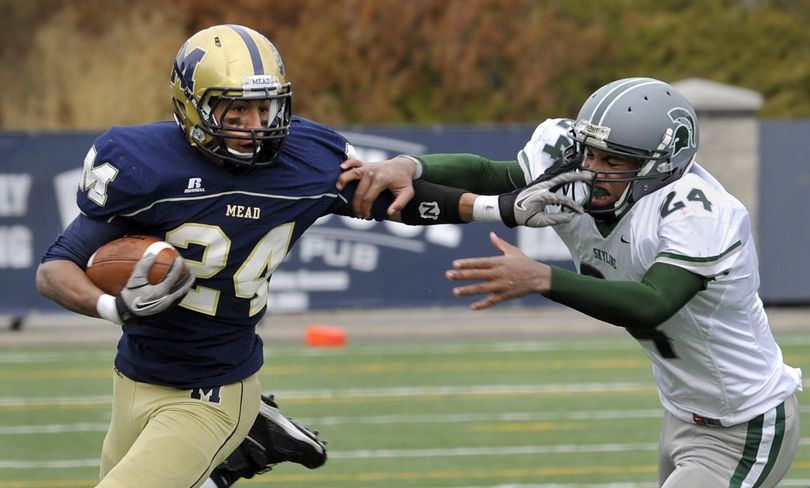 Our 2012 prep football preview tab will be published Thursday. Every league in our readership area will be represented for a second straight year. (Pictured above is Mead running back Davian Barlow.)
Prep football starts with a flourish this week. Thursday, Shadle Park and Rogers face off in a key 3A Greater Spokane League matchup at Joe Albi Stadium. Kickoff is at 6:15.
Then on Friday, North Central and Mt. Spokane face off along with Gonzaga Prep and Lewis and Clark in a doubleheader at Albi. In an outside game, Mead visits University.
Action continues Saturday. The annual WIAA kickoff quadruple header is at Eastern Washington University's Roos Field.
In the first game, Tekoa-Oakesdale/Rosalia faces Reardan at 10 a.m.; in the second game, Coville takes on Freeman at 1; in the third game, Cheney meets East Valley of Yakima at 4; and in the nightcap at 7, Central Valley and Ferris square off.
I will be posting some notes and a GSL poll on Wednesday.
QUESTION: Your thoughts on the upcoming season?
I'll be doing my Pick 6 weekly prep football picks, beginning Thursday. I'll also be participating with KHQ/SWX sports anchor Michelle Dapper and VarsityCdA.com owner/editor Ryan Collingwood each week predicting North Idaho games. Here's a link to our picks for this week.
---
---