Sun., Dec. 16, 2012
Day after Kansas State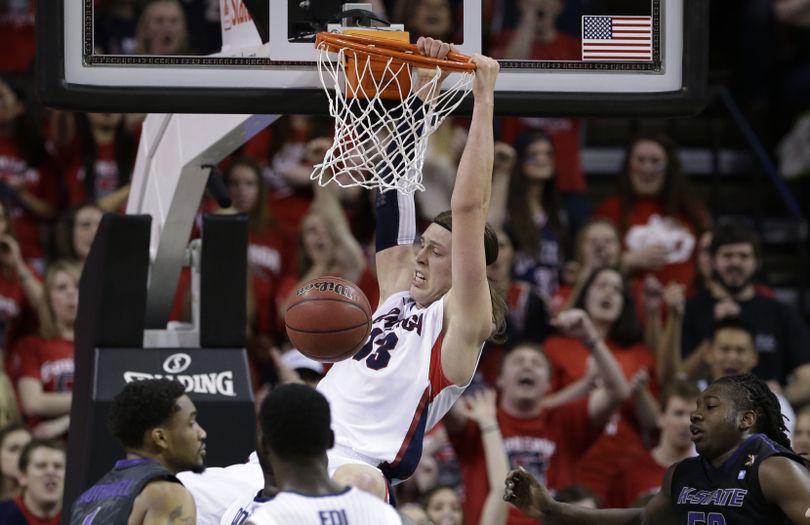 Up at 6:45 in Seattle, home by 11. Blogging by 11:15. I'll take it.
Links from last night's Battle in Seattle, won by Gonzaga 68-52 over Kansas State: My game story, Tacoma News Tribune, Seattle Times, AP, Kansas City Star and Art Thiel at Sportspress Northwest.
More below.
--I had flashbacks during the game. No, not to past Battles in Seattle, but to past GU games this season against West Virginia, Clemson and Oklahoma. Kansas State, like those three teams, had a solid collection of players and athletes, but not enough presence inside and not enough perimeter shooting to stay with GU for 40 minutes.
The scores of all four games were similar, though Clemson stayed closer than the other three: GU 84, West Virginia 50; GU 57, Clemson 49; GU 72, Oklahoma 47; and GU 68, Kansas State 52. If not for K-State scoring four points in the final 41 seconds, all four would have been held to 50 points or less.
"We worked on defense all week and carried it right into the game," said junior forward Kelly Olynyk, who had 20 points in 19 minutes. "We took the game plan and executed it, held them to tough shots and a pretty low percentage. They got on the glass early but other than that kept them off the boards."
Sounds familiar, and the stats back Olynyk up. K-State made 33.3 percent from the field, 33.3 percent from 3. West Virginia (27.3% FG, 11.5% 3-pt.), Clemson (31% FG, 27.3% 3-pt.), Oklahoma 32% FG, 31.3% 3-pt.). Makes sense that K-State was picked fifth, West Virginia sixth and Oklahoma seventh in the Big 12. GU's tour of the Big 12 continues with Baylor on Dec. 28 and Oklahoma State on Dec. 31. Those teams were picked second and third, respectively.
--I mentioned in the game story that GU had just five first-half points (all by Gary Bell Jr.) combined from the 1, 2 and 3 positions, mainly as the result of pounding the ball inside to Olynyk, Elias Harris, Sam Dower and Przemek Karnowski.
Gonzaga did the same in the second half, but the 1-2-3s perked up as well. Pangos had nine points and two assists in the second half, Bell six points and one assist, Guy Landry Edi five points and two boards and Mike Hart two points and three rebounds.
Pangos, in particular, stayed patient. He didn't attempt a shot before misfiring in the closing seconds of the first half. He finished the game 3 of 6 from the floor, 1 of 3 on 3s and had six assists (would have been seven but Olynyk missed a layup before hitting a putback). Other than the LCSC game (he only played 14 minutes) and West Virginia when he had 5 FG attempts, those were season lows for Pangos.
--Olynyk was tagged with a technical foul for taunting after powering for a contested dunk in the second half. Olynyk barked at a K-State player, drawing the T and the evil eye from Mark Few. Olynyk then had that remorseful look that comes following a few seconds of reflection.
"You get caught up in the game, the emotions and stuff," he said. "You kind of black out for a bit and don't realize you're doing it because of the adrenaline and emotion, but once I stepped back I realized it wasn't a very good play on my part."
--Mike Hart seemingly adapts to any situation. He performs at a consistent level if he starts, if he comes off the bench, if he plays 20 minutes or 2 minutes. He started the second half against KSU.
That cannot be as easy as he makes it appear.
"I don't care either way," he said. "Sometimes it's nice coming off the bench and getting to see what the other team is doing. I can notice what I need to do. But starting, I think that's my time to bring energy. I just have to do my role whenever I'm called on."
--Dower said after the game he's feeling much better after a lengthy battle with a respiratory infection. He had six points, two blocks, two rebounds, one assist and one steal in 24 minutes.
--David Stockton's diving save of a ball headed out of bounds drew a rousing ovation and praise from Few. The hustle play left Stockton with a nasty floor burn on the palm of his hand.
--Few said earlier in the week he wanted to give Karnowski more playing time and the 7-1 Polish center had three different stints in the first half. He finished with five points in 14 minutes.
Karnowski weighed 305 pounds when arrived in Spokane. He's dropped 18 pounds.
STATS OF NOTE
--Harris finished with 10 points. He's been in double figures in all 10 games he's played.
--Bell's 11-point night was his third straight in double figures.
--Gonzaga has outrebounded every opponent except Washington State (minus-1). GU won the glass 33-26 last night.
--K-State was just 1 of 6 on 3s in the second half. The Wildcats' 5-of-12 shooting from 3 kept them in the game in the first half.
--Edi, after another rough first half, had his best stretch in a while with five second-half points (including a key 3-pointer) and a pair of rebounds.
QUOTEBOOK
--Harris, on GU's inside attack: "That's what we've been doing all season in practice, just working our inside game. We rotate the bigs in practice so we all get a good feel for each other. Tonight was Kelly's night. He was hitting shots and they really couldn't stop him. They didn't have an answer for him and everyone did a good job of finding him."
--Few, on the defense: "We spent a lot of time this week on defense, as you can imagine, and I thought we did a great job on those two guards (Rodriguez and Spradling) that hurt us in the first half. There for a while we had a 20-point half going. We really challenged all their shots and we ended up outrebounding one of the better rebounding teams in the country."
--Few, on Olynyk: "Other than a couple bonehead plays at the end (technical foul), that's how he's been. He's a smart player and one that can hurt you in a lot of different ways: passing, driving, scoring. Probably the biggest thing is he went from a guy who loved to play on the perimeter to a guy that's 7-feet tall and can use those skills down low."
--Hart, on GU's defensive improvement from Illinois to K-State: "It was a combination of matching them physically and sticking to the game plan. I think we shored up the ball-screen coverage. We just battled tough, got on the floor – all that stuff you need to do to win games."
---
---