Day after Campbell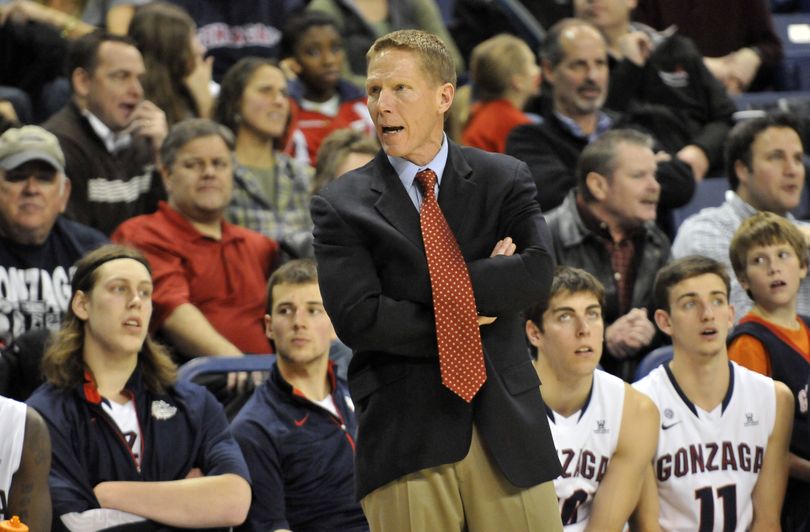 Yes, I'm a little cranky this morning. No, it wasn't because I watched a replay of the lackluster last 10 minutes of GU's 74-52 win over Campbell. I wisely stopped the DVR at the end of the first half. It's obviously because I shoveled a couple of driveways and toted a couple of kids to school before I had my first cup of coffee! And now it's snowing and blowing again!
You know the drill: S-R game story, A.P., Jesse Tinsley's photos. Not a whole lot more needs to be written about Wednesday's game, other than Gonzaga got an easy win and nobody was injured – the primary goals for the last pre-Christmas game-- but we have a couple of items.
More below.
--Checked with Kelly Olynyk afterward and he said he didn't start because of his technical foul during Saturday's win over Kansas State. He ended up playing 20 minutes, same as Przemek Karnowski, who made his first career start. Olynyk had 12 points, six boards, two assists and two blocks. He was 10 of 10 at the FT line, becoming the 23rd GU player to have a perfect night at the stripe with at least 10 attempts.
"I think so ('T' was reason he didn't start)," he said, before noting, "but sometimes different people starting is a rotation thing. It puts me and Sam (Dower) together and we both like playing together. 'E' and 'Shem' seemed to play really well tonight. It's good to have different looks so it's not always with the same people."
Olynyk was heading home to Kamloops, B.C., today, but he was planning on driving the 360 miles. Hoping he has four-wheel drive because it took me 75 minutes (normally 25) to get to the MAC last night.
--Kyle Dranginis scored his first points since his 30-point outing against LCSC on Nov. 29. He finished with eight points and two boards in 16 minutes. In the previous four games, he played 32 minutes and attempted only three field goals.
--Thought there was going to be a large number of empty seats with students on break and dicey driving conditions. And there were a ton of empties about 10 minutes before tipoff, but when the game started nearly every seat was occupied.
"It's way different, no noise, you have to bring your own energy," Olynyk said. "But the game is still the same, the hoop is still 10 feet. You just have to play your game whether the students are there or not."
--The Camels were content to run time off the 35-second shot clock and they probably hit 3-4 shots just before the buzzer, including on the first possession of the game. A couple of those buzzer-beaters were difficult shots.
Gonzaga pressed full-court early and trapped in the half court, trying to counter Campbell's clock management.
"They were really intent on running 30 seconds off the clock on every possession," Few said. "So we wanted to press them and speed them up a little bit, especially early when the game was in the balance."
I asked Few if some of the players checked out a bit early for the pending holiday break, considering the Zags led 62-31 with 13:15 left but scored just 12 points the rest of the way.
"It was just kind of (Campbell working) 30 seconds off the clock, and we're up 25 and just probably not finishing off a possession, and even a couple of strange bounces," Few said. "It didn't have a whole lot of flow."
--Guarantee games usually afford an opportunity to get out-of-sync players back on track. Guy Landry Edi seems to be coming around a little bit. He was coming off one of his better halves (the second half vs. Kansas State, five points) and he finished with five points, four boards and one monster one-handed dunk on a nice feed from Olynyk.
"We're trying; it's important that he gets going again and feels good about his game," Few said. "This next stretch is pretty heavy stuff (vs. Baylor, at Oklahoma State, at Pepperdine, at Santa Clara), so we all have to have our 'A' games and have our confidence."
Sam Dower, after battling illness for a two-game stretch, is playing more minutes. He had six points, three boards, one assist, one block and one steal in 19 minutes.
Kevin Pangos, who had made just 12 of 46 FGs (26 percent) in the last five games, was 2 of 6 (1 of 3 on 3s). He finished with five points, five steals and three assists in 27 minutes.
STATS OF NOTE
--Mike Hart made his first start of the season and 19th of his career. He was one of two Zags that didn't score (Drew Barham played just two minutes).
--The sluggish finish dropped GU's overall FG percentage to 49. The Zags made 61 percent in the first half.
--Gary Bell Jr.'s six boards tied his career high and equaled Olynyk for team-high honors.
--Bell scored 11 points, his fourth straight game in double figures. Harris has reached double figures in all 11 games he's played.
--The Zags were 13 of 13 at the FT line in the first half and finished 21 of 25 (84 percent).
--Season FG percentage of GU's bigs: Harris 56, Karnowski 67, Olynyk 67, Dower 60.
QUOTEBOOK
Dower, on whether GU checked out mentally after building a 31-point lead: "It was kind of apparent we were excited about getting home but we still got the win and I'm happy about that. We did a lot of good things."
Few, on the holiday break: "It's so important for everyone to get back and be around their family. It looks like everybody will get a chance to do that. It's scary from a coach's standpoint, you don't want them to lose their edge, conditioning wise or getting in the gym working a little bit. I think they will do a good job sticking with that."
Harris, on his career-high six assists: "We have a force in there with 'Shem' and I'm unselfish enough to give it up to him. He finished strong so it's the right thing to do."
Olynyk, on GU's 11-1 start: "We've done a pretty good job and we're still on an upswing, which is a positive. It puts us in a good position."
Olynyk, on one thing GU needs to improve on the rest of the season: "We have to stay positive, stay together as a team and keep that work ethic. I think it dipped in the Illinois game, but we got back to playing our game. We have to come back with more fire than before."
---
---