Sat., Dec. 29, 2012
Day after Baylor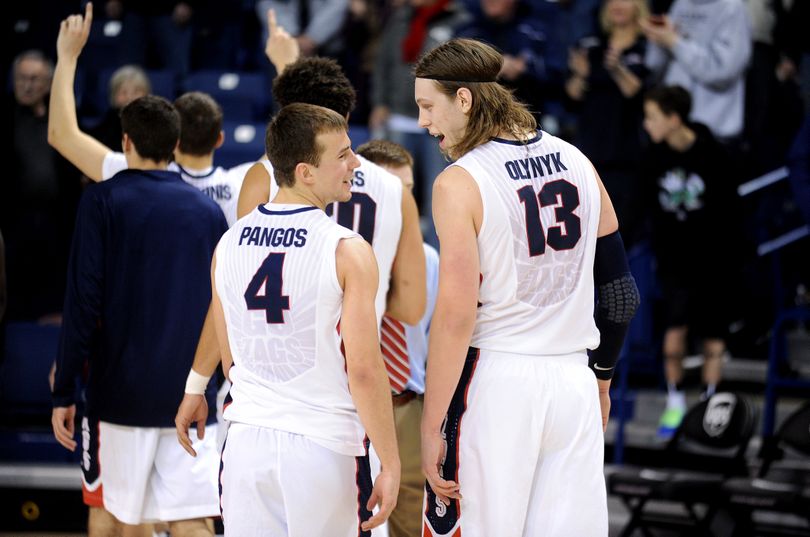 The most entertaining game of Gonzaga's season is in the books. It'll take some doing the rest of the way to match or surpass GU's 94-87 victory over Baylor that was the equivalent of a two-hour carnival ride.
Here are the links: My game story, John Blanchette column, Tyler Tjomsland's photos, ESPN.com's take, GU sports information's article, A.P. and another in the Waco newspaper.
Read on for my day-after Baylor post. I hope to connect with the newest Zag, ex-Louisville Cardinal Angel Nunez, later today.
--Where to start after that crazy game? The offense, of course.
It took a while for the Zags to settle in against Baylor's defense, but once they did they had no problem keeping the scoreboard operator busy. Balance was the key aspect. Yes, Kevin Pangos drilled seven 7s and scored 31 points, but GU also had 40 points in the paint, shot well inside the 3-point arc and used a combination of post-up and dribble penetration to wear out a path to the free-throw line (34 attempts).
Gonzaga, as is often the case, worked inside-out and the interior foursome of Elias Harris, Kelly Olynyk, Przemek Karnowski and Sam Dower were effective against an athletic, but thin Bears' front line. The four combined for 47 points and 16 of 21 free throws. Baylor's Isaiah Austin and Rico Gathers fouled out and Cory Jefferson finished with four fouls.
The Zags took a few quick shots early in possessions. The offense hit high gear about 11 minutes into the first half by being patient. They got quality looks on nearly every possession (just 10 turnovers).
"You get all of it (by being patient)," coach Mark Few said. "They were open shots (early), but you just don't put any foul pressure on them or give yourselves a chance for a layup."
GU has demonstrated an ability to find the hot hand (Pangos, Olynyk, etc.) within the flow of the offense, which probably isn't as easy as it sounds. It helps, of course, when there are multiple scoring threats but I don't recall Pangos forcing any shots. All 13 were open looks and a couple of his most impressive baskets were finishes on drives to the 6-10 foot range.
"We play our best when we move the ball," Harris said. "We didn't do that the first 10 minutes. Toward the end of the half, we found ourselves again and played GU basketball."
--For all the chatter about Pangos' shooting slump, it should be pointed out his career numbers are on a similar arc to Baylor's Brady Heslip, a fellow Canadian who was ranked as the second-best shooter nationally by CBSSports.com.
Last year Pangos made 79 3s while shooting 40 percent. Heslip made 100 3s and hit 45.5 percent. This year, Pangos was 21 of 58 (36.2 percent) entering last night's game while Heslip was 25 of 68 (36.8 percent) – those numbers bolstered by Pangos' 5-of-9 effort vs. Davidson and Heslip draining 8 of 12 against St. John's.
"People might see my and Gary (Bell Jr.'s) stats might not be the best and we haven't shot the ball as well, specifically me, as we'd like but our bigs have been playing great so we have to get them the ball," Pangos said. "That's a great part of our team. People sacrifice some things for the team. Today they were finding me."
--David Stockton has been battling an illness this week and was limited to just six minutes. He looked spent in the locker room, much like Sam Dower did several weeks ago when he was slowed by a respiratory infection. Stockton said he had a reaction to the antibiotics he's been taking and he's been running a high fever. The weird thing, he said, is that he's never had problems before with medication.
--For a moment I thought Austin Daye was back at the MAC. Baylor's Isaiah Austin, 7-1 and 220 pounds, collected 20 points, eight rebounds and two assists. He drained two 3s – one from the 'n' in Kennel painted on the floor – and swatted one of Harris' shots.
"He's only a freshman, he has time to gain a couple pounds and get stronger and he'll be good to go," Harris said. "He's a big-time prospect."
STATS OF NOTE
--The Zags are 4-0 against the Big 12 this season with one more date remaining: At Oklahoma State on Monday.
--Mike Hart started for the second straight game and impacted the game for the second straight time without taking a shot. Hart was in early foul trouble, but still had four boards, an assist and a trio of steals.
--GU finished with 11 steals, led by Bell's and Hart's three.
--Olynyk has scored 53 points in his last 61 minutes of playing time. He's averaging 15.2 points in 23.9 minutes this season.
--Jackson didn't attempt a shot in the first 10-plus minutes, then scored six rapid-fire points. He finished with 19 FG attempts.
--GU had at least five and-ones (2-point baskets while being fouled) in the second half.
--Pangos has a 2.58 assist-to-turnover ratio. He has 19 turnovers in a team-high 395 minutes (one every 20.8 minutes.)
--Baylor's 87 points was the most scored against GU since BYU's 89-67 victory in the 2011 NCAA Tourney.
--If my bleary-eyed research is correct, the last time Gonzaga allowed more points than Baylor's 87 and won was a 96-92 overtime victory against San Diego in March, 2006. Earlier that same season, Gonzaga defeated Saint Joseph's 102-94.
--Bell had five assists and no turnovers in 34 minutes. Combined with Pangos, the pair had eight assists and just one turnover in 71 minutes.
--Harris missed his first five shots, but then hit 4 of his last 8. He was also 9 of 12 at the FT line.
--Dower produced seven points, two steals and five rebounds in 21 minutes.
QUOTEBOOK
Bell: "They have a couple leaders on their team, but we just have some tougher guys I feel. 'E' and Kelly, they're just bangers down there and Sam and Przemek off the bench, that's four bigs that can get their shot whenever they want."
Few: "That was one heck of a basketball game. There was a lot of great offense being played. There were some high-level players out there making plays, making shots. To come out on top is a great sign. Anytime you can beat an NCAA tournament team like that, it's going to help us a lot down the road."
More Few: "Those are big-time players making big-time plays. A lot of the time we did defend them pretty well, (but) you've got a 7-foot guy (Austin) picking and popping and shooting 3s. You try to do something else and you turn Jackson loose down the lane, and he is something else down the lane. We did a nice job of hanging in there and we played great offense. We played better offense than they did."
---
---