Chiefs stay perfect against East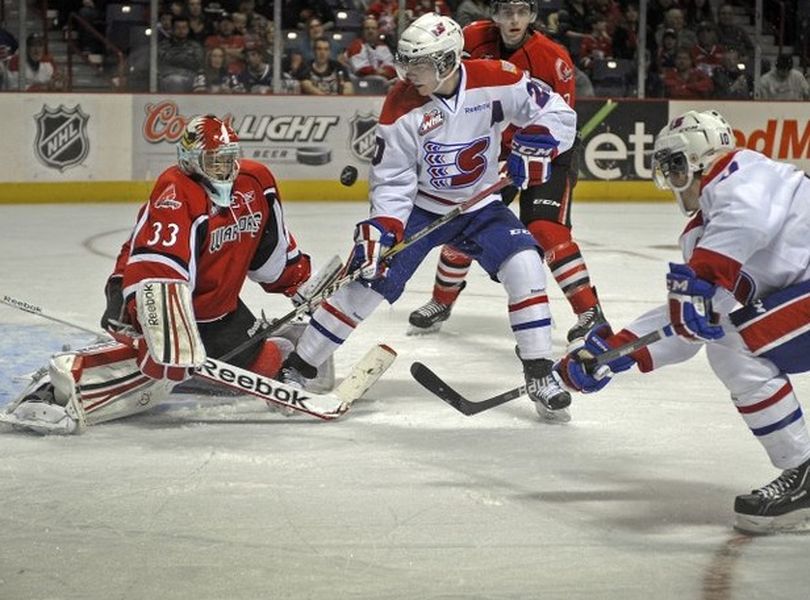 It didn't take long to get the message.
Despite being in the middle of a stretch of four games in five nights – four of which are on the road – the Spokane Chiefs looked anything but tired on Friday night when they played their first game at the Arena since mid-December.
Corbin Baldwin and Mitch Holmberg each had a goal and an assist and the Chiefs kept their perfect record against teams from the East Division intact with a 5-2 Western Hockey League victory over the East Division-leading Moose Jaw Warriors.
"I thought we did a lot of good things tonight – obviously we got a 5-2 victory," Spokane Chiefs coach Don Nachbaur said. "We made it tough for them to get to our net and we had some quality chances, but what I really liked was our work ethic and the way we competed."
The Chiefs (18-13-2-3) kept goalie Mac Engel's workload light for the first half of the opening period, holding the Warriors (24-12-4-1) without a shot until Cody Beach scored with 9 minutes, 40 seconds remaining in the period when he buried the rebound of former Spokane Chief Kenton Miller.
Baldwin quickly tied the game, firing in a shot from just inside the blue line at 12:52, and Holmberg gave Spokane the 2-1 lead late in the first period.
"We kept finding pucks and I thought that was lacking in our last couple games, so that was really nice to see," Nachbaur said. "I thought the first period was an excellent period for us. It gave us the confidence to continue that kind of play through the second and third periods. Coming out of the first period we felt that we could win the hockey game, and that was huge."
After a scoreless second period, Baldwin assisted Blake Gal's goal at 4:32 in the third and Todd Fiddler – who was traded to Spokane from Prince Albert on Dec. 28 – scored his first goal in the Arena to five Spokane a 4-1 lead.
"It was nice playing my first game in Spokane," Fiddler said. "The fans seem great here and it's always nice to get that first goal out of the way."
Torrin White added a goal for the Warriors at 16:34, and Dominik Uher – who just returned to Spokane after helping the Czech Republic to a place finish at the IIHF World Junior Championships – added an empty net goal for the Chiefs.
The Chiefs are back on the road to finish out the four-in-five stretch this weekend, beginning tonight with the division-rival Seattle Thunderbirds – a team they haven't played yet this season.
"Our challenge now is to back it up and play that way against Seattle," Nachbaur said. "The freshness is good for us – when you play the same teams all the time, it can get a little stale. It'll be good for us to finally play these guys and I hope we play the same way we did (against Moose Jaw)."
Spokane will play at Everett on Sunday before returning to Spokane to host the Silvertips on Wednesday.
Ice Chips
Spokane outshot Moose Jaw 40-26 - including a 17-5 advantage in the first period. Engel had 24 saves.
---
---