Sat., Jan. 21, 2012
Saturday afternoon at Beasley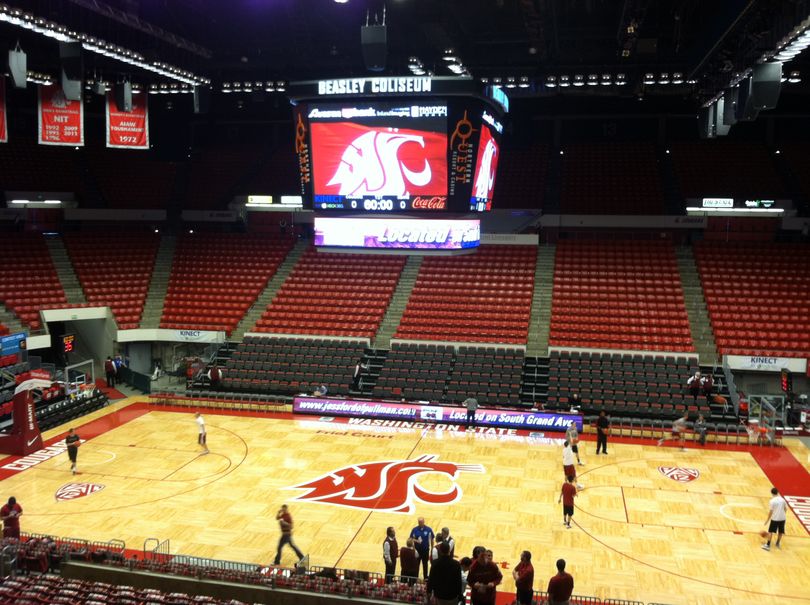 COUGARS
FROM PULLMAN – We've arrived at Beasley Coliseum, where the Cougars are about an hour from tipping off against California. We have a few thoughts after the jump, so read on.
…
First of all – has any patron of this blog ever heard of the rapper Gucci Mane? Does anyone listen to him? The reason I ask is because his song "My Chain" (it's not explicit, but listen at your own risk, anyway) was playing over the speakers earlier here, and I nearly shed a tear over what rap music has become. The entire song, he just prattles on and on about how amazing his chain is. I mean, it can't be that great, can it?
Moving on, we'll link our advance here again for you, as well as this morning's blog post with some more notes and quotes from Ken Bone and WSU players about California. As Bone said, this is a Golden Bears team that can score in a lot of ways – Jorge Gutierrez is as well-rounded as any guard in the conference, Allen Crabbe is one of the Pac-12's best shooters and Harper Kamp is an experienced post presence, the kind which WSU has struggled to defend this season.
That's why I think Kamp against the Cougars' bigs is the matchup to watch today. Gutierrez is going to get his. Crabbe is going to shoot a whole lot and get his share of points, too. But Kamp is capable of a lot more than his 9.3 scoring average suggests (he averaged 14.2 points per game last season, for example). And WSU had a lot of trouble against Stanford's Josh Owens, who made all eight of his field goal attempts and scored 19 points on Thursday. The key to slowing him in the second half was to simply not allow him to catch the ball, something the Cougars did nicely. But if I'm Cal coach Mike Montgomery, I'd see the film from the first half of that game and wonder if Kamp might be able to do the same thing against WSU's front line. As Bone said, though, Cal is simply too dangerous at every position to be overly concerned with any one player. Still, I think if they hold Kamp right around his average and force Cal's guards to make their shots, they've got a chance to take this one at home. … It'll be interesting to see which defense the Cougars use today, too. They had quite a bit of success using the 3-2 zone in the second half after opening in 2-3, though Bone cautioned that a lot of the time, the opponent simply missing a bunch of jumpers can make a zone look far more effective than it actually was. Watch how active WSU is around the perimeter, how quickly they scramble and close out. That'll give a pretty good indication of the energy they're playing with defensively. … Coach Mike Leach will be in the building today, and is expected to address the crowd at halftime.
All for now. We'll be back after the game, as usual. Follow along on Twitter: @ChristianCaple
Christian Caple can be reached at christianc@spokesman.com.
---
---