Wed., March 21, 2012
Spring position preview: Receivers and TEs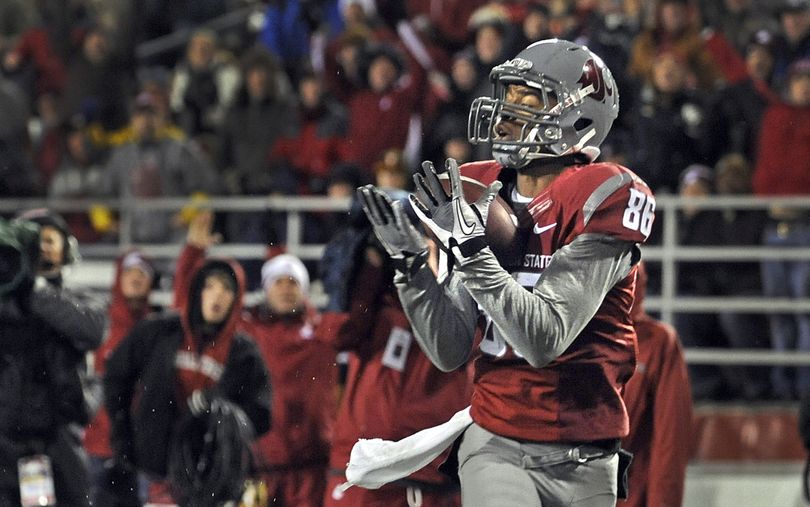 COUGARS
FROM PULLMAN -- Our spring position preview continues with a look at Washington State's receivers and tight ends.
...
The players: (receivers) -- senior Gino Simone, juniors Marquess Wilson, Bennett Bontemps, redshirt sophomores Kristoff Williams, Bobby Ratliff, Blair Bomber, Daniel McDonald, sophomores Isiah Myers, Henry Eaddy, redshirt freshmen Brett McDonald, Dominique Williams, Drew Loftus, Chandler Jenkins, freshmen Rahmel Dockery, Ryan Nungester; (tight ends) redshirt senior Andrei Lintz, redshirt sophomores Aaron Dunn, Gordy Anderson, redshirt freshmen Mansel Simmons, Max Hersey, Dylan Rabinowitz (Updated to reflect spring roster)
The outlook: The receiver group obviously returns its biggest star in Wilson, but loses its second and third-leading pass catchers from last season, Jared Karstetter and Isiah Barton. Ratliff (28), Kristoff Williams (9), Lintz (7) and Myers (7) are other notable returners. This will be Simone's last chance to prove himself, too. He caught just four passes last year, by far his least productive season, as he was reduced to a reserve role behind Barton in the slot. Lintz was the only tight end who caught a pass last season. His role in Mike Leach's offense is a bit uncertain. Yes, the offense uses four wide receivers. But Texas Tech used tight ends, too. We may see some players moved more to the H-back position, which is what offensive line coach Clay McGuire played under Leach at Texas Tech.
The gist: The guess here is that Wilson and Ratliff will be in WSU's starting receiver rotation. As for the other two? We might not know until the fall, when four more freshman receivers arrive -- including Gabriel Marks and Alex Jackson, two highly touted guys who might have a chance to see the field early. Outside receivers coach Dennis Simmons said they're simply looking for their four best receivers. If a relative unknown makes an impact during the spring, it could mean a lot more than it would under the old staff -- since the new staff is seeing everyone for the first time, any one of the above listed players could parlay a solid spring into a higher spot on the depth chart. Simone, a senior, could be a sleeper to watch. Keep an eye on Dockery, too, a highly-recruited prospect who didn't quite get eligible last season but enrolled in January and will be the only true freshman receiver participating in spring drills.
Christian Caple can be reached at christianc@spokesman.com. Twitter: @ChristianCaple
---
---