Wed., Oct. 10, 2012
Former Chiefs on the move thanks to NHL Lockout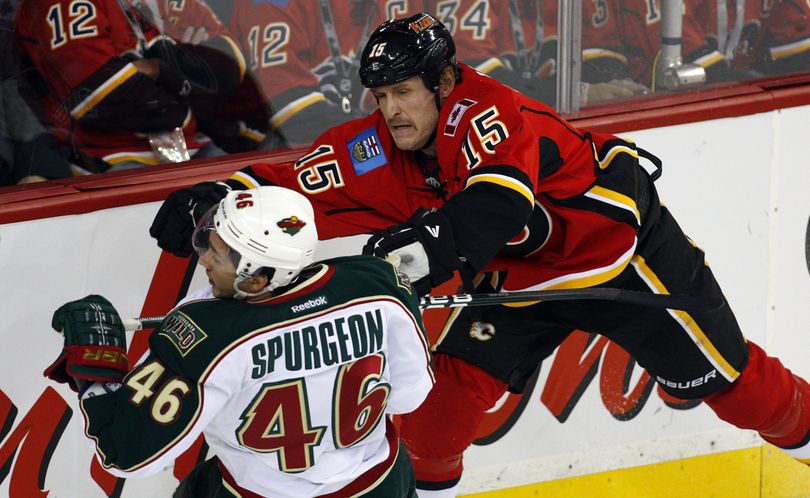 I got the chance to chat with former Spokane Chiefs and current Detroit Red Wings coach Mike Babcock while he was at the Chiefs game on Saturday, and below you'll find an unedited version of the story that followed. The Chiefs (4-1-0-0) are back in action tonight in Kelowna and will take on Kamloops - ranked in the CHL's Top Ten - on Friday before returning to Spokane on Saturday to host Vancouver at the Arena.
NO LOCKOUT BLUES FOR RED WINGS COACH BABCOCK
SPOKANE - Mike Babcock enters the press box looking like he's in a bigger hurry than ever – even though he's on an extended vacation of sorts.
It's Saturday – hockey night in Spokane – and the former Spokane Chiefs and current Detroit Red Wings coach has flown into town to drop the ceremonial first puck prior to the Chiefs game against the Lethbridge Hurricanes.
After making the rounds with media types – print, television, radio – Babcock is next seen walking out to center ice, where the nearly 5,000 fans on hand get to spend a few moments with the man who – from 1994-2000 – won more hockey games in this city than any other coach in history; an Olympic Gold Medal coach for the 2010 Canadian team; and the winner of the 2008 Stanley Cup.
As hockey goes, he's one of the biggest names to pass through Spokane in a working capacity. And he's grateful for the chance to return to the Inland Northwest for the first time in over a decade, though just like everyone else in the NHL, there's business he would normally be attending to right now.
"Doing all kinds of things at this time," Babcock said of his time off during the third NHL lockout in the past 18 years.
"Doing everything I can to drive my wife crazy," he added, going on to say he's only half-joking before turning the table on the interview.
"We've got the same phone – how are you recording this interview?" he asks. "Show me how to do that. I'm always driving in my car and have real good stuff I want to get down. Now I can do that. That's fantastic."
It will also be fantastic when the, "what are you doing during the lockout?" questions end and a settlement on the new collective bargaining agreement allows everyone to return to the ice.
In the meantime, while the existing tension between the NHL and the NHL Players' Association is the only thing that's ice cold – Babcock is making the most of his free time.
He's spending time with his family (he still has two children living at home and his oldest is in school at the University of Michigan 40 minutes away from the Babcock's Detroit home), and taking in plenty of junior hockey games – just as he was doing Saturday in Spokane.
"You know, it's been good," he said. "I've enjoyed my family. … Now I'm here in Spokane. I came for a wedding 11 years ago and really it's just great to be here."
"The bottom line is you can be on the internet and phone people every day and drive yourself crazy – or you can enjoy what's been given to you," he added. "Do I wish, like the owners and players, that we were all playing hockey? Absolutely. So I'm just trying to enjoy this time off the best I can."
When he does get back to work in Detroit, another former Chiefs coach – Bill Peters, who guided Spokane to Western Hockey League and Memorial Cup championships in 2008 – will be manning the bench beside Babcock.
"Pete's a good man and obviously had success here (in Spokane)," said Babcock, who has no problem saying Peters wasn't the man he originally had in mind for the job.
"I never thought of it like that to tell you the truth," said Babcock.
Originally, Babcock wanted Pete DeBoer – who coached the Kitchener Rangers when they lost to Peters and the Chiefs in the '08 Memorial Cup final. When DeBoer made it clear he was after the head coaching job in New Jersey – which he currently has – he suggested Babcock give Peters a call.
"He told me, 'He's an NHL coach for sure.' I hadn't even thought of it before then to tell you the truth. That's how it even came to mind. It's been a lot of fun working together."
Hopefully they'll be doing so again. And soon.
NHL LOCKOUT: Where are they now?

For more information on NHL players that are playing overseas, go here.
---
---