Tue., April 16, 2013
EWU offense is well-grounded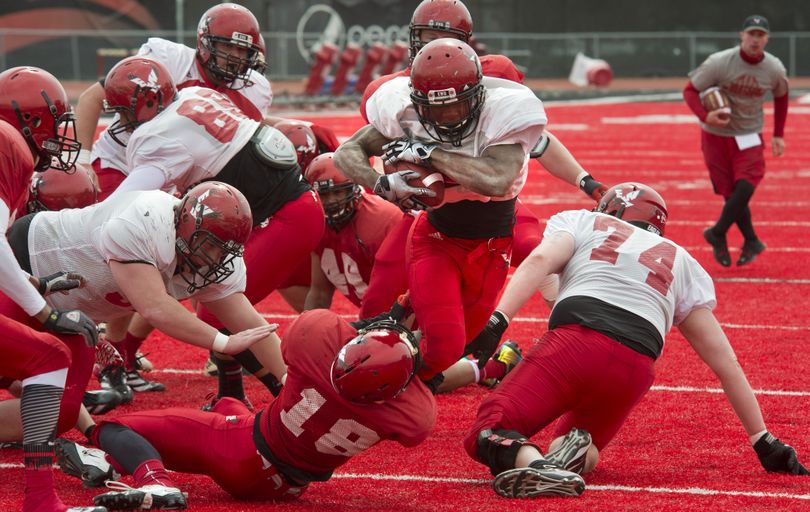 This is the first in a series of eight stories on Eastern Washington University spring football. Today: the running backs.
Kiel McDonald knows the drill. Lots of them.
During practice at Roos Field, the Eastern Washington running backs coach moves almost as fast as his players, setting up cones, obstacles and blocking dummies in rapid succession.
"It's the nuts and bolts of what we do," said McDonald, who's usually one of the first coaches on the practice field. McDonald joined Beau Baldwin's staff last spring and is still the Eagles' most recent hire.
Not coincidentally, the Eagles' running game took some big strides last season, almost doubling its rushing yardage from 2011 (from 869 yards to 1,729) while improving its yards-per-rush from 3.0 to 3.7.
Perhaps the most telling stat last year? An even 100 first downs converted on the ground, compared with just 53 in 2011.
After a year on the job, "we're coming in with a better understanding of each other," McDonald said of his players. "What I learned is that these kids have heart, and they're going to work their tails off."
But there's only one ball, and everyone is fighting for a piece. Last year, the tailback committee was down to junior Quincy Forte (126 rushes for 623 yards and two touchdowns) and senior Demitrius Bronson (132 rushes, 529 yards, 11 TDs).
But Mario Brown, the starting running back for Eastern's final two games of its national championship season in 2010, is back from a redshirt season and had a stellar opening scrimmage last Saturday. Redshirt freshman Jabari Wilson also looks promising.
In all, McDonald has seven backs and enough depth to move Jordan Talley (the team's No. 3 back last year) to linebacker. Juniors Nick Washburn and Cody Hecker also are competing for playing time.
The 5-foot-11, 185-pound Forte is the most versatile back, and figures to get plenty of carries again this fall. His 57-yard touchdown run – EWU's longest of the season – against Illinois State on Dec. 8 all but sealed the Eagles' spot in the FCS semifinals. He also thrived in the passing game, catching 18 balls for 145 yards and a crucial TD at Montana State.
"His versatility is really going to help us this year," McDonald said of Forte. "That always helps you when you get up on a linebacker."
Says Forte, "I think the running game is going to be nice and polished and more effective this year. We have some good chemistry and I think we're getting more physical on the field."
The power-running game took a big step last year with the emergence of Bronson, a 5-10, 210-pound transfer from Washington, who is being held out of spring drills for at least two weeks because of minor hip surgery.
"It's the last season, so you want to do everything right, so it's a little frustrating," said Bronson, adding "I just have to get in shape.
Last year, Bronson missed all of spring ball with a nagging hamstring injury. He had a stellar fall camp before the same injury sidelined him for the first two games of the season at Idaho and Washington State.
Bronson "will be counted on for his leadership, and that he does everything correctly," McDonald said. "He's a hard runner."
While pleased with the gains in the ground game last year, Baldwin said he's hoping for more consistency from game to game.
The Eagles had seven games with at least 100 yards rushing, but tailed off at the end of the season: the last four games yielded just 235 yards combined on the ground, compared with 1,640 through the air.
"Obviously, we won some of those games leaning on the throw but feeling like we could have been more balanced," Baldwin said.
Two more factors could help balance the offense: a veteran offensive line and quarterback Vernon Adams, whose running ability can spread opposing defenses and open running lanes inside.
---
---