Wed., April 17, 2013
No QB questions for Eastern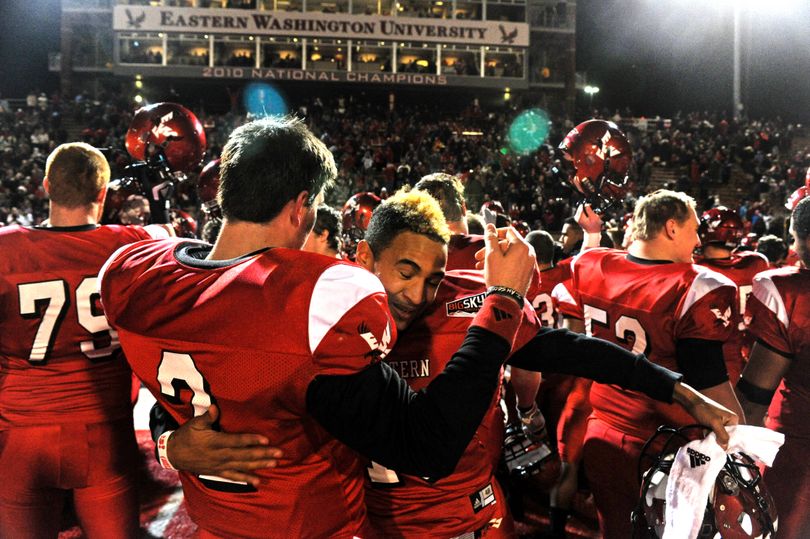 This is the second in an eight-part look at Eastern Washington spring football. Part Two: the quarterbacks.
Vernon Adams isn't your little brother anymore. Last year, he was looking up - literally and figuratively - to wide receivers Brandon Kaufman, Nick Edwards and Greg Herd, as well as transfer quarterback Kyle Padron.
Adams is still 5-foot-11, but after a breakout redshirt freshman season, he's gained a lot of stature in Cheney and in the Big Sky Conference. He battled Padron evenly through fall camp, then won the starting job in the third week of the season.
When it was all over, Adams had completed 131 of 215 pass attempts for 1,961 yards, 20 touchdowns and only eight interceptions. He also created a dual threat with his running ability, which created some highlight-reel plays that helped him earn a spot on the FCS Freshman All-American team.
For the season, Adams finished with 342 yards on the ground, third-highest on the team.
Adams was instrumental in helping the Eagles finish with a Big Sky Conference title and an 11-2 record. Next season, Adams figures to be the main instrument of the offense. To that end, he gained at least 10 pounds of muscle in the off-season. "So I can take more hits," Adams said last week before a practice session at Roos Field.
Perhaps more important, Adams will be looked up to by a young but talented receiving corps, which loses the "Trio" of Brandon Kaufman, Nick Edwards and Greg Herd.
For head coach Beau Baldwin, it's last spring in reverse, when the Eagles had lost Payton Award winner Bo Levi Mitchell. "It's like last year, but now it's the quarterbacks who are helping the the new guys.
"They can bring these guys along."
Also in camp are senior Anthony Vitto and redshirt freshman Jordan West. Last spring, Vitto and Adams were the only two quarterbacks in camp; their stats were similar, and Baldwin expressed confidence that Vitto could step in at any time.
But with the arrival of Padron last summer, the 6-foot-1, 195-pound Vitto never saw the field during the season, but now he's again the most experienced backup. Vitto's goals in spring camp: "To always make sure I'm identifying the defense quickly, and make sure we know what to do in every situation."
Vitto showed commmand of the offense during the first scrimmage, completing 4 of 8 passes for 41 yards despite some drops. The scrimmage ended with a sure touchdown pass being hung up by a spring wind and fluttering just outside the grasp of receiver Ashton Clark.
West, a 6-4, 215-pound freshman from Maple Valley, Wash., said he embraces to chance to "come out here and finally get a shot."
During last week's scrimmage, West showed some nice touch on long balls and decent speed on a keeper.
"I just want to show that I'm able, that I have to ability to compete and make plays," West said.
All three quarterbacks said the biggest challenge is recognizing the coverages. "It's kind of getting easier," Adams said. "Just trust what I see and be confident, the coaches tell me."
---
---