Thu., April 18, 2013
EWU receivers gaining stature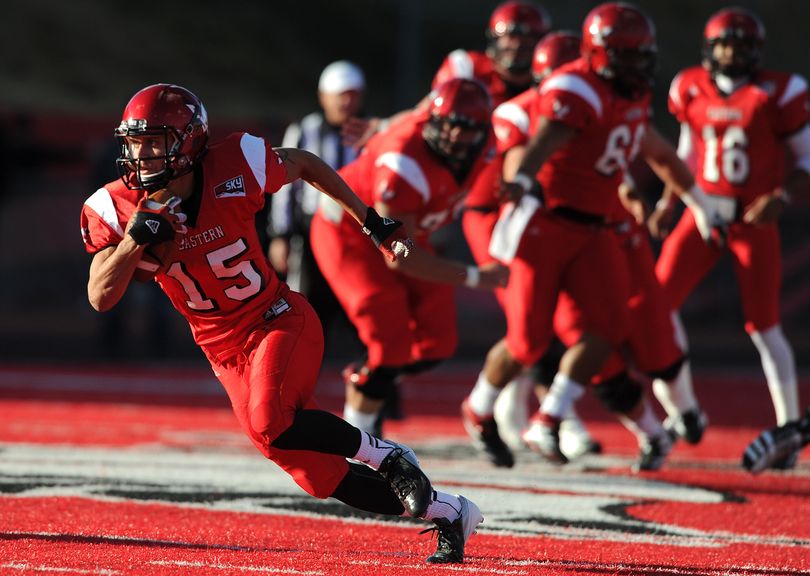 This is the third in an eight-part look at Eastern Washington spring football: the wide receivers.
Junior Adams is ready to branch out.
The Eastern Washington University wide receivers coach doesn't have a lot of tall players this spring, but he does have guys "who can run the whole route tree."
That includes the curls and comeback routes that may make the Eastern passing game more diversified than in the past. Departed wideouts Brandon Kaufman, Nick Edwards and Greg Herd could do it all, but excelled at the home-run ball.
"We're hoping to add another dimension," senior Daniel Johnson said
.
Combined with a veteran offensive line, a quarterback in Vernon Adams who can spread the field, and it's safe to say that the Eastern passing game will have fewer all-or-nothing possessions than in the past.
Last season, the Eagles ran 67 fewer plays than their opponents despite outgaining them by a total of 560 yards.
"They all make plays, and they're hungry," Adams said of his 11-man group that's headlined by senior Ashton Clark (pictured above).
Clark, a senior-to-be from Vancouver, was Eastern's third-leading receiver last year, grabbing 49 balls for 650 yards and five touchdowns, including the game-winner against Montana.
Other returnees include Shaquille Hill (seven receptions for 66 yards and one TD), Daniel Johnson (5-81, one TD), Cory Mitchell and Nick Lenoue, plus redshirts Cooper Kupp and Keylin Huddleston.
Depth got an added boost from Washington State transfer Blair Bomber and Austin Ehlo, a Lewis & Clark product who played two years of football and basketball at Whitworth.
Of the returnees with at least one catch last year, none is taller than 6-2. "That's a good height for me," Adams said.
The trio of Edwards, Herd and Kaufman combined for 139 games worth of experience (103 starts), and had collective totals of 601 catches for 8,713 yards and 83 touchdowns. Edwards and Herd were All-Americans in 2011 when they both went over the 1,000-yard mark. Kaufman earned All-America accolades in 2010 when he had over 1,000 yards and in 2012 when he finished with a FCS record 1,850 receiving yards.
They also passed the torch in more ways than one. "They taught me to work hard and to take your opportunity," Clark said. "Those guys work so hard, that it definitely made me work harder."
"They really taught me how to watch film," Mitchell said. "All three of them were great at being students of the game."
Kupp, a redshirt last season, saw the same thing even on the practice field
"You always want to come out with the intention that you can get a spot," said freshman Cooper Kupp of Yakima, who redshirted last fall. "You just want to be the best you can be on the field."
Even for Kupp, the departed receivers "were huge for me. They went above and beyond what you need to succeed at this level."
"We're going to be just fine," Adams said.
---
---