Mon., April 22, 2013
EWU secondary is deep, talented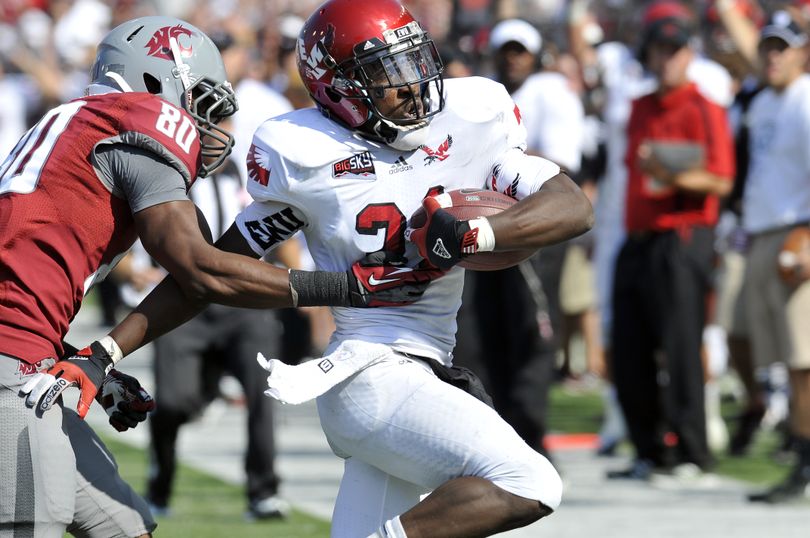 This is the seventh of an eight-part look at Eastern Washington spring football: the defensive backs.
It's been year of surprises – most of them pleasant – for the Eastern Washington secondary.
Tighter pass defense last season, the rise of several younger players and the arrival of a high-profile transfer brighten the outlook for one of the Eagles' deepest units.
Better yet, Jeff Schmedding doesn't have to coach them all. The hiring last year of Cherokee Valeria as cornerbacks coach freed Schmedding to concentrate on safeties and special teams.
"It definitely helped," Schmedding said. "We were able to be more specific, the corners were able to get more attention, so I think it helped. If one guy was doing the whole thing …"
Schmedding doesn't finish the thought, but warms to the subject of the depth and talent in the Eagle secondary. Last season, redshirt freshman Jordan Tonani flourished as a backup and a starter, along with heady Allen Brown, while Ronald Baines answered one of the biggest questions on the team at cornerback.
The other corner is All-Big Sky Conference cornerback T.J. Lee III (pictured above) back for his senior year but still recovering from a back injury suffered in the FCS playoffs and aggravated by an automobile crash during the holidays.
"We're flying around out there and that's exciting to watch," said Lee, who will be back in full pads next week.
It all added up to a big improvement on the field last season. The Eagles forced 27 turnovers compared with 16 the year before, while almost doubling their interceptions from seven to 12. Opponents' completion percentage dropped from 64.7 percent to 61.5 percent.
The talent level got another boost this month with the arrival of UCLA transfer Tevin McDonald, a two-year starter with a strong pedigree.
Here's a look at the Eastern defensive backs:
SAFETY: Depth here and the lack of depth at linebackers might mean some changeups by the Eastern defensive staff, but that's for fall. Talent and depth abound here.
Returnees Tonani, a 6-foot-0, 200-pounder from Ferris High School, was a nickelback early in the season, then started while injured senior Jeff Minnerly recuperated. "He's a very mature kid, very smart, and a great athlete," Schmedding said.
He also turned in one of the biggest plays of the season: a pick-6 at second-ranked Montana State that ended up being the winning score in the biggest conference game of the season.
The other spot is manned by 5-10, 170-pound senior Brown, who finished with 91 tackles and earned the praise of Schmedding for his "professional approach and his toughness."
The biggest offseason addition is UCLA transfer Tevin McDonald, a 5-1, 190-pound redshirt junior who started two seasons from the Bruins but was dismissed from the team last month. McDonald had 135 tackles in 27 career games at UCLA, plus four interceptions and 14 passes broken up.
"The athletic part of it is obvious, the way he approaches it," Schemdding said. "But he asks good questions."
Other safeties include senior Shane Stagg (5-10, 180), sophomore Todd Raynes (6-2, 195), and redshirt freshmen Jude Isbell and Zack Bruce.
At practice on Thursday, head coach Beau Baldwin said it's possible that a safety could fill in at linebacker "in certain game situations."
CORNERBACKS:
Lee has been one of the Eagles' most consistent performers the last three years, earning all-Big Sky honors the last two seasons.
Last year, his 90 tackles ranked third on the team. "He just needs to take it to the next level, being consistent every single play and being the guy in the conference and the nation at our level," Schmedding said.
Lee had several big games last year, including eight tackles, a forced fumble and two passes broken up in the quarterfinals against Illinois State.
Ronald Baines, a 5-10, 195 pound senior, filled in ably at the other corner. "He's just got to improve on the little things, the day-to-day details," Schmedding said.
Others who expect to see significant playing time include hard-hitting senior Bo Schuetzle (6-0, 200) and sophomore Miles Weatheroy, a 6-1, 180-pound sophomore.
---
---