Thu., Aug. 1, 2013
5 storylines as WSU begins camp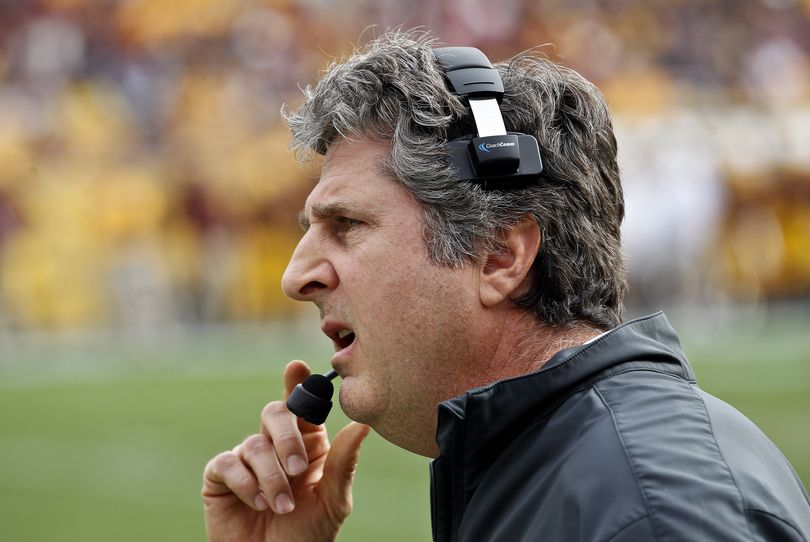 COUGARS
FROM PULLMAN -- In anticipation of Washington State's 2013 preseason camp debut tomorrow, we've assembled five storylines for you to chew on -- or just read -- before things get underway tomorrow in Lewiston.
...
1. QUARTERBACK: Might as well start here and get it over with. It seems safe to say now that this is Connor Halliday's job to lose, since Mike Leach has said repeatedly that Halliday would be the starter if the season started today. As it stands now, "today" isn't all that far away from "August 31," which is when the Cougars do have to play a game. And Halliday's experience seems to give him an edge over Austin Apodaca, who has received plenty of adulation from Leach for his performance in the spring.
For that reason, it's perfectly reasonable to think Apodaca will see the field at some point this season, especially if Halliday doesn't shake the over-aggressive inconsistencies that plagued him last season. But that's an area in which Leach believes Halliday has progressed, so camp will be his chance to prove it.
It will also be interesting to see how incoming freshman Tyler Bruggman is used in camp, and whether he gets any real, meaningful reps.
2. THE O-LINE: So, there have been some issues here the past few seasons. This is no secret. But the Cougars at least appear to have more depth now than they did at any point last season, and that's something coach Mike Leach has touted since spring. Now it's a matter of establishing a top eight, then a top five to form the starting o-line.
Elliott Bosch is the starting center. There's no question about that. But there will likely be a good deal of experimentation and competition at each of the other spots – Gunnar Eklund vs. Eduardo Middleton at left tackle, or Joe Dahl vs. John Fullington vs. Matt Goetz for the two guard spots, to name a couple. Even with the offseason departure of former starter Jake Rodgers, the Cougars are in OK shape here from a pure numbers standpoint. Developing those numbers into players who can protect the quarterback and block in the running game will be key.
3. VINCE MAYLE: The 6-foot-3, 240-pound receiver might be the most intriguing recruit of Leach's short tenure at WSU, if only because of how excited coaches are about his presence. Leach said during Thursday's teleconference that Mayle checks in somewhere around 13 percent body fat, so there doesn't appear to be any concern about that eye-popping 240 number. The Cougars are already pretty deep at receiver, but Mayle's arrival will only breed more competition at the outside receiver position. If he's the kind of strong, physical player the coaches envision, he could open up a lot more options within Leach's offense.
4. LEWISTON: I keep picturing the scene from Remember the Titans, when the team bus returns from training camp with everyone singing and dancing together like the best of friends. Will WSU's off-campus foray spawn a similar bond? And could something like that wind up the catalyst for a strong season?
Elliott Bosch and Deone Bucannon both seemed pretty excited about it when we spoke at media day last week, and Leach said he gets a similar impression from the rest of the team. Team chemistry is a serious cliché, but it was also a serious issue last season. It seems to be improving, by most accounts, and a week-and-a-half in Lewiston might help accelerate that process. So, you know. Culture change by climate change, or something. Culture.
5. THE DEFENSIVE FRONT: Defensive coordinator Mike Breske said during spring practice that Logan Mayes will play a lot of defensive end. The most recent depth chart reflects that: Mayes is no longer listed as a "buck" linebacker, but as an end, meaning the buck spot will likely be manned by either Kache Palacio or Ivan McLennan. With Xavier Cooper, Ioane Gauta, Toni Pole and Matthew Bock all back, this group – however it materializes – could end up one of the strongest units on the team.
Christian Caple can be reached at christianc@spokesman.com. Twitter: @ChristianCaple
---
---