Sat., Aug. 31, 2013
Gameday from Auburn, at last (and a live chat)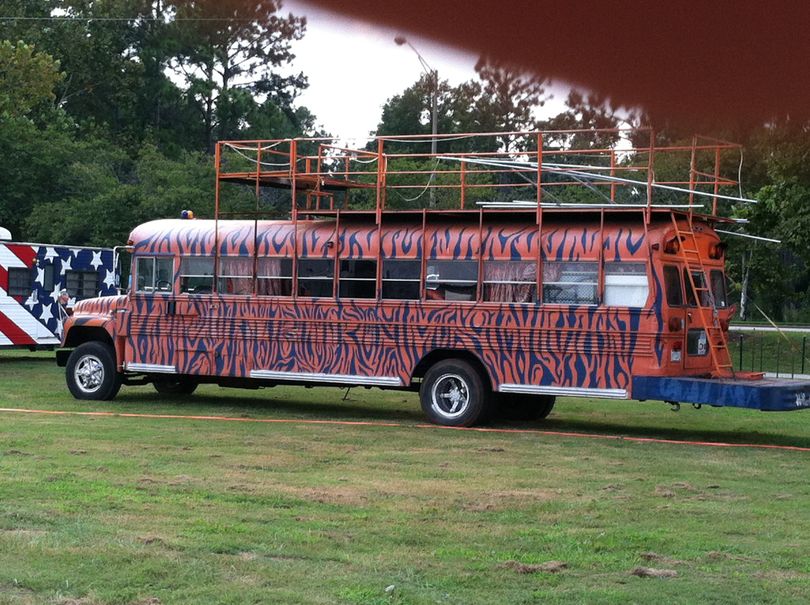 COUGARS
FROM AUBURN -- It's the day everyone has been waiting for. In a mere 10 hours, Washington State will take the field at Jordan-Hare Stadium for its 2013 opener against Auburn. We will be there with a live chat (3 p.m. PT -- be there) and our usual in-game Twitter fare, as well as the standard array of postgame coverage. First, we have quite a few links to throw your way.
...
As you can see in the above photo ... I take great shots of my own thumb. But also, there are some interesting sights to be seen around Auburn's tailgate area. It was already fairly active last night around 8 local time, so I wandered the place and wrote this story about the atmosphere. One takeaway: SEC fans might have a reputation as being a bit overconfident, but that's not the impression I got from the folks I talked to. Most are a bit wary of Auburn's miserable season in 2012, and there wasn't really a sense that WSU is believed to be any kind of inferior opponent. Anyway, you can also read our 2-minute drill and fact box in today's newspaper.
On the blog yesterday, we had a post with some predictions from various WSU media, as well as a Q-and-A with two Auburn beat writers.
--- After giving non-answers to inquiries about Logan Mayes' future with the team during the week, Mike Leach chose the occasion of his interview with KJR 950 AM in Seattle yesterday to shed some light on Mayes' departure. CougCenter has a wrap-up of Leach's comments here. The gist: Mayes was told he would be a situational player, at best, and he wants a chance to play somewhere that will give him a chance to see the field on every play. As Leach said, that's a tough decision to argue. Bud Withers writes more about Mayes' decision to leave, implying that perhaps a hard-working, high-character guy with such deep crimson roots as Mayes deserved better than this. That's hard to argue, too.
--- Withers also put together this preview box.
--- Here's everything you need to know from the Auburn side from AL.com and the Ledger-Enquirer.
--- The Denver Post previews Year 2 of the Mike Leach era.
--- WSU and Auburn are each hoping for turnaround seasons.
In yesterday's Pac-12 action ...
Arizona 35, Northern Arizona 0 -- Not a surprising result, as the Wildcats dominated from start to finish. Most notable to WSU fans: Daniel Jenkins, who tried to transfer to WSU prior to the season, rushed for a 91-yard touchdown and filled in admirably for suspended star running back Ka'Deem Carey.
In today's Pac-12 action ...
WSU at Auburn, 4 p.m. PT, ESPNU
Nicholls State at Oregon, 1 p.m., FOX Sports 1 -- Quite the prediction from Jason Quick in this preview of what will be a cakewalk for the Ducks. Here are five more things to watch.
Eastern Washington at Oregon State, 3 p.m., Pac-12 Networks -- Jim Allen has this preview of the Eagles' annual foray into a Pac-12 stadium. The Beavers think they'll score some.
Nevada at UCLA, 7 p.m., Pac-12 Networks -- UCLA hopes this will be a step toward the next level.
Boise State at Washington, 7 p.m., FOX Sports 1 -- It's a big opener for the Huskies, but not a rematch.
Northwestern at California, 7:30 p.m., ESPN2 -- The Golden Bears open the Sonny Dykes era with a tough test at home.
--- Arizona State and Todd Graham are working on a contract extension.
--- Colorado's coaching staff was lured by the school's tradition.
--- Questions and answers emerged from Utah's season-opening win on Thursday.
See you at 3 p.m. for our live chat, which will last throughout the game. Also, you can hear me for about five minutes during the first hour of the Cougar pregame show on KXLY 920 AM.
Christian Caple can be reached at christianc@spokesman.com. Twitter: @ChristianCaple
---
---