Sat., Dec. 14, 2013
WSU bowl rewind: 1981 Holiday Bowl
Video courtesy of wazzulibrary on YouTube.
After a 50-year bowl drought, the Cougars returned to postseason play with the 1981 Holiday Bowl played against BYU. Coach Jim Walden led Washington State to an 8-2-1 record, and the Cougars were ranked No. 20 by the Associated Press. BYU, coached by the legendary LaVell Edwards, was ranked No. 14 in the country following a 10-2 season.
The Cougars nearly staged one of the biggest comebacks in school history. But which Cougars? Find out, after the jump.
...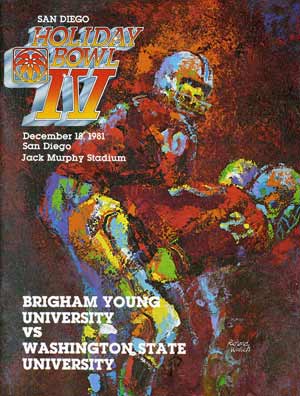 Image Courtesy of WSU Athletics.
All-American quarterback Jim McMahon led BYU to a 24-7 halftime lead. WSU quarterback Ricky Turner had put the Cougars on the scoreboard with a two-yard touchdown run, but McMahon dazzled the crowd of 52,419 with touchdown passes of 35 and 7 yards.
The second half figured to be nearly as bleak for WSU when future NFL player and coach Tom Holmoe intercepted a pass from Turner and ran it back for a touchdown, increasing BYU's lead to 31-7. But WSU wasn't done yet, and ran off 21 straight third-quarter points on touchdown drives of 69, 50 and 30 yards. Over 25 minutes WSU outscored their opponent 29-7, with BYU scoring a lone touchdown on McMahon's pass to Scott Pettis.
WSU rushed for 245 yards on day thanks to Turner and running back Don LaBomme.
WSU looked poised to complete the comeback when Mike Martin scored a 1-yard touchdown, and Turner completed the two-point conversion, bringing WSU to within two points of BYU. But the other Cougars recovered the onside kick and ran out the clock, winning 38-36.
Current Utah coach Kyle Whittingham was named the game's defensive MVP, recording 10 tackles and recovering a fumble.
---
---