Mon., Dec. 16, 2013
WSU bowl rewind: 1992 Copper Bowl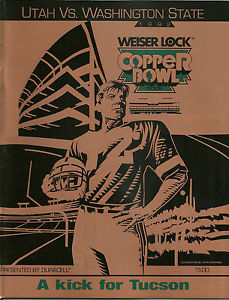 It was a Pac-12 pre-union of sorts when No. 18 Washington State took on Utah, then of the Western Athletic Conference. While Hawaii and Fresno State were the class of the WAC at the time, Utah (6-5, 4-4 WAC) was returning to postseason play for the first time since the 1964 Liberty Bowl.
The Cougars (8-3, 5-3 Pac-12), coached by Mike Price, were coming off a 42-23 win over rival their rival, Washington, who was ranked No. 5 in the country when the Apple Cup kicked off. Quarterback Drew Bledsoe was about to become the first pick in the NFL draft, and he would be joined on draft day by fourth-round linebacker Lewis Bush and seventh-round defensive tackle Clarence Williams.
More on the game, after the jump.
...
The Cougars raced out to an early lead, scoring 21 unanswered points in the first quarter. Bledsoe was nearly unstoppable on the day, completing 30 of 46 passes for 476 yards. After Shaumbe Wright-Fair got WSU on the board with a three-yard touchdown run, Bledsoe made it 14-0 with an 87-yard touchdown pass to Phillip Bobo. Wright-Fair tacked on another short touchdown run to put WSU up 21-0.
But Utah refused to go quietly. Utah cut the lead to 21-14 on a 10-yard touchdown pass from Frank Dolce to Shaun Williams, and Keith Williams ran one in from 25-yards out. Bledsoe gave the Cougars some breathing room with another bomb to Bobo, this time a 48-yarder to give WSU a 28-14 halftime lead.
The Utes evened things up in the third quarter. First, Dolce hit Henry Lusk for a 49-yard touchdown pass, and then Pierre Jones ran one in from eight yards out to even things up at 28-28.
But the Cougars held off the comeback, scoring the only fourth-quarter points when Aaron Price -- the head coach's son -- nailed a 22-yard field goal for the win.
---
---