Thu., Feb. 21, 2013
Day after Santa Clara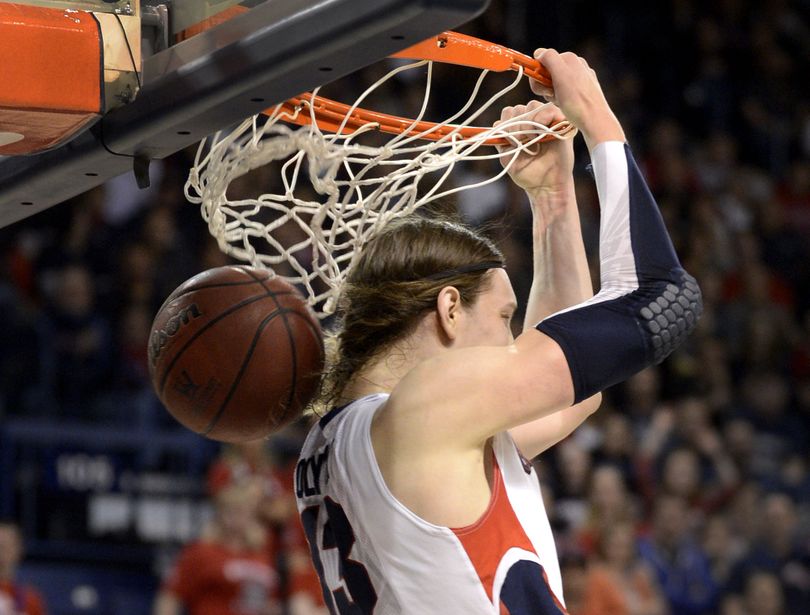 I confess: I really expected Santa Clara, a seasoned team with proven scorers playing well of late, to give Gonzaga a battle Wednesday night. The Broncos are an upper-echelon WCC team that will probably win 22-23 games and play in one of the smaller post-season tournaments.Their RPI is 95. They gave GU everything it could handle in early January before the Zags prevailed 81-74.
Instead I witnessed a record-setting 85-42 beatdown that was over essentially 6 minutes into the first half. GU built a 44-15 halftime lead with the most complete half of basketball I've seen the Zags play this season. That includes Gonzaga blistering Saint Mary's 46-28 in the first half in Spokane, 45-27 in the second half in Moraga, the 45-18 first half GU put on West Virginia, the 40-25 second half against Oklahoma, the 41-26 second half versus Kansas State and the 40-21 first half from the BYU game.
"Probably the best defensive effort we've put together in this building, relative to the opponent," said coach Mark Few. The MAC opened its doors in 2004.
The links: S-R game story, S-R photos and AP.
Read on for my day-after Santa Clara post.
--I don't recall seeing a player receive a standing ovation for tracking down a pair of offensive rebounds, but Mike Hart earned one with two boards that led to an Elias Harris basket in the first half. In a game packed with GU dunks, steals, blocked shots, hustle plays and stellar passing, that ovation was perhaps the high point.
Few applauded right along with the crowd.
"I thought it was great," Few said. "His play inspires our guys, our staff. I'm glad the fans are starting to understand just how valuable he is to our team and to the outcome of these games."
Hart didn't stop there. He got popped in the nose trying to make a steal and had gauze or tissue inserted to stop the bleeding. He quickly drilled a 3-pointer, his second of the game.
"Mike is one of a kind," Gary Bell Jr. said.
--The Bulldogs never let up in dismantling Santa Clara, dominating both ends of the court.
"That's how it's supposed to look," Harris said. "You can always play better, but I'm not sure if you can actually play better than that."
The bench poured in 35 points, led by Sam Dower's 11 points, Przemek Karnowski's 9 and David Stockton's 9 points, 4 assists and 2 steals. Guy Landry Edi grabbed six rebounds in eight minutes.
"When we play defensively like that, it's always fun," Bell said. "It's a thrill when it's coming easy like that and we're making shots, getting steals, we're on the floor hustling. Fun time."
--Gonzaga is playing some of its best defense of the season. The Zags haven't allowed an opponent to score more than 64 points since Saint Mary's had 78 on Jan. 10 in Spokane. Seven of GU's last eight opponents have failed to reach 40 percent field-goal shooting (San Diego made 43.3).
And the Bulldogs are finishing off defensive stands with rebounds.
The Zags, outrebounded in six of 10 games beginning with Pepperdine on Jan. 3 and ending with Pepperdine again on Feb. 7, have owned the glass in the last four games. It was 43-29 against LMU, 37-25 against Saint Mary's, 45-29 against San Francisco and 45-22 against Santa Clara.
"We've been talking about it and spending time on it," Few said. "That's certainly helped during this little run we've been on. You never know game to game, but you hope it continues down that path."
STATS OF NOTE
--Gonzaga has won 27 of the last 28 versus Santa Clara.
--The 43-point margin was the most lopsided in the GU-Santa Clara series (which is 79 games according to GU's notes, 80 games according to SCU's notes). Gonzaga hammered SCU by 42 points (95-53) in 2009.
--According to GU, the Zags lead the series 49-30. According to SCU, the Zags lead the series 48-32.
--Santa Clara's 42 points was the lowest in coach Kerry Keating's six years as head coach.
--Hart committed his first turnover in nine games (BYU) when he stepped on the sideline in the first half. He has five turnovers in 444 minutes.
--Harris played the most minutes (23).
--Edi, whose playing time has declined with the solid play of Hart, Drew Barham and Kyle Dranginis, played the last eight minutes. Edi scored his first point in eight games.
QUOTEBOOK
Keating: "That's a great team we played right there."
Few, on Hart: "He's amazing, guys, he's amazing. He's the ultimate effort guy and ultimate scrapper and as tough as they come. He has a real nose for the ball, which is probably the biggest understatement of the night."
Bell, on defending Foster: "We just tried not to let him get open shots, not let him get going. When we played down there, he had 15 or something at half. We made sure he didn't get going."
Keating on GU's defense: "I don't think they did anything special (defensively), they just played more aggressively. They played harder earlier on their end, and we weren't patient enough offensively. The shots we were taking, whether they were good or bad, when they were good they didn't go in."
---
---