Tue., Jan. 8, 2013
Spokane's Pokorny top collegiate at U.S. National Cross Country Skiing Championships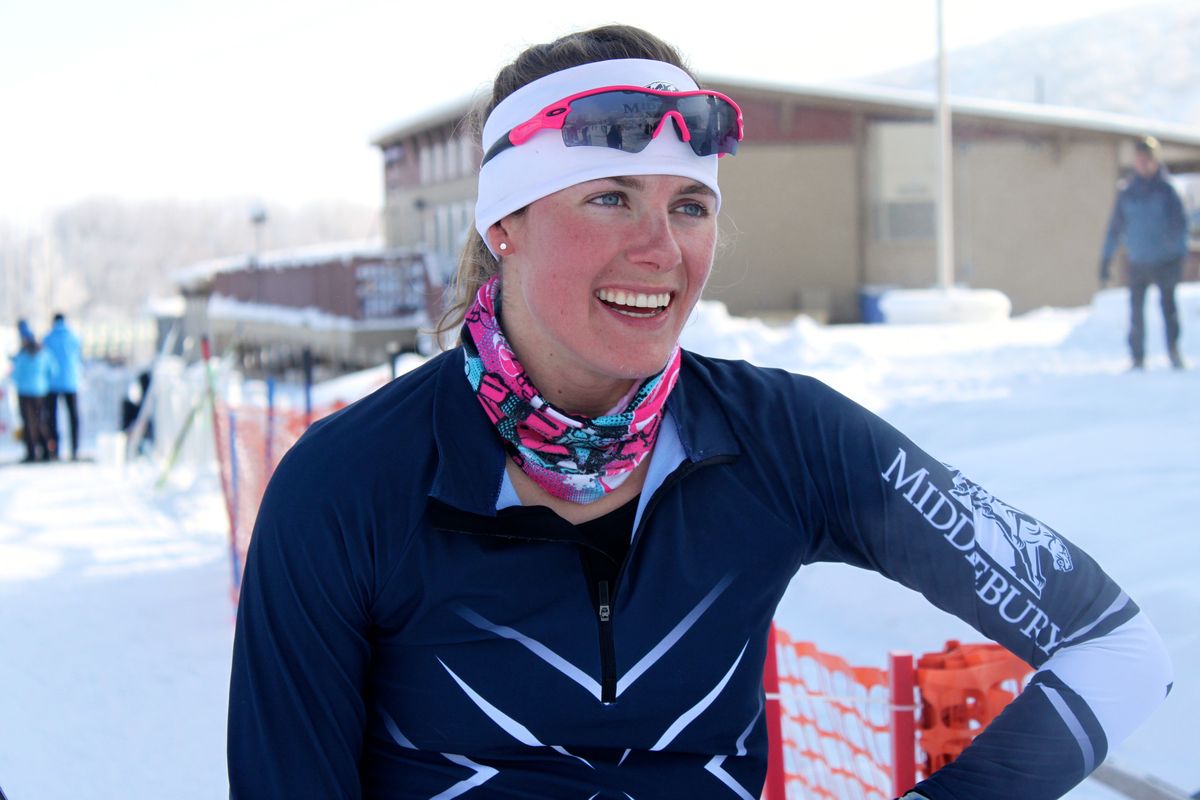 Annie Pokorny, 20, of Spokane catches her breath between races at the U.S. National Cross Country Skiing Championships on Jan. 4 at Soldier Hollow, Utah. (Courtesy)
Pokorny,
a sophomore at Middlebury College
in Vermont, won the "collegiate cup" as the top college athlete to participate in the event. She was competing against the country's top nordic skiers, with the exception of five women currently representing the U.S. Ski Team in Europe.
Pokorny's effort qualified her to ski for the U.S. at the World U-23 championships to be held in Liberic, Czech Republic at the end of January. She leaves for Europe Saturday, and will return in February to continue skiing for Middlebury. She plans to ski in the NCAA championships to be held at Middlebury in March.
Pokorny developed her skills as a teenager with the Spokane Nordic Junior Ski Team. She was named to the All Greater Spokane League Soccer Team in 2009 as she played for Lewis and Clark High School. But she moved to Sun Valley, Idaho, with her mother for her senior year where she could finish high school while devoting her sporting interests to nordic skiing.
Click "continue reading" for a summary of the top performances by Pokorny and Inland Northwest skiers
Torin Koos
of Leavenworth,
Erik Bjornsen
and his sister
Sadie Bjornsen
of Winthrop.
Sadie Bjornsen, Koos and Pokorny all have the distinction of winning top female or male titles as teenagers at the annual

10K Spokane Langlauf

at Mount Spokane.
Summary of results for inland NW skiers at US nationals, Jan. 2-8, 2013
Jan. 2
Classic Sprint
Men:
Torin Koos, 1st
Eric Bjornsen, 21st
Women:
Sadie Bjornsen, 2nd
Annie Pokorny, 26th
Jan. 4
Men's freestyle individual start 15 K
Bjornsen, 1st
Koos, 6th
Women's freestyle individual start 10 K
Bjornsen, 2nd
Pokorny, 4th
Jan. 6
Men's 30 K classic mass start
Koos, 1st
Bjornsen, 2nd
Women's 20 K classic mass start
Bjornsen 1st
Pokorny, 8th
Jan. 8
Freestyle sprint
Men:
Bjornsen, 1st
Koos, 27th
Women:
Bjornsen, 1st
Pokorny, 15th
Dr. Al Pokorny, Annie's father, offered these observations about the U.S. National Cross Country Skiing Championships and the other Inland Northwest skiers:
Torin Koos grew up in Leavenworth/Wenatchee area, and called that home through his many years on the world cup circuit, skiing for the US ski team. He now skis for Bridger ski foundation in Bozeman. Looks like he probably has earned his way back to the World Cup.

"US Nationals" may be a bit of a misnomer, as the best of the best on the US ski team are skiing the Tour de Ski in Germany (part of the World Cup Tour), so Nationals is missing about five women and three men, but otherwise all the top skiers from high school, college, and the "pros" (yes there are about 20-30 "professional" cross-country skiers in this country, who make skiing their full-time job, though few make any actual money doing this) were there.

There were over 300 skiers at this event. Its primary purpose is to select the international teams (e.g. Junior World Championship Team) for upcoming events and to promote a few athletes to the world cup.

Sadie and Eric Bjornsen had already earned their right to start the next period at the World Cup level by being the US SuperTour (continental cup) leaders coming into this event. Both Ski for the US Ski Team (Sadie on the "B" team, and Eric on the Development Team) and APU (the club affiliated with Alaska Pacific University, not an actual college team).
---
---