Wed., Jan. 9, 2013
Pregame from Maples Pavilion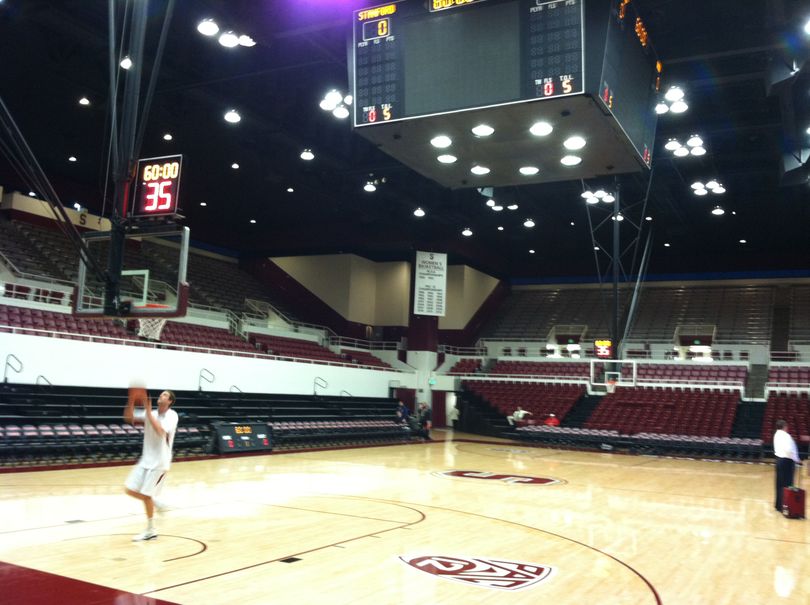 COUGARS
FROM STANFORD -- Checking another Pac-12 arena off my list tonight, as Washington State makes its first visit to Stanford since the 200-11 season. OK, so that wasn't all that long ago. Anyway, we have some thoughts before things get going, so read on.
...
I used to think Beasley Coliseum's media seating was a long ways from the court. But at Maples, we're tucked up literally as far away from the court as possible, all the way against the back wall in the rafters. No matter. The building is intimate enough that no seat is too far from the action. ... So, how will Brock Motum and the rest of the Cougars respond to last week's poor offensive showing against Washington? Ken Bone spoke this week about using Motum in different ways -- possibly as a decoy, possibly as a more active screener -- in order to get him the ball, but also in order to allow other players to take advantage of the opponent's defense of Motum. Does Stanford try the same thing as Washington, fronting Motum at every opportunity and denying him the ball? Do they double? Or do they simply play him straight-up? That's what's going to be interesting about the Pac-12 season. Every team has the caliber of athlete to try just about whatever it wants defensively. The way to combat that, then, is for players like DaVonte Lacy, Mike Ladd and D.J. Shelton to step up offensively and keep Stanford honest. ... This is a Cardinal team a bit down on its luck after a strong run to finish last season as the NIT champions. Stanford is without guard Anthony Brown, who is out for the year with a hip injury suffered early this season, and the Cardinal dropped two tough games to USC and UCLA last week to begin Pac-12 play. After the UCLA loss, coach Johnny Dawkins kept his team for nearly an hour in their locker room afterward, holding an open forum to discuss how the Cardinal can improve. WSU might not be to that stage yet -- its loss to Washington was its first since a Dec. 5 setback to Gonzaga, and that was a game the Cougars could have won -- but a loss tonight will turn up the pressure ever-so-slightly. A win -- on the road against a team a lot of folks expected to be pretty good this season -- would almost certainly erase all the bad feelings from the Washington loss and give the Cougars something to feel good about as they head back to Pullman tonight.
We'll have more after the game.
Christian Caple can be reached at christianc@spokesman.com. Twitter: @ChristianCaple
---
---