Tue., July 30, 2013
Petrino addresses media before camp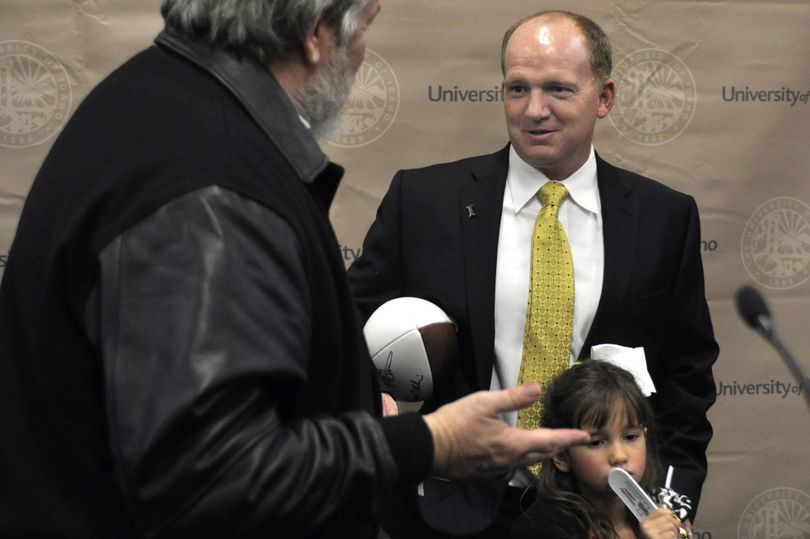 The Idaho football teams kicks off the season at North Texas exactly one month from tomorrow. And it starts fall camp on Monday with a 3 p.m. practice. Before then, first-year coach Paul Petrino met with reporters today. We have the highlights after the link.
*****
Let's start with the newsiest items from Petrino's 30-minute teleconference.
Offensive lineman Jordan Johnson could miss the year with a back injury, prompting Petrino and his staff to keep former defensive lineman Jesse Davis on the OL, where he moved during spring because of injuries. Johnson has been on-again, off-again starter during his career -- but he's also never stayed fully healthy. Davis, from Asotin, Wash., was a sturdy defensive tackle for the Vandals, and he acknowledged in spring that the O-line was much more mentally challenging than playing on the D-line.
Another player who switched positions during the spring, Austin DeCoud, has switched yet again, going from safety to linebacker, Petrino said. DeCoud came to Moscow as a quarterback but quickly moved to safety during the spring. Petrino said DeCoud keeps getting bigger, which made the move to LB a logical step.
DeCoud is part of a crowded, talented and inexperienced group of linebackers. Broc Westlake, a JC transfer, has been cleared to practice, Petrino said, after missing the spring with an injury. And he'll join three other JC transfers -- Mark Millan, Juan Martinez and Eric Tuipuloto -- who had nice springs. None of those players have started for the Vandals. Returners at LB include James Randall and Matthew Willis. Russell Siavii, the younger brother of Rob, is a redshirt freshman.
The biggest spotlight in fall camp will be on the Vandals' quarterback competition. Petrino said Coeur d'Alene native Chad Chalich, a redshirt freshman, is the QB to beat coming into camp. Chalich had a strong spring finale and was declared the No. 1 QB going into the summer. But Petrino said JC transfer Josh McCain, who was not at UI for spring ball, has a chance to start, too. And Taylor Davis, the most experienced QB on the roster, "continued to improve in spring ball and got better," Petrino said.
McCain is a dual-threat QB who could fit nicely into Petrino's read-option offense. But the new coach said running the read-option was one of Chalich's strengths in the spring -- the QB had 102 yards rushing in the spring game and bounced back from numerous big hits -- while McCain didn't operate the read-option at DeAnza College, Petrino said. He "just ran around and made plays."
Other notes:
Petrino said every signee from his first recruiting class in February has made it to Moscow. WR Dezmon Epps has been cleared and is "good to go," Petrino said. The only injury concern is running back Isaiah Saunders.
Petrino said he never talks about redshirting freshmen before they get into fall camp. The only likely redshirt candidates are two offensive lineman -- Brett Thompson (Minico, Idaho) and Nick Edenfield (Nampa, Idaho) -- and QB Matt Linehan.
Defensive tackle Quayshawne Buckley, who was dismissed in February after a DUI arrest, is back with the team. He is one of two senior defensive linemen along with Vince Keener.
---
---