Thu., Nov. 21, 2013
Gonzaga women vs EWU recap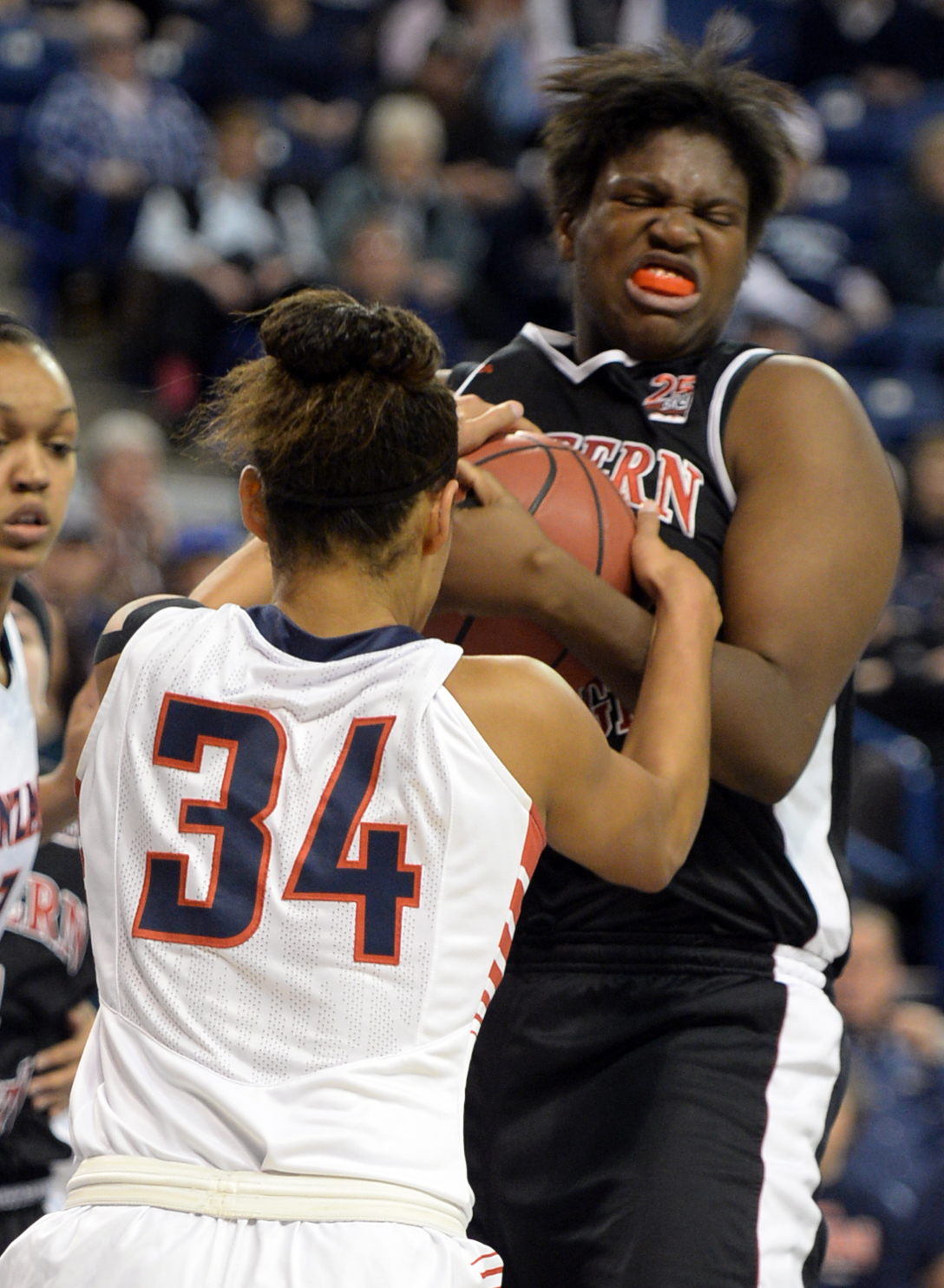 The start of the regional game Wednesday night between Eastern Washington and Gonzaga looked more like a B-movie beginning to the famed fable of David and Goliath. Read more below.
Eagles coach Wendy Schuller sent out spunky 5-1 guard Kylie Huerta to tip-off against Gonzaga's 6-5 starting center Shelby Cheslek.
Both players seemed to get a good laugh about the situation and Cheslek, who obviously towered over Huerta, was the only one to go up after the ball, which she controlled for the Zags.
After the game, Schuller was asked why she didn't have 6-2 center Laura Hughes challenge Cheslek for the ball.
"I warned Kelly (Graves) that I was going to do it," Schuller said of sending out Huerta. "We weren't going to win it anyway. It gave us a chance to put Laura back and get our defense set."
Schuller's strategy seemed to work, if only for moments. Hughes scored the first four points for Eastern and the Eagles held a 4-3 lead before losing it for good when Stephanie Golden scored a layup with 16:30 to go in the first half.
STAR IS BORN?
While Haiden Palmer is just straight killing it, now averaging a mere 20 points a game after four contests, a player to watch is sophomore forward Kiara Kudron.
Early in the second half, the 6-2 forward from New Boston, Mich., took a beautiful entry pass from Lindsay Sherbert and scored a layup to put Gonzaga up 50-39.
Hughes hit another layup to bring Eastern again within 11 at 55-44. But Kudron had two layups, along with one each from Sherbert and Palmer, essentially putting the game away with 7:49 left to play.
"Kiara is great around the rim," Graves said after the game. "It was nice to see her make some nice offensive plays."
Kudron finished with 12 points, three rebounds and two-for-three froim the free-throw line.
SCORING OFF THE BENCH
While Palmer leads Gonzaga with 20 points per game, she is also second on the team in rebounds with 6.5 a game. She also has 14 steals and three blocked shots.
Palmer is trailed in scoring only by newcomer Sherbert, who sat out last year after transferring from the University of California.
Graves has been bringing Sherbert in as the first player off the bench with good results. Sherbert is not only averaging 11.3 points per game, but the 6-0 junior is also leading the Zags with 7.3 rebounds a game.
Keani Albanez, a first-time starter, is third with 9.3 points a game even after not scoring a point against Eastern. But she tied with Palmer with the most rebounds at five against the Eagles.
Sunny Greinacher, the 6-4 junior from Essen Germany, is averaging eight points, followed by Kudron and Stephanie Golden, who both are averaging seven points a game.
EASTERN NUGGETS
Coach Wendy Schuller said she was pleased with how her team played in the 20-point defeat.
"The kids we had on the floor gave us great energy," she said. "I was proud of them getting after it."
While Hughes led the scoring with 18 and Lexie Nelson poured in 17, Schuller said she was pleased with the play of 5-9 freshman Bethany Montgomery, who scored 8 points and snagged three rebounds in only 17 minutes.
"Bethany is one of those kids who brings energy whenever she steps on the floor. Tisha (Phillips, six points) came and gave us some good minutes," she said.
Schuller said her team didn't seem to play very fast at the start of the game "and we got punched in the mouth. In the second half, we got punched again. But I see positives. They definitely see where we need to get better."
---
---