Sat., Sept. 28, 2013
Young Vandals give Petrino first win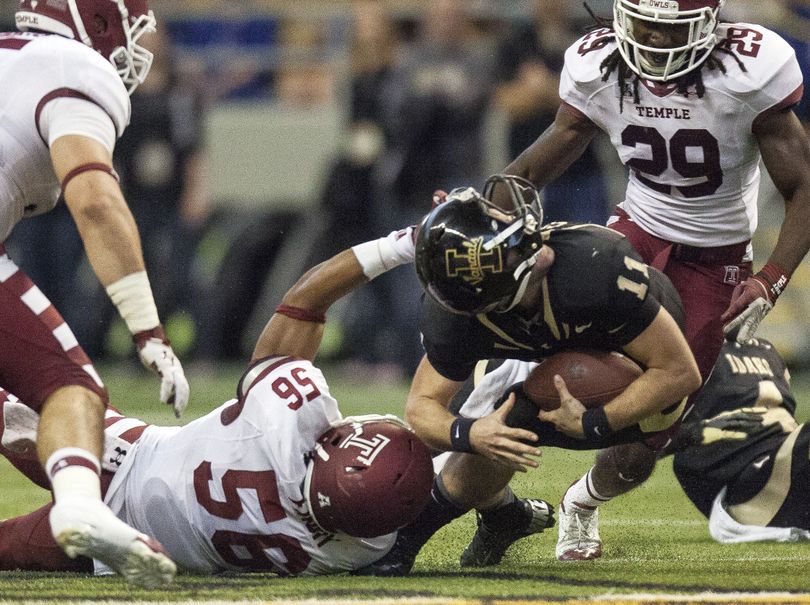 The last Idaho quarterback to rush for at least 100 yards was Doug Nussmeier in 1993. The last Idaho QB to rush for 100-plus yards and pass for 200-plus yards was Scott Linehan in 1984. And the last Idaho QB to eclipse 100 yards rushing and 300 yards passing in the same game? Apparently, that hadn't happened until today in the Kibbie Dome.
Chad Chalich (pictured with his helmet twisted on a run) was masterful with his arm and his legs in guiding the freshmen-laden Vandals to a 26-24 homecoming win over Temple -- their first victory since beating New Mexico State last October. The redshirt freshman QB threw for 310 yards on 26-of-43 passing and rambled for a game-high 114 yards on the ground.
We've got notes and the transcript from Paul Petrino's news conference after his first career win, as well as quotes from Spokane product Austin Rehkow -- who booted four field goals, including a clutch 25-yarder late in the fourth quarter.
*****
You can read an early version of our game story here. It was a joyous scene after the game for the Vandals, and Paul Petrino got emotional in his postgame meeting with reporters. Before we get to his thoughts, here are a few notes:
The announced crowd was 15,323, though it appeared to be around 12,000 to 13,000.
The Owls' three points in the first half were the fewest given up by the Vandals since they shut out UNLV in the first half in September 2010.
Idaho was without starting D-end Quinton Bradley for the second straight game. Petrino said he hopes to have Bradley back next week against Fresno State.
Idaho had three offensive linemen start at their positions for the first time this year -- Nik Von Rotz at tackle (he's started at guard previously), Steven Matlock at guard and Spencer Beale at guard. Guard Dallas Sandberg and tackle Jesse Davis missed the game due to injuries.
CB Solomon Dixon and safety Trey Williams, who missed last week, started against the Owls. "It's good to have your best corner back," Petrino said.
Former Idaho players David Vobora, Eric Greenwood, Matt Cleveland, Derek Weiting and others were on the sideline. Vobora said he hopes to get into collegiate coaching this offseason after playing in the NFL for the St. Louis Rams and Seattle Seahawks.
****
PAUL PETRINO TRANSCRIPT
-- On offensive line: "Really had three guys playing positions they hadn't played before. They stepped up and competed. ... We've been talking forever: What we really needed up there …. Is we need overachievers that play with good technique and give second and third efforts. And I think we got that tonight, so I was really proud of them."
-- On giving up just two sacks and not fumbling the ball: "It happened and we've got to continue to do that. I think Chad grew a lot. Played better. We can't settle for all those field goals. That almost came back to haunt us because if we score touchdowns on all those drives than we're not having a heart attack right at the end of the game. So that's something we've got to work on, but the ability to not end up behind the chains so much and then not turn the ball over really helped us control the game."
-- On being happy for Austin Rehkow: "Yeah. Fired up. Fired up that he made them. That was awesome. Even though we would rather score touchdowns, it was great … (Three field goals in the second half), that's big time. And then he had an unbelievable punt. That's a true freshman doing that, too. He's going to be really, really special."
-- On freshmen: "They're feeling more comfortable. Richard Montgomery made a couple plays out there, I believe. Deon Watson, you forget he's a freshman. You forget Chad's a freshman. Starting a true freshman at offensive guard (Steven Matlock) is almost unheard of in Division I. That kid is so tough I love him. Obviously he's a redhead, so he's tough. I'm just so proud of all those guys."
-- On defense and assistants: "Then our defense flew around and just played their tails off. I thought both Coach Lee and Coach Cinkovich and the whole assistant staff, they've came to work every single day. They've grinded every single day. So I'd really like to make sure you guys give credit to all those assistants. They've been doing a great job and working very hard."
-- On winning in front of homecoming crowd: "I think it makes them know that they're going to be proud of us. This is just the start. It's still a process and we're still going to get knocked on our butt some other time this year. That's just the facts of life. But we're going to fight everyone that wants to. We're not going to back down to anybody. We're going to fight everybody. We're going to get better, and we might get knocked down. … But come next year and the future from now on out, everybody in the Sun Belt better look out. We'll be the ones that are the big bullies, whoopin' them."
-- On toughness of his players and reading a poem to team: "You saw that all over the place. You saw guys all over the place. It shows that they cared for each other. They weren't going to let go. They were going to hold on. They were going to keep fighting. … I read them a poem last night that my dad used to read to our team all the time. It's about, 'Give me a man that steps forward when others steps back, that holds on when others let go. Doesn't know the words 'can't' and 'quit,' and I'll give you a man that will win in the end.' That's what they were today. They were a bunch of men that won in the end. They stepped forward, they'll held on. They were tough. They grinded. I'm just proud of all of them."
-- On Maxx Forde and QuayShawne Buckley, who combined for two sacks and four tackles for loss: "Just awesome. Maxx and QuayShawne are great players, you know. And they need to dominate like that. There were a couple times where (Temple QB Connor Reilly) stepped back and was having a cup of coffee and was waiting around and then they got us. Those two get one-on-one, they should never get blocked. That's what they've got to have that mentality -- if they're one-on-one, they should be hitting that quarterback. They did it a bunch tonight."
-- On giving up three points in first half: "It was great defense. And they stiffened. They fought and they tackled well. Couple drives in the second half, we missed some tackles. I know there was one right in my face where two guys (Solomon Dixon and Eric Tuipulotu) could have tackled him and they missed them. Just got to keep getting better at it, but we really tackled well the first half. We flew around and got to the ball.
"The first drive when the got the three points, we kind of were soft and playing off and let them take all those quick things. And then we started pressing them and made the guy earn it. Made the guy make tough throws and put pressure on him. And we played a lot better."
-- On practice determining playing time: "We're going to start the guys that practice the best. We're going to give the ball to the guys that practice best. People are seeing that. You've seen that at running back."
-- On McCain and Baker not playing: "Josh didn't practice very well this week. Again, everything is going to be judged and the film is their resume in how they practice. He didn't practice good. It's why he didn't get in the game.

"I'm not kidding when I say that. When I tell them that, they're going to realize that. I don't care who they are. You know, James probably ran the ball as good as anybody the last two weeks. He did not practice this week. … So he didn't see the field either. That's how it's going to be."
AUSTIN REHKOW
-- On reaction from teammates after first field goal: "They just said, 'Keep it up.' Any time you can put points on the board is huge. You know, I've got to thank Maxx Forde. He's kind of like my big brother when it comes to all the field goals. He's always the one coming over and (saying), 'Great job.'
"Once that first one went through, the confidence kind of came back. It was great. Love kicking in the Dome. No wind."
-- On improvement from earlier in season: "I really focused this week on just making my routine similar. I think that was a big difference this week — every kick was the same. As long as I can keep it same steps, all that good stuff, I expect to make it."
-- On handling pressure kicks: "That one, I was (thinking), 'All right, this is the big one.' I always love having the pressure on me, whether I'm struggling or not. I want that pressure. … I love the pressure situations. To be able to knock it through, that ended up being the difference-maker in the score. It was just an awesome feeling. I was glad I was able to be a part of it."
-- On handling punting and kicking duties: "I just love being on the field. Whatever I can do to change the game, whether it be put points on the board or pin them inside the 20. I just take pride on the time I am on the field, because I know it's limited. I want to make a difference.

"Overall, special teams just did an outstanding job, in my opinion."

For more Vandals news, follow me on Twitter @SR_JoshWright.
---
---