Wed., Dec. 31, 2014
Morning links: getting ready for Pac-12 basketball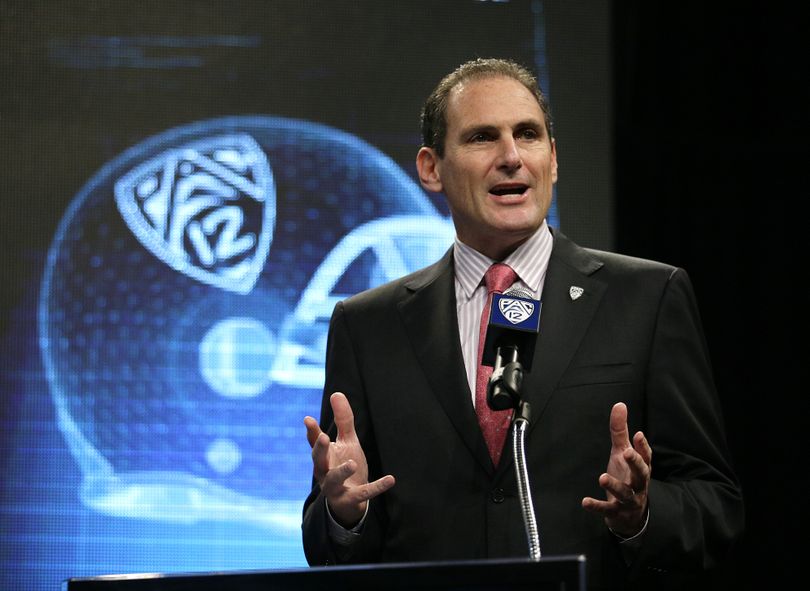 (Pac-12 commissioner Larry Scott is ready for some basketball.)

In two days Washington State will tip-off the Pac-12 basketball season with a noon game at Stanford.

While three teams were wrapping up their nonconference schedules yesterday, the rest of the conference was getting ready for the start of college basketball's "regular season."

That meant the first of the weekly Pac-12 coaches teleconferences and we've got a transcription of Ernie Kent's time on the call, as well as some relevant quotes from the coaches of WSU's opponents this week.

We also spoke with some players after practice and have videos of Ike Iroegbu, Josh Hawkinson and Jordan Railey.

At 11 a.m. today I'll be hosting a live chat on the blog to discuss WSU sports. Until then I've got some links to pass along after the jump.
…
-- Vince Mayle accepted an invitation to the NFL combine.

-- Kalafitoni Pole will try to impress NFL scouts at the NFLPA Collegiate Bowl.

-- I missed this yesterday but SportPressNW also has a report on Daquawn Brown's dismissal.

-- CougCenter has a fun investigation into WSU's search for a defensive coordinator.

-- Arizona will take on Boise State today in the Fiesta Bowl.

-- Good news, Arizona State. Bad news, Pac-12. D.J. Foster is coming back for his senior season.

-- California will likely be without Jabari Bird for at least a couple more weeks.

-- Colorado seeks to get better at closing out games.

-- Oregon's Byron Marshall is no longer defense-illiterate and it shows.

-- Oregon State's surprisingly good start continued with a win over UC Santa Barbara.

-- The Pac-12 remains undefeated in bowl games after Stanford's routing of Maryland yesterday.

-- Kenny Young looks like the next in a conga line of excellent UCLA linebackers.

-- USC won a tight game against Vermont.

-- Jordan Loveridge looked right as rain as Utah blitzed Carroll College.
---
---