Wed., Feb. 5, 2014
CdA's Blakley leads talented area class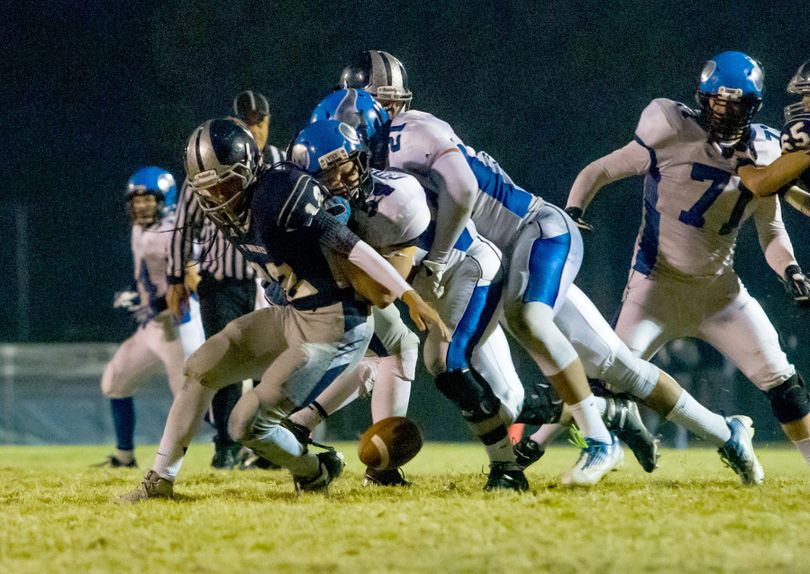 Here's a link below to my unedited story about area prep athletes signing letters of intent Wednesday. Pictured above is CdA's Chase Blakley (Boise State) and Austin Chadderdon (Montana).
By Greg Lee
gregl@spokesman.com, (509) 844-8168
Before the college football coaching carousel starting turning, as it always does, last month, Coeur d'Alene standout Chase Blakley was set on signing with the University of Washington.
Then two coaching changes – Steve Sarkisian left UW for Southern California and Chris Peterson departed Boise State for UW – caused him to take a second look.
Last weekend during an official visit to BSU, Blakley decommitted from Washington and accepted an offer from the Broncos. He followed it up Wednesday by signing his national letter of intent.
"Washington still wanted me the whole time, but I felt way more comfortable with the coaching staff in Boise," Blakley said Monday from the Boise airport for a return to CdA. "I wasn't as familiar with the new staff at Washington. The new BSU coaches recruited me really hard."
The 6-foot-4 1/2 and 240 pound Blakley has been clocked at 4.7 in the 40-yard sprint.
"They want me to maintain my weight and keep up my speed," Blakley said. "I need to get bigger, faster and a little leaner."
Blakley led CdA in receptions with 47 for 763 yards and 11 touchdowns.
"If he gets in the right system and buys into the program and puts in the work required, he could be pretty special," CdA coach Shawn Amos said. "He's very physically blessed."
Coleton Collins of Lakeside (Nine Mile Falls) is taking a leap of faith.
Collins has accepted a walk-on offer from Idaho State with the promise of a scholarship the rest of his career.
"Coach Mike Kramer looked me in the eyes and guaranteed me a full-ride scholarship after the first year," Collins said. "He said they ran out of scholarships this year."
The 6-3, 207 Collins was recruited at tight end. He led Lakeside with 45 catches for more than 800 yards and 16 TDs last fall.
Here's a list of other area signers Wednesday:
Football
Russell Dubois, G-Prep, Montana Tech
Christian Olson, Ferris, Montana Tech
Kendall Rew, Ferris, Azuza Pacific
Cole Karstetter, Ferris, EWU
Jonah Jordan, Mead, EWU
Matt James, Coeur d'Alene, Washington
Chase Blakley, CdA, Boise State
Gunnar Amos, CdA, Idaho
Jordan Rose, Freeman, Idaho
Jack Hunter, G-Prep, EWU
Nick Ellison, Moscow, EWU
David Ungerer, Pullman, Idaho
Devin Ward, CdA, Montana Tech
Marcus Saugen, North Central, EWU
Stu Stiles, Mt. Spokane, EWU
Austin Chadderdon, CdA, Montana
Girls soccer
Chloe Williams, Lewis and Clark, Eastern Washington
Jessica Kennedy, LC, Portland
Hannah Holm, University, Minnesota
Sarah Melvin, U-Hi, Community Colleges of Spokane
Cassidy Walter, U-Hi, Carroll College
Carolyn Cox, Gonzaga Prep, Northern Colorado
Colleen Lindsay, G-Prep, Western Washington
Katie Bischolff, Ferris, Whitworth
Ashlee Pedersen, Mt. Spo, Montana
Shannon McReynolds, Mt. Spo, Grand Canyon
Dani Crawford, Moses Lake, Hawaii
Diana DeWald, Pullman, Whitworth
Martha Heaps, Mead, Concordia
Savannah Hoekstra, Central Valley, EWU
Madison Kinsolving, CV, CC Spokane
Malia Maack, Mead, New Mexico Highlands
Lexi Smith, Post Falls, Eastern Oregon
Sienna Tanner, Lewis and Clark, Whitworth
Kourtney Wick, Lewis and Clark, CC Spokane
Boys soccer
Matt Beaulaurier, Ferris, St. Martin's
Connor Ourada, Ferris, Gonzaga
Austin Ziegle, Mt. Spo, George Fox
Matt Beaulaurier, Ferris, St. Martin's
Nolan Eldridge, Mead, St. Martin's
Damien Lawson, Medical Lake, CC Spokane
Ben Thompson, Lewis and Clark, Redlands
Peter Worrall, St. George's, Army
Softball
Taylor Morales, U-Hi, Bradley University
Michele Strauss, Ferris, CCS
Ashlynn Bocook, Mead, CCS
Caitlyn Seiger, Mead, Wenatchee Valley
Berkley Fisher, SP, CC Spokane
Shania Lawrence, Mt. Spo, Blue Mountain CC
Hannah Steele, , Mt. Spo, Yakima Valley CC
Track/Cross country
Taylor Smith, U-Hi, Carroll
Kai Wilmot, North Central, Wisconsin
Basketball
McKenzie Peterson, U-Hi, San Diego Christian
Volleyball
Shelby Kantner, Ferris, Puget Sound
Peighton DeVon, Shadle Park, Nevada
Tennis
Trevor Fennessey, Ferris, Whitman
Baseball
Drew Rasmussen, Mt. Spo, Oregon State
Evan Douglas, SP, CC Spokane
Jakob Leavey, Mt. Spo, Walla Walla CC
Golf
Sierra Bezdicek, Mt.Spo, Northern Arizona
Swimming
Christine Renzini, Mt. Spo, Idaho
---
---