Tue., Feb. 11, 2014
Railey hoping success comes with confidence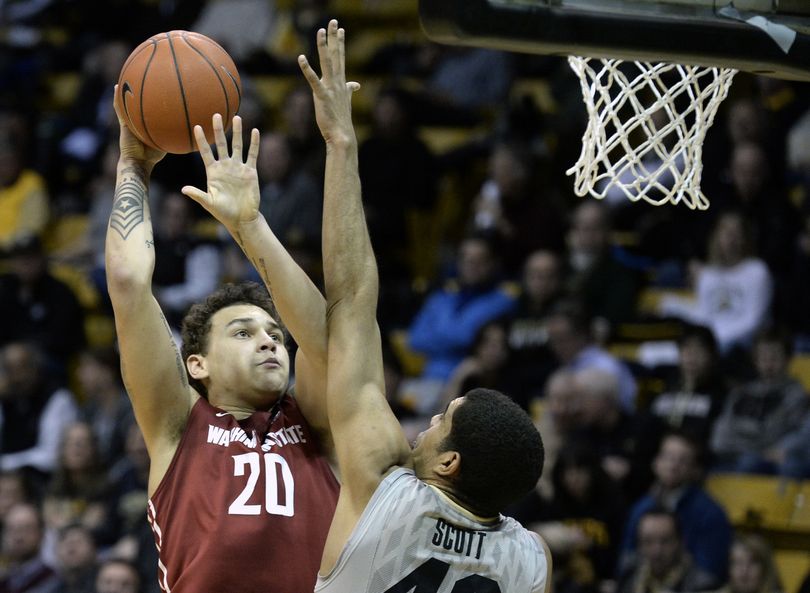 From Pullman -- You have not noticed, but there's one Washington State basketball player who has been dominating all season. A stalwart on defense, offensively this player is an unstoppable force with no immovable object to halt his Newtonian dominance. Washington State's biggest player has also been one of its best.
If only practice mattered.
...
Does an impressive athletic performance count if fans and media are banned from seeing it? That's the question surrounding WSU center Jordan Railey, who coaches say is a terror on the practice court, but has barely registered a tremor in games. Coach Ken Bone says that in practice Railey is fearless, slamming home thunderous dunks and showing the ability to provide the offense the Cougars desperately need.
"The only thing I can think of is, here we're about to go up against some 6'10, 6'11, 7-footers," Bone said. "And almost every game we're going up against some really seasoned, tall, long, athletic kids and he doesn't see that in practice.."
Throughout the year Railey has started at center for WSU. But after the Arizona game in which Railey scored just one point in 21 minutes, his playing time dropped dramatically. While Railey still took the floor as a starter, he didn't provide much past the opening tipoff and averaged just 13 minute over the next eight games.
"I'm not worried about whether or not I go back in, coach Bone obviously sees things that I don't," Railey said. "I've been like that with every coach I've had, they obviously have a reason for me sitting out for a minute or 10 minutes. There's obviously a reason behind it and I'm fine with those reasons because I trust him and he knows what's best."
After the win over Washington, Railey approached Bone in his office and asked him to start Junior Longrus in his place. Rather than fight for more playing time, the Iowa State transfer felt like he needed a step back.
"I felt like I wanted to do a new approach to things, kind of like let that pressure release and just try something new," Railey said. "Because I felt like at the beginning of the game I had a lot of stuff racing through my head the last couple games, putting a lot of pressure on myself. So I felt like if I tried maybe not starting than that would help, and I think it did for the Colorado game."
In that game Railey played 17 minutes, scoring just two points. But he helped hold Colorado's Josh Scott to just one point and Bone maintains that the 7-footer is still their best defensive presence.
---
---