Wed., Jan. 29, 2014
Is the silliness behind us?
A GRIP ON SPORTS
The circus that is Super Bowl Media Day is in the rearview mirror. Or should be. From here on in, it is smooth skating until the game. I'm good with that. Read on.
• Yes, a guy from Spokane was able to find Waldo. Even within the throng that is Media Day (trademark, NFL). Finding a legitimate football question, now that's a bit tougher. We talked with former Spokesman-Review writer Dave Boling yesterday after the spectacle in New York (and yes, I know the media gathering was in New Jersey), and the News Tribune columnist was adamant this Media Day wasn't any worse than others, despite the proximity to the "Best Place in the World" (trademark, New York). It was a bit more crowded, mainly because it was done in the Prudential Center, not on the football field as is usually the case. But there weren't any more crazy folks, any more crazy questions – though there were a lot more with a New York bent – or any more rude people. OK, that last one, not true. But we'll let it lie. No reason to bash the New York media any more. Boling went into the day knowing he was going to shadow Marshawn Lynch, who either bolted early (the spin from the New York media and some in the national ranks) or actually talked (the Northwest version, joined by some in the national media). Boling was pleasantly surprised – and not in a Pete Carroll-kind-of way – with Lynch's answers, which led to his column as well as John Blanchette's column. Which is the best that can be said about Media Day.
• By the way, when we spoke to Keith Osso about Waldo, he said the fellow was from Denmark and had a surprisingly deep knowledge of football and the Seahawks. Who knew? But as I said on the radio yesterday, when you are hiding all day in a book, it gives you lots of time to research the NFL on your iPad.
•••
• WSU: It's been a while since we've been able to pass along good news from Pullman but we can today. Jacob Thorpe reported yesterday the Cougars hope to have DaVonté Lacy (pictured) back this Saturday when they face Washington in the Palouse. Jacob has more in this blog post and story. ... Jacob also has a morning post with Pac-12 links. ... Oregon's Arik Armstead got into the game against WSU, scored a couple points and decided to give up basketball. Probably because he realized it doesn't get any better than that. ... The folks at ESPN.com's Pac-12 blog have a midweek mailbag. ... Some football players at Northwestern took one of their professor's advice and decided to try to form a union. I hope the professor has tenure. ... California's new defensive coordinator should help. ... Finally, despite the 3 inches of snow on the ground this morning in Spokane, college baseball season is just around the corner.
• Gonzaga: The first half of the WCC season was spent mainly in the Kennel. Now, as Jim Meehan's story and blog post explain, the Zags will spend most of the rest of the year on the road. ... Still, folks still consider Gonzaga the class of the WCC and rightfully so. ... Here are two different ways of looking at one stat: BYU is being outscored from beyond the arc. ... Thomas Clouse has his women's basketball notebook today and leads with GU's women being at home for most of the second-half of the WCC.
• Idaho: A couple of Idaho athletes earned WAC honors this week. ... One of them wasn't Stephen Madison, but he's done that a lot this season, as Josh Wright's blog post shows. ... A former UI football coach will be part of this year's North Idaho Hall of Fame class.
• Preps: The Gonzaga Prep girls seem about ready for the postseason. At least it seems that way after they defeated Mead last night. Greg Lee was there and this game story. So was Colin Mulvany and he has these photographs. ... A blast from the past as Dave Trimmer returned to print with this game story of the G-Prep boys' win over Mead. ... We can also offer boys and girls roundups from last night. ... A Coeur d'Alene star now says he is going to Boise State, not Washington.
• Chiefs: It's Wednesday, so Chris Derrick has his WHL notebook today. ... There is also a notebook from the Tri-City Herald.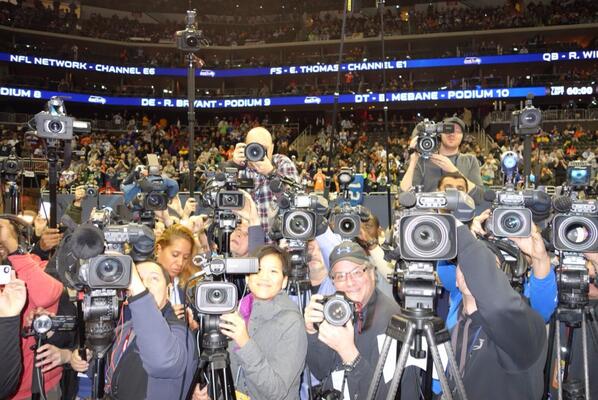 • Seahawks: What can I day? I looked at or read or glossed over at least 1.3 million stories from Media Day (patent pending). OK, that's not true. It was at least 1.4 million. My eyes hurt. But yours don't have to. If you want Marshawn Lynch stories, just click on these links. There are a lot of them. If you want Denver stories, including those about Peyton Manning, you just have to read these. You want more about Richard Sherman? Then these stories are the ones you want (and the picture, that's from Sherman's point of view.) ... Of course, there are other subjects, including football and Chris Clemons. There are Percy Harvin stories (yes, he got through Media Day healthy), Golden Tate stories and pieces about the two coaches, including Mr. Positive, Pete Carroll. And his quarterback. ... There are still some players on the Hawks who predate Carroll and John Schneider, but not many. ... Want an unbiased view of the game? This is close. ... Which NFL coach do NFL players want to play for? Yep, it's Carroll. ... Finally, I am intrigued by this analysis of Wilson.
•••
• Guess what day it is? Another day on the radio with Dennis Patchin and Rick Lukens. After all, Osso is in New York looking for more book characters. You can listen here between 3 and 6 p.m. Until then ...
---
---