Flashback: Stanford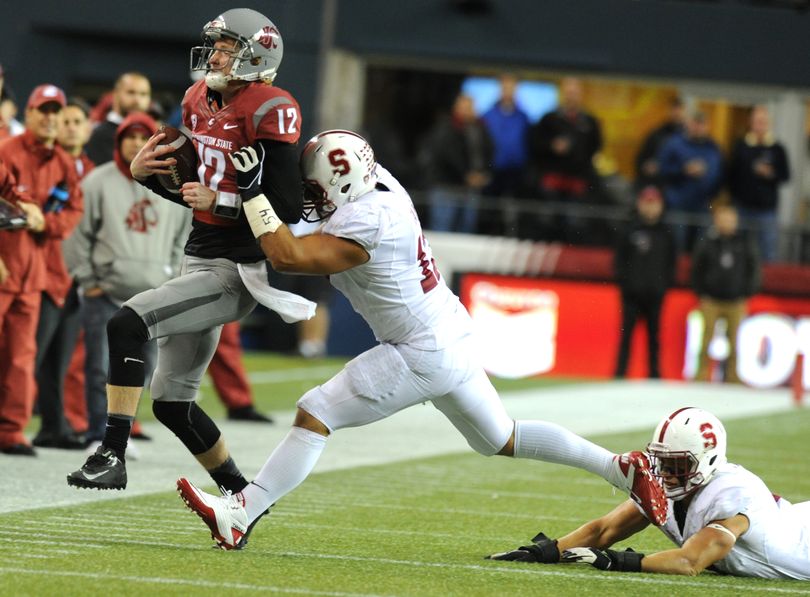 Merrily, the 2013 Cougars rolled through their first four games, emerging from the season's first chunk of games 3-1 with a surprising win over. Mike Leach's offense had started to match the hype, putting up 90 points in wins over Southern Utah and Idaho after some early hiccups.
But Washington State fans expected to score points – Leach had had been received in Pullman as an offensive rainmaker, and not a cheap one. The welcome surprise was the Cougars defense that had given up just 17 total points in the previous three games, including a single touchdown on the road at No. 25 USC.
The WSU Football team was rolling, on a three-game winning streak and with one of its tougher conference games already happily in the rearview mirror. Not even running into the wall of muscle and discipline that is the Stanford football team could put a damper Cougar fans' spirits, or so they thought.
...
How it happened: No. 5 Stanford's bigger, faster, more disciplined athletes dispatched the Cougars with ease in Seattle. Tacoma's Michael Rector showed off for his hometown fans on the Cardinal's first, hauling in a 48-yard pass from quarterback Kevin Hogan. Stanford only came away with a field goal on that drive, which WSU matched, but had no trouble scoring on the next two as Devin Cajuste hauled in touchdown receptions of 57 and 33 yards.
Things only got worse for the WSU offense. Stanford was bigger, badder and sent quarterback Connor Halliday limping to the sideline early in the third quarter. It's a good thing he was able to return, because backup Austin Apodaca looked ready to wave the white flag after body-shattering blows from Kevin Anderson and Ben Gardner. Instead, he threw a short pass that Stanford Trent Murphy easily corralled and ran 30 yards back for a score.
The Cougars offense didn't score for a second time until the fourth quarter, when the score was 48-3. Apodca recovered enough to throw touchdown passes to Gabe Marks and Rickey Galvin, but that did not take the edge off the 55-17 loss.
What it meant: The Cougars had obviously improved but still had plenty of work to do before they could compete for 60 minutes with the cream of the conference. Former walk-on Elliott Bosch could try with everything he had, but it wasn't enough against future NFL players who were also trying pretty hard. Halliday also had a noticeable limp at the end of the game, and the rest of the team was pretty well beaten up.
Our coverage:
---
---