Fri., June 6, 2014
Friday Flashback: Auburn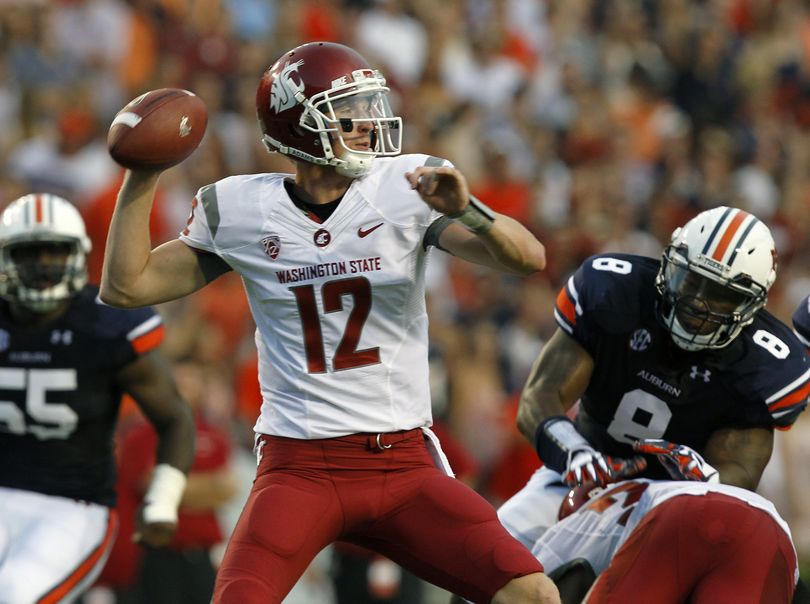 It was the first game of Washington State's best season in a decade, it was nearly the Cougars' most improbable upset, in hindsight, in at least that long. Auburn played in the BCS championship game last season, but its breathtaking run was almost undone from the start at home by an upstart team from the country's northwestern corner.
The muggy affair was a game of superlatives. Jeremiah Laufasa – since transferred to UTEP for want of a scholarship – scored two touchdowns. Auburn's Corey Grant rushed for 146 yards – twice as much as teammate Tre Mason, who was drafted 75th overall in the NFL draft.
Instead, Mason's impact was felt on a 100-yard second quarter kickoff return for a touchdown.
The WSU defense held Auburn quarterback Nick Marshall to 99 passing yards and just 10 completions in 19 attempts. Cougar counterpart Connor Halliday said afterward that, "If (Auburn) had a quarterback they'd be a top five team. They just don't have a guy that can throw it."
They were bold words coming from Halliday, who threw three interceptions in the 31-24 loss, but they were prescient. Marshall was better after that first game and Auburn finished second in the AP rankings after a close loss to Florida State in the last championship game of the BCS era.
Follow the jump for more on WSU's 2013 season opener.
…
How it happened: The game was billed as a matchup between power conferences, but not powerful teams. Auburn regressed enormously once Cam Newton left, the Cougars struggled in coach Mike Leach's first season and the teams entered the game having each won just three games the year before.
Early on it looked like Leach's squad was mcuh better prepared than first-year coach Gus Malzahn's Tigers, and the Cougars led for most of the first half. Washington State took the first lead on a four-yard plunge by Laufasa. Then AU's Mason scored from eight-yards out and the Tigers completed a two-point conversion.
The score continued to seesaw. Bobby Ratliff scored on a pass from Halliday. Mason scored on the ensuing kickoff. Laufasa scored again, then Grant. Auburn kicker Corey Parkey's field goal with 1:11 left in the half broke the back-and-forth, and gave the Tigers a 25-21 lead heading into the locker rooms.
The second half was less of an offensive show. The Tigers outkicked the Cougars two field goals to one, and held on, 31-24, to keep their surprising bid for a perfect season intact, even if nobody knew it yet.
What it meant: For Auburn, it meant a clean start to Malzahn's tenure as head coach. While the score may have been closer than the AU faithful had hoped for, the win over a BCS team effectively ensured that the Tigers would eclipse their win total from the previous season.
For the Cougars, well, this was unexpected. It sucked to lose, of course, but it was nice to be disappointed in a close loss on the road against a talented team with a rabid fan base. A win would have been epic no matter what AU's record the previous season had been, and it was cathartic for fans to be grieve the fact that the Cougars lost, rather than they way in which they had lost.
In short, it was an early indicator that the 2013 Cougars might be different, and might have what it took to finally end that bowl drought.
Our Coverage:
---
---