Tue., March 11, 2014
Day after Saint Mary's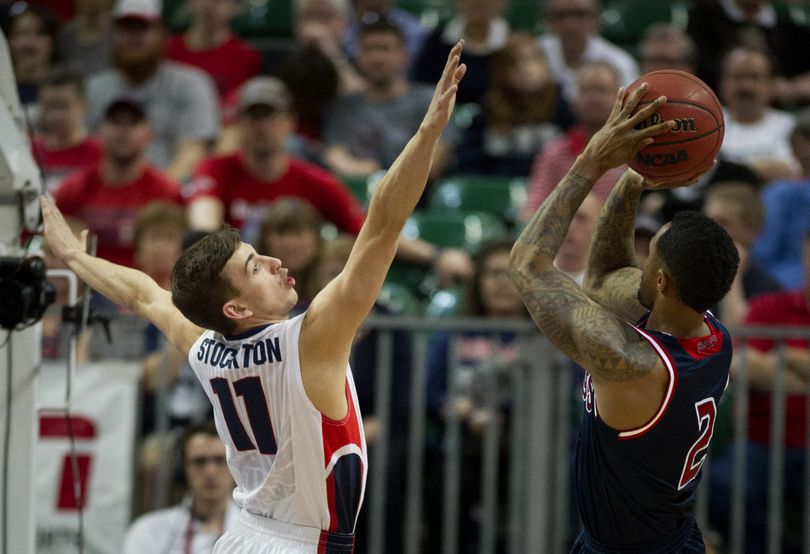 Another busy day ahead in Las Vegas with the Gonzaga men and women playing for titles at Orleans Arena -- GU-BYU women at 1, GU-BYU men at 6 -- so we'll move on to our day-after Saint Mary's post.
It'll be shorter than usual. Heading to the arena soon and Gonzaga players had exited the locker room by the time the Bulldogs' press conference ended.
GU roughed up the Gaels again Monday night, 70-54, to advance to the championship game. Here's my game story, John Blanchette's column, Colin Mulvany's photos (many of these pictures show the physical nature of the contest), and recaps in the San Francisco Chronicle and Contra Costa Times.
GU's women handled Saint Mary's on Monday. Photo gallery here.
BYU's men went cold for the last 6 minutes of regulation but managed to advance to the title game by edging San Francisco in overtime. More on that game here, here, here and here. BYU's women pulled away in the second half against Pacific.
--Call it the San Diego effect. By coach Mark Few's accounting, GU guards/wings tossed 14 runners at the hoop in that late-season loss to the Toreros. One found the target.
The mantra since has been to get to the rim, even if it means shots get swatted once in a while. The Bulldogs, particularly David Stockton and Gary Bell Jr., have been far more effective and productive in the last four games.
"I think (Bell) is feeling a little healthier since got back (from a broken finger). He had those four weeks off in middle season; I don't think his legs are probably as tired as some of the other guys'," Few said. "With all these guys, they kind of pick and choose."
Stockton made nine trips to the free-throw line against the Gaels.
Kevin Pangos, fairly quiet in the first two games, had two buckets – a soft-bounce 3-pointer and a nice finish off glass over Brad Waldow. He also got to the line with another foray into the lane.
--The Gaels, dominated inside and outside in the first two meetings, had more success in the paint in Round 3. Center Brad Waldow was in attack mode from the opening tip. He had four baskets and 10 points in the first half.
SMC also did a solid job defensively on GU's inside tandem of Sam Dower Jr. and Przemek Karnowski. Dower was just 2 of 11 from the field but he made all 8 of his free throws to finish with 12 points. He grabbed nine boards. Karnowski struggled, scoring two points to go with four boards and four turnovers.
"They doubled harder than they have in past," Few said.
Waldow's energy level seemed to drop in the second half. He attempted just three shots and sat out for extended periods of time. He finished with 14 points and only three rebounds.
STATS OF NOTE
--Saint Mary's had 18 assists in three games against GU.
--The Gaels had 38 turnovers in three games against GU.
--Dower, 23 of 23 at the free-throw line in the last two games, has set WCC Tournament records for most made FTs and most made FTs without a miss. Overall, he's made his last 24 free throws.
--Bell led GU in minutes played with 36.
--SMC's Jordan Giusti started but he played only three minutes.
--Starting forward Beau Levesque played 13 minutes, two in the second half. He didn't score.
--Karnowski and Stockton each have 61 turnovers, tied for most on the team.
--GU has made just 7 of 25 3s in two games, but the rest of its offensive numbers (49.3% FG, 73.5 ppg) are close to the regular season.
QUOTEBOOK
Stockton: "It was a really physical, fast-paced game. I think we're pretty well built for that type of work."
BYU coach Dave Rose: "I expect a hard-fought game, it'll probably be really physical front. They really depend on those two bigs to score and their guards have so much experience. We look forward to it."
Dower, on defending Holt: "It's just a team effort. We don't leave our guys on an island."
SMC coach Randy Bennett: "I told our guys I thought we played pretty hard tonight but we did not play well enough."
---
---