Thu., Nov. 13, 2014
Vandal seniors try to make one last memory at the dome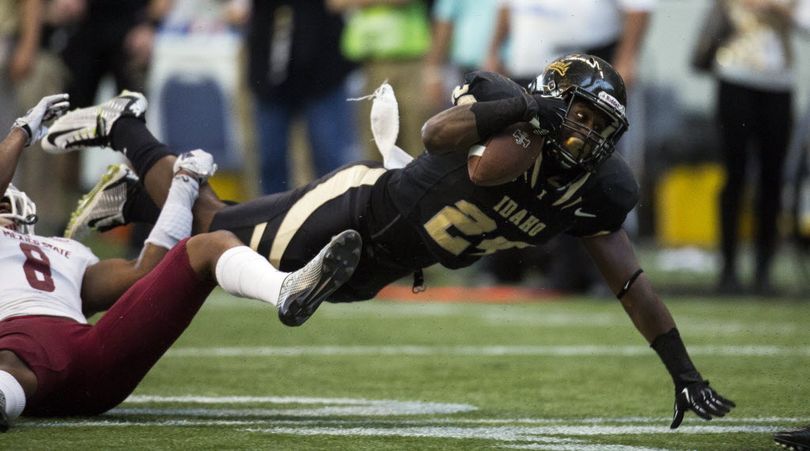 The emotions that will run through this Senior Day at the University of Idaho couldn't be more ambiguous.
These occasions are always a mixture of wistfulness and amped-up aggression anyway, and that will certainly be true for the 19 seniors who will make their final football appearance in the Kibbie Dome, as well as coach Paul Petrino. But there's probably veins of resignation, pent-up frustration, disappointment, resolve and maybe even bitterness, too -- and certainly if you include the dwindling numbers of Idaho's ticket users in the equation.
For more on Idaho's Senior Day game against Sun Belt Conference opponent Troy on Saturday at 2 p.m., jump on the link.
Running back Jerrel Brown (pictured above) is part of the hodgepodge senior class getting its Kibbie farewell, and just looking at the makeup of that group is evidence enough that not each of the principals will have the same perspective on Saturday's proceedings.
The senior class includes fifth-year perennials like Mike Marboe, who has started all 45 games during his time on campus, and Tom Hennessey, who has clawed his way up from walk-on scout-teamer. There are four-year guys like safety Bradley Njoku and defensive tackle Quayshawne Buckley. Junior college transfers make up nearly half the group, and had varying levels of impact in their short time here -- the upside represented by quarterback-turned-receiver Josh McCain, who's likely to wind up as Idaho's MVP this year. There's even a one-year guy -- cornerback Joe Smith, a graduate transfer from Utah.
Some never cracked the starting lineup. Some held the team together through a coaching change and four straight dismal won-lost seasons. Surely all feel unfulfilled by that lack of success, and some simply in their desire to play more. One last victory in the Dome may not erase their frustration, but it sure wouldn't hurt.
"At this point, all I care about is winning this game," said Marboe. "I wish we'd won more, but going out with these guys on a winning note is all I'm thinking about."
Petrino understands the varying emotions, because he's experiencing them himself -- if in a different way.
"It'll be a lot more emotional day this year personally than last year," he said. "I wasn't around some of those guys that long.
"I'm a lot closer with these guys this year. It takes time for anyone to build trust with each other. The more hard work you put in together, the closer you become."
And though the Vandals have won just one game in nine starts this year and have failed to reverse a trend that's seen them lose 40 of 45 games over the last four seasons, Petrino believes the bond of this senior class is one of taking "pride in how far we've come. They were the guys who helped us get to this point, where we've played these (opponents) close."
-- The quarterback drama continues. Petrino said both Chad Chalich, who made his first start of 2014 last week in the loss to San DIego State, and Matt Linehan will play Saturday -- providing Chalich is able to play. The sophomore from Coeur d'Alene is being slowed by a hip injury sustained against the Aztecs.
Chalich had 80 first-half rushing yards against SDSU -- a huge component in the Vandals taking a 14-14 tie into halftime. But mobility issues from the injury and increased attention from the Aztecs kept him from a positive game after intermission, and Linehan played significant minutes in relief.
"If both are healthy," Petrino said, "both will play."
-- The senior class apparently took a hit in the last week. Cornerback Delency Parham is not listed on the latest Idaho roster after not playing at San Diego State. Parham started the previous game, a home loss to Arkansas State. Idaho's weekly release for the Troy game does not include him among the seniors who will be recognized Saturday.
-- More from Petrino's weekly media briefing below:
---
---