Fri., Nov. 14, 2014
And the beat goes on with Mike Marboe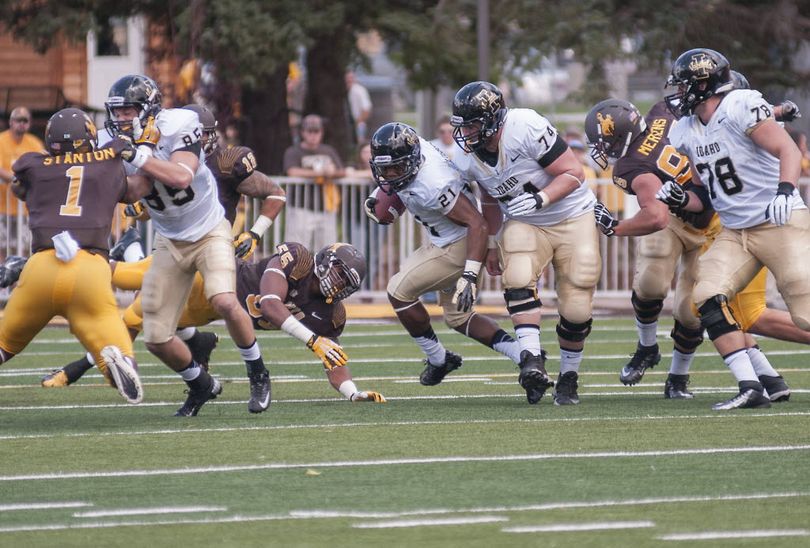 Mike Marboe is a throwback, maybe in every sports sense of the word.
He's the epitome of a durable grinder you simply can't get out of the lineup -- he's started all of the 45 games for which he's suited up as an Idaho Vandal after redshirting his first year on campus. But his roots go much deeper. He's a fifth generation Vandal, whose great-great-great grandfather Clancy St. Clair was one of the school's regents.
For more on Marboe (No. 74 above), who plays his final home game at Idaho on Saturday when the Vandals face Troy at the Kibbie Dome, jump on the link.
Here's a look at Marboe, one of 19 Idaho seniors who'll get their Kibbie farewell today, that appeared in the Spokesman-Review.
A few notes that didn't make the cut:
-- In discussing Idaho's resurgent running game, coach Paul Petrino has cited just a greater commitment to sticking with run during play calling, and always notes that freshman Jordan Rose's return to the lineup in midseason has been a key factor. From Marboe's point of view, it seems more elementary.
"We just keep chipping away," Marboe said. "We knew we'd be a good offensive line and a good set of backs. We just weren't quite popping those runs early on, but coach didn't give up on it, which is a credit to him. We kept working in practice on more combo blocks and just found a better rhythm with the backs."
-- Much is made of the fact that Marboe has played for a different position coach each year at Idaho, including his redshirt year. The offensive line coach who recruited him, Dan Finn, left after the 2010 season to go to San Diego. Then came John McDonell and Gordy Shaw, and when Petrino arrived as head coach Jon Carvin arrived with him. And Marboe raved about Carvin's approach heading into the 2014 spring game and looked forward to a second season "speaking the same language." Not a month later, Carvin resigned. Petrino shifted offensive coordinator Kris Cinkovich from receivers to the O-line "so at least the scheme didn't change." And while it's probably been frustrating to adapt to new approaches each year, Marboe tends to shrug it off now.
"Everybody's got their own style," he said. "But it's just one of those things life that I think will just makes me stronger. Whether it's a new boss at a job I have some day, you have to adapt to change. You can't pout about it. You learn the way they coach the game, their terminology, their style. I've done all right with it.
"It has been the full spectrum, but I haven't had a bad coach with any of them. I've developed good relationships with most of them and they've helped make me better."
Marboe's father, Scott -- himself a former Vandal offensive lineman -- had his own spin on the situation.
"I told him that it can only help him, really," Scott said. "If he gets into somebody's (NFL) camp, the way you learn offenses and schemes -- how quickly you can pick them up -- might give you an edge."
---
---