Sun., Nov. 16, 2014
Idaho Vandals hit rock bottom in loss to Troy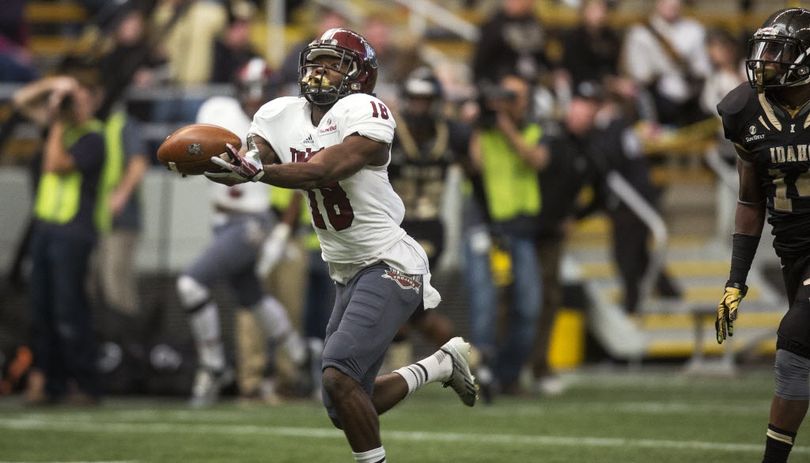 This was the flip side of those storybook Senior Day memories.
Idaho hoped to send 19 seniors out on an uptick in their final Kibbie Dome appearance Saturday afternoon. Instead, it was all banana peels and pratfalls for the Vandals, who fell to Troy 34-17 in a Sun Belt Conference game -- the Trojans getting three interceptions by Montres Kitchens and a pair of long touchdown receptions from Bryan Holmes (above, beating UI's Armond Hawkins).
For more perspectives on the Vandals' dismal day, jump on the link.
Well, not too many perspectives. For the second straight home game, Idaho coach Paul Petrino opted not to make any of his players available to the media. Not sure whether he thinks he's protecting them or punishing them.
In any case, here's the game story that was first posted on spokesman.com, and the story and stats from Idaho's website. For the Troy angle, there's a story from the Montgomery Advertiser and another from the Dothan Eagle.
-- Among the more troubling questions for Idaho is what looks to be the regression of quarterback Matt Linehan. The bright spot in the team's early season struggles, he has not been the same performer since he was knocked out of the New Mexico State game. Petrino refused to find fault with any of Linehan's three interceptions but the freshman now has 17 on the year. Only New Mexico State's Tyler Rogers (20) has more.
One issue might back of diversification. In Idaho's first home, nine different receivers caught passes from Linehan. On Saturday, that number was four. Half Linehan's 14 completions (in 36 attempts) went to Josh McCain, who has now topped 1,000 yards for the season. Probably 10 of the misfires targeted McCain, too. Richard Montgomery and tight end Justin Podrabsky were other targets, but Deon Watson and Jacob Sannon had no catches and rarely had a ball thrown their direction. Now, receivers have to get open and Linehan needs time to find them, but the ball can't always be going to McCain -- as it did even when he was triple covered on Linehan's second interception.
"Eight is pretty good," Petrino said of McCain. "Some of the times, (Linehan) didn't have time to get through his progressions. Some of the plays are designed for 8. And there were times he had guys wide open and he didn't have time to get to them or didn't see them."
-- In the previous three games, Idaho rushed for 310, 243 and 193 yards. On Saturday, the Vandals managed just 117 -- and not because the Trojans loaded up against it.
"They were playing cover 2 half the time," Petrino said with some disgust, "which is really disturbing. They weren't even putting extra guys in the box. They were slanting . . . and their ends were coming under to stop a lot of the cut game we've been running.
-- Retiring Troy coach Larry Blakeney comes off as a prototypical good ol' boy, and he was certainly feeling pretty good as he noted that "our kids played better across the board tonight probably than we played in any game" this season. And they were playing some man. It wasn't rocket science."
And the long road trip that started on Thursday and thus meant two nights in a hotel?
"There wasn't a lot to do out here," he said. "We took them to a movie and had pizza one day for lunch. It was a long stay, but I think it was a healthy situation."
Not a lot to do in the Palouse? And Troy is Times Square?
-- Then again, maybe Blakeney just has a way of sticking in the knife without realizing he's doing so.
Petrino ran out of ways of disparaging his team's effort and execution, and he and his staff's shortcomings in the preparation department. He pointed out how the Vandals were "god awful" on third down (1-of-11), and that Troy ran 83 plays to Idaho's 63. Here's how Blakeney painted that same statistic:
"It's hard to call offensive plays when you have the ball as much as we had it," he said. "You just got to keep spitting them out."
Yep. Gotta find a better opponent so the offensive coordinator can have a breather.
-- Whether it would have made a difference in how the offense played in the second half is questionable, but even with Idaho's defense lapses in the first half, the Vandals certainly had the chance to be even or ahead at intermission. Late in the second quarter after they surrendered a field goal that put Troy up 10-3, Montgomery -- who ran hard on returns and routes all day -- took a swing pass to the left and broke free and angled across the field on spectacular 76-yard play. He finished it off by staggering into the end zone backward, all the while straining to tightrope the sideline.
And then everyone saw the penalty flag on the turf at the Troy 31-yard line. Steven Matlock had been called for a chop block.
Nonetheless, the Vandals kept grinding and found themselves with a first down at the Troy 12. But they couldn't come up with a play. Mason Woods got flagged for holding. A post route to David Ungerer was broken up by Troy's JaQuadrian Lewis. Linehan was sacked by Tyler Roberts. And to cap it, Idaho didn't even get the consolation prize, as Austin Rehkow hooked a 41-yard field goal attempt.
-- Petrino has second-guessed himself on field-goal-or-go-for-it decisions before this season, and did again after a momentum-turning blocked punt by Tony Lashley early in the second half set up the Vandals on the Troy 10. On fourth down at the 2, Petrino opted against the field goal and instead rolled Linehan out right. But Troy managed to string out the play and the quarterback forced a pass into traffic that Kitchens made the first of his three interceptions.
"Looking back on it, I possibly should have (tried a field goal)," Petrino said. "But I thought we had some momentum and I thought we had a good play. It was one of our 2-point plays. But we didn't execute it."
-- In addition to the families in to help honor the 19 seniors, Linehan's father, Scott, was in the meager crowd of 8,535, the smallest Kibbie Dome crowd in three years. The elder Linehan, himself a former Idaho quarterback, took advantage of a bye week for the NFL Dallas Cowboys, who employ him as passing game coordinator.
-- Speaking of bye weeks, the Vandals now have their second Saturday off of the season before their season finale on Nov. 29 at Appalachian State. The Mountaineers once looked like a likely victim -- they lost four straight after splitting their first two games. Now they've reeled off four straight wins, and shocked Arkansas State on Saturday.
---
---