Wed., Nov. 26, 2014
Is Chalich in or out? Don't ask the coach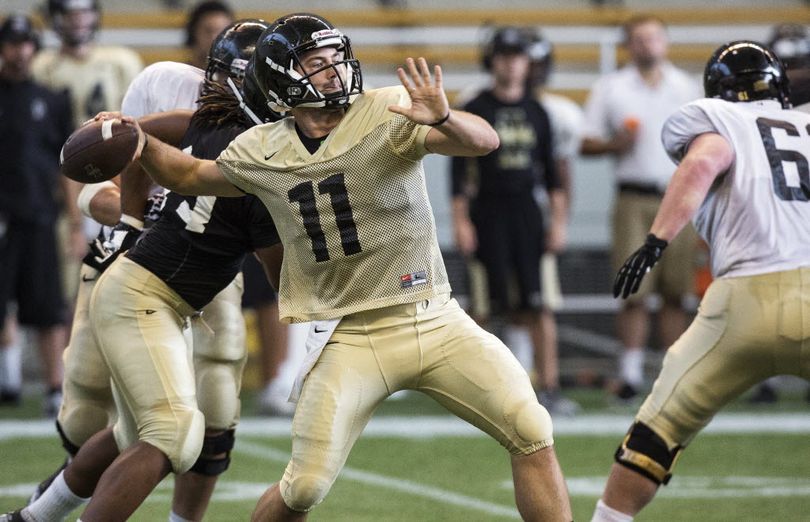 Idaho's bye week produced more drama than some of the Vandals' game weeks have.
But during his weekly press conference on Tuesday, coach Paul Petrino did his best to snuff it out, refusing to address reports that quarterback Chad Chalich (above, in a photo from spring ball) has decided to leave the Vandals' program at season's end and transfer to the University of Montana.
The Vandals, winners of just one of 10 games, close their 2014 football season Saturday with a trip to new Sun Belt Conference member Appalachian State. For more, follow the link to the jump.
Sam Adams of SWX, citing a "reliable and anonymous source," reported last week that Chalich had informed Petrino of his intentions during the bye week. But Petrino refused to confirm or deny that report, or talk about Chalich's future at all.
"That's something I really don't want to talk about until the season's over," Petrino said. "That's something between me and him and then we'll address it when the season's over."
It seems reasonable to assume that if Chalich had committed to return to Idaho next year, the coach would be scotching any reports otherwise. And the fact that Chalich's sister, Sara, and some UI teammates decided to retweet the SWX report wouldn't seem to be a good sign for the Vandals.
The timing, however, is intriguing, and possibly troubling, on a couple fronts. One, the Vandals have a game this weekend at Appalachian State. Chalich missed UI's home finale against Troy with a hip injury, didn't practice Monday night and Petrino didn't sound particularly hopeful that the sophomore would be ready by Saturday. That would leave the Vandals without a backup to starter Matt Linehan, unless Petrino was willing to burn freshman Jake Luton's redshirt in the season's final game. And if Chalich has told the coach that he's planning to leave, would he want to risk further injury even if he's cleared for action?
"Yeah, he'd be questionable (for Saturday)," Petrino acknowledged. "He still isn't moving real well. Hopefully he can be at least a backup.
"He's moving a little better and feeling a little better -- but I wouldn't say it's a whole lot better."
As for Chalich's presumed destination, Montana coach Mick Delaney announced his retirement last week, effective at the end of the season. It's possible there will be an entirely new staff by next spring. Would a player commit to a program when he doesn't yet know the identity of the coach? Chalich would have to enroll at the semester break to take part in spring drills in Missoula.
-- One emergency option for Idaho at quarterback has always been receiver Josh McCain, a junior college standout at the position who saw time at quarterback for the Vandals last season before making his position switch. But McCain, who has amassed more than 1,000 receiving yards this season, missed practice Monday and Petrino declared him "really sick.
"He came in and (trainer) Barrie (Steele) saw him this morning and sent him home, and we sent him to a doctor (Tuesday morning). His status is up in the air."
-- Austin Rehkow has made the cut down to the three finalists in the voting for the Ray Guy Award, which honors the collegiate punter acclaimed as the nation's best. Also on the final list are Tom Hackett of Utah State and JK Scott of Alabama. The winner will be revealed on the Home Depot College Football Awards show on Dec. 11.
Rehkow, a sophomore from Central Valley High School, led the nation in punting a year ago and is back on top again with a 47.8-yard average. Scott is second in the nation at 46.8; Hackett is third at 46.5. Eighteen of his 42 punts this season have topped 50 yards, and 15 have been downed inside the 20-yard line.
---
---