Sat., Oct. 11, 2014
Vandals lose to Sun Belt leaders to fall to 0-6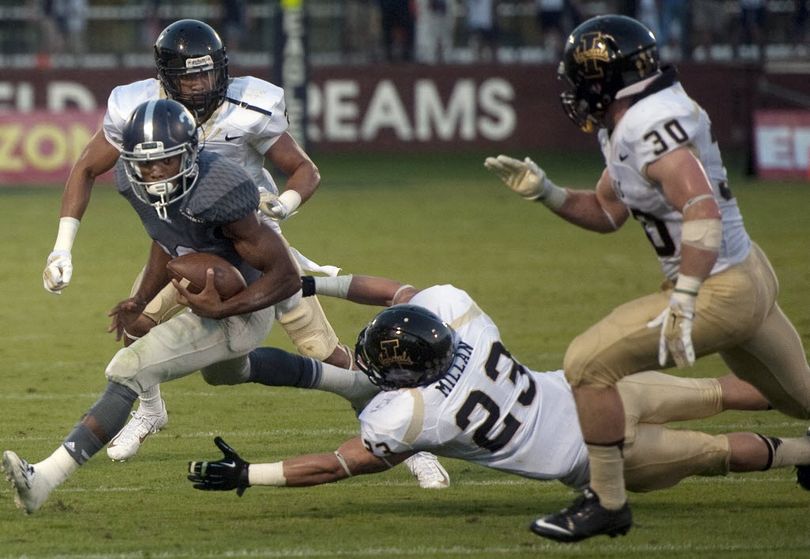 Slow start? Check. Surrendering big plays? Check. Resilience? Check. Inspired comeback? Check. Killing interception? Check, and mate.
The Idaho Vandals followed a familiar scenario Saturday, and once again came up short in a bid for their first victory of the season. Georgia Southern solidified its spot atop the Sun Belt Conference standings, riding a 155-yard rushing day from Matt Breida (above, pursued by UI's Marc Millan, 23, and Tom Hennessey, 30) and the savvy quarterbacking of Kevin Ellison to a 47-24 victory in Statesboro.
The link below will take you to more on the Vandals.
You can start with the story that first appeared on spokesman.com, and move on to game accounts from the Statesboro Herald and the Savannah Morning News. There are also stories on the UI website, and Georgia Southern's page. You can find the stats here.
Not each of the Vandals' six defeats this season has followed the same formula, but enough have that you'd think coach Paul Petrino might want to tweak something in the approach. Buried 63-17 in the first quarter of its first five games, Idaho found itself in a 13-3 hole again this day. Once again, the big play was the bane of the Vandals -- seven covering 20 yards or more by the Eagles, one for a touchdown and four others that led to scores. But, as usual, the Vandals managed to hang in there and even when GSU eased out to a 23-point lead in the third quarter, they came roaring back and got within a failed two-point conversion (of questionable timing) of making it a one-possession game.
And with nearly 13 minutes to make their big move, the Vandals took over on their own 16-yard line with momentum on their side.
At which point quarterback Matt Linehan threw a crushing interception. Again.
In this case, it was as GSU's rush forced him to step up in the pocket and try a two-handed push pass to Deon Watson crossing over the middle. But the ball was slightly behind him, and all he could do was throw his right hand up and get a piece of it. GSU defender Matt Dobson got the rest, and returned the ball to the house for a 40-24 lead. It was Linehan's 11th interception of the year -- six of those coming in the fourth quarter. Idaho's next two drives ended in a punt and a fourth-down failure, sending their record to 0-6, 0-3 in the Sun Belt.
Georgia Southern, meanwhile, wrote a little Sun Belt history by becoming the first team to win its first four league games. That start, and a schedule that allows them to miss Louisiana-Lafayette and Arkansas State, puts the Eagles (5-2 overall) very much in the driver's seat.
A few notes:
-- Backup quarterback Chad Chalich made his first appearance of the season with about six minutes to play when Linehan took a hard shot and had to leave the game. The stats only credit him with a 41-yard completion on the game's last possession, but it sure looked like No. 11 on the ESPN3 webcast throwing a couple of passes after taking a four-yard loss on a rush.
-- Safety Chris Edwards reportedly did not make the trip to Statesboro. Hennessey, a fifth-year good soldier who had never started, got the call in his place, and Utah senior transfer Joe Smith got his first start at corner in place of Delency Parham. And after starting in nickel the past three games, the Vandals came out in a 4-3, with freshman Tony Lashley getting his first start at linebacker.
-- The Vandals didn't run the ball collectively as well as they did a week ago at Texas State, but they did have their moments early. Or at least Elijhaa Penny did. Once again, Petrino's dartboard approach to his running game put a different back on display. Kris Olugbode who ran so well a week ago? Didn't get a carry. Aaron Duckworth, the freshman Petrino raved about during the week? He carried the ball three times for eight yards and never returned, though it was unclear whether he may have be injured. But the bullish Penny was solid, rumbling for 75 yards on 21 carries and three touchdowns. Expect to see him more in those critical zone situations. Or not.
-- What the Vandals didn't do was stop the run. Ellison is a smooth operator of the spread option and Breida is a swift and slashing back, but all too often assigned gaps were unfilled, and the Vandals again had trouble with pursuit angles and wrapping up on tackles. The Eagles finished with 349 yards rushing -- 550 total -- with Breida gaining 155 and L.A. Ramsby just missing a 100-yard day with 98.
-- There were some big moments in the Vandals' brief comeback. A terrific fourth-down catch by tight end Justin Podrabsky on a nervy throw by Linehan kept alive a drive that ended with Penny's second TD and cut the gap to 33-18. The Ellison muffed an exchange with a running back and Eric Tuipulotu won the scrum to set up the offense with a short field, Penny again scoring on a short run. That's when Petrino decided to go for two again and Linehan missed on the pass, leaving the Vandals nine down when a PAT kick would have kept it a one-possession game. Not that it meant anything in the end.
-- And just in case losing again wasn't discouraging enough, it sounds as if the Vandals had some travel issues on the return flight.
Idaho returns to the Kibbie Dome next Saturday for homecoming and a 2 p.m. date with old WAC partner New Mexico State.
---
---