Thu., Oct. 30, 2014
It's deja Vandal all over again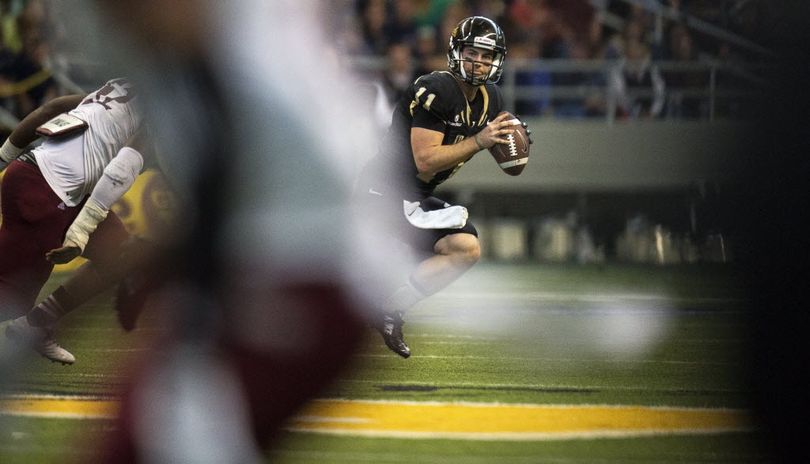 Now where have we heard this before?
After a bye week that gave them extra time to savor their first victory of the 2014 football season, the Idaho Vandals are deep into prep mode for a run at two in a row when they host Arkansas State on Saturday at 2 p.m. in the Kibbie Dome. And the news from coach Paul Petrino this week? That both Matt Linehan and Chad Chalich (pictured above) figure to see action at quarterback.
For more on the Vandals, the click on the link below.
Yes, this was Petrino's company line during the entirety of fall camp, through the washout of the scheduled season opener at Florida and right up to kickoff of the for-real season opener at Louisiana-Monroe. But freshman Matt Linehan, revealed as the starter just before the kickoff of the Florida game, proceeded to take every snap until the late going of Idaho's sixth game, a loss at Georgia Southern, when he was roughed up and gave way to Chalich.
Then Linehan was really roughed up the next week against New Mexico State -- a blow to the head knocking him out during the Vandals' first possession. That's when Chalich stepped in to guide the Vandals to a 29-17 victory, with a solid effort that included an 18-32-1 passing line for 192 yards, plus 73 yards rushing.
Now Petrino is all but insisting both will get time against the Red Wolves.
"If I was Arkansas State, they'd better be prepared for both of them," Petrino said. "This week I would say they'll both definitely play some."
Linehan's mostly steady play and competitive streak made it difficult for Petrino to justify mixing in a series or two for Chalich -- in losing their first six games, quarterback play wasn't the part of the Vandal attack that was broken. But the way Chalich responded against the Aggies probably merited some reward -- and perhaps swayed Petrino that two quarterbacks with different tools could be used to his team's advantage. Linehan isn't afraid to tuck the ball and run, but he's definitely a pass-first quarterback. Chalich has more of a hair-trigger when it comes to running it himself.
"We'll have a package in for Chad, too," Petrino said. "The reps Chad takes in practice each week is always the stuff that is in his package, so when he gets in there and ready to go, he's been working on it."
-- If a quarterback shuttle can keep the visitors off balance, so much the better. The Vandals will need every advantage they can find. Now that they have their first victory, what the program -- and Petrino -- could really use is a statement victory. Knocking off the similarly woeful Aggies was one thing; Arkansas State (2-1 conference, 4-3 overall) was picked to finish second in the Sun Belt before the season by both the coaches and media, and while the Wolves dropped a wild -- and nasty -- 55-40 decision to favorite Louisiana-Lafayette last weekend, they're still a handful.
The Wolves are one of those contrary to ordinary programs. Back in Idaho's previous tour of the Sun Belt, ASU wasn't such a much. The Wolves had no finishes over .500 between 2001 and 2010 under Steve Roberts, though they did make it to the New Orleans Bowl in 2005. The NCAA also vacated 10 of their wins that year and in 2006.
Then ASU brought in Hugh Freeze -- you know him as the coach in "The Blind Side" that Hollywood turned into a befuddled bumpkin. He took the Wolves to a 10-3 record in 2011 before moving on to Ole Mis. Where he's done OK. Gus Malzahn followed and used a 9-3 season -- he didn't coach the bowl game -- as a stepping stone to Auburn. Where he's done OK. Then came Bryan Harsin, who went 8-5 and skedaddled to Boise State.
Where he's doing OK.
Now it's former North Carolina offensive coordinator Blake Anderson trying to put his stamp on the program.
So how have the Wolves managed to hang in there despite sustaining more turnover than the soil under a harrow?
"They've got real good players," Petrino said. "When it was Hugh Freeze and then Malzahn, they did a good job of recruiting. When you've got really good players it's easy to change coaches and still win. They're used to winning and the players obviously do a good job of leading within. You would think at some point it would take a hit on them, changing all the time, but it hasn't yet."
-- Giving up 55 points to ULL may have revealed some soft spots, but the Wolves still have a defense stout enough to rank third in the Sun Belt in scoring and yardage allowed, and they top the conference in pass efficiency defense. They have probably the league's top linebacker in Qushaun Lee (and a better-than-decent companion for him in sophomore Xavier Woodson). Dexter Blackmon is a load at defensive tackle -- one of six seniors who start on defense, including three in the secondary. On offense, freshman quarterback Fredi Knighten has been a bit of a revelation -- he's second behind Linehan in SBC passing yardage, and has thrown just four interceptions in 235 attempts.
And like New Mexico State, the Wolves have a prime target in J.D. McKissic -- another freshman with 42 catches to his name. Of course, NMSU's big gun, Teldrick Morgan, was held without a catch by the Vandals.
"If we shut down (McKissic) with no catches, we'll probably win the game -- but that'll be a hard thing to do," Petrino said.
They did it to Morgan by throwing regular double-teams at him -- a cornerback one-on-one, with a safety over the top. That means, as Petrino noted, "You've got to give up a little bit somewhere. Our defensive line did a great job of controlling their offensive line. We stopped the run at times with only five guys in the box -- at times we made it look like five sometimes and got another guy in there."
-- Things got pretty ugly for ASU in that Lafayette game. Both Woodson and cornerback Andrew Tryon were ejected -- Woodson for spitting on a ULL player, and Tryon for two personal fouls. Both were also reprimanded by the Sun Belt, as were teammates Frankie Jackson and Tres Houston for acts deemed flagrant and unsportsmanlike that weren't noticed by the officiating crew. ULL also received reprimands to one player and two assistant coaches, and the officiating crew from the game will serve a one-game suspension.
-- Freshman quarterback Jake Luton, a graduate of Marysville-Pilchuck High School, was home visiting his family last weekend as the community was reeling from the shooting of five students -- three fatally -- by freshman Jaylen Fryberg, who also died from a gunshot wound from his own hand as he scuffled with a teacher. Luton's younger brother, Jordan, witnessed the shootings in the school cafeteria, on Twitter posted, "Never would I have thought he would have been the one to do something like this." As he prepared to return to Moscow on Sunday, Jake Luton tweeted that, "The very last thing I want to do is leave Marysville to go back to Moscow. Don't wanna leave my family."
"I got on the phone with him right away when it first happened," Petrino said. "You just pray for his family and pray for everybody there."
You can check out Petrino's weekly press briefing below:
---
---