Fri., Sept. 12, 2014
Linehan family making its mark at UI … again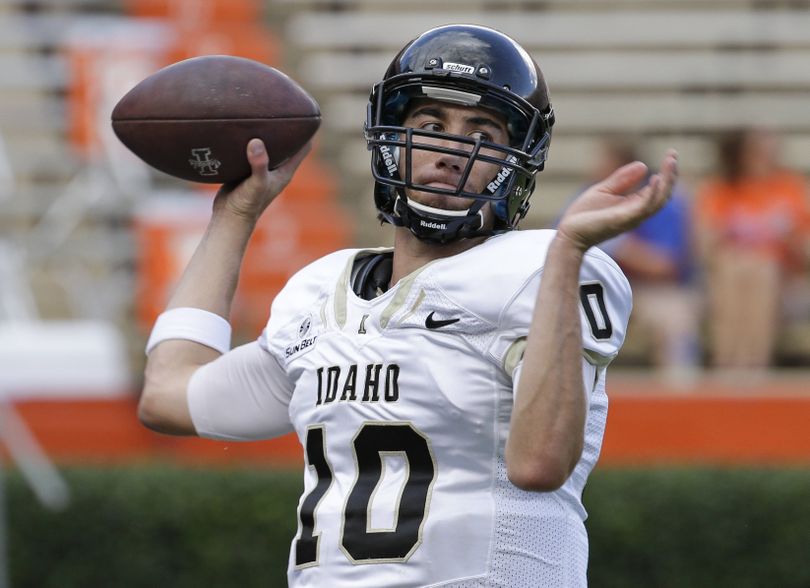 It was 30 years ago that Scott Linehan ascended to the starting quarterback's job at the University of Idaho, after an apprenticeship under Vandals legend Ken Hobart.
Now he's the passing game coordinator for the Dallas Cowboys after several coaching stops in the college and pro games -- including two-plus seasons as head coach of the St. Louis Rams. And now his son Matt (in photo above) has taken over the family business as starting quarterback of the Vandals, though coach Paul Petrino insists the competition is still open between Matt and Chad Chalich.
For more on the Linehans and Idaho football, click on the link.
Scott Linehan's first stab at quarterbacking the Vandals didn't last long -- he broke a clavicle early in his second start, and missed two games after that. There would be more injury problems, including foot surgery that cost him much of his junior year, but he's still sixth on the school's passing yards list, behind some pretty familiar names: Doug Nussmeier, John Friesz, Nathan Enderle, Hobart and John Welsh.
We caught up with him and Matt this week for this column as the Vandals prepare for Saturday's 2 p.m. home opener against Western Michigan in the Kibbie Dome.
Some Linehan leftovers:
-- Matt was born in Seattle while his dad was an assistant on the University of Washington staff. The family moved to Louisville -- where Scott Linehan and Paul Petrino again worked together, under John L. Smith, in 1999. In 2002, Scott made the jump to the NFL with stops at Minnesota and Miami as offensive coordinator before getting his head coaching chance at St. Louis. But Matt got to sty in one place during high school, as Scott was OC of the Detroit Lions for that duration.
-- Scott knows all those moves can take a toll on school-aged kids but he also saw an upside: "It wasn't a hard thing for Matt to go across the country to Moscow as a freshman and stay in a frat for a couple of months and prepare for his first year. I couldn't imagine that -- growing up in a small town (Sunnyside, Wash.), Moscow was three hours away and I thought it was on the other side of the world. To him, it's 'This is my next journey.' "
-- The coach's kid cliche of always hanging around at practices with Dad wasn't necessarily true for Matt Linehan as "professional football doesn't have that as much as the college game," Scott said. "At training camp more, yes. And once he was into the sports world, he was doing his own thing. He's actually spent a heck of a lot more time with his mother -- which is probably why the kid has made it to college. I don't know if he'd got out of grade school hanging around me."
-- Speaking of which, Matt Linehan didn't just inherit athletic ability from his father. His mother, Kristen, was a basketball player on Idaho's 28-2 team of 1985 that won the old Mountain West Athletic Conference women's title and advanced to the NCAA Tournament, and also played at Portland.
-- As for the coaching father/playing son dynamic, the Linehans have tried to put that in neutral a bit. "I'm his dad and I happen to coach football and that's what he loves to do," Scott said. "There's definitely some things that make it an advantage and also things that can be a distraction if I overstep my bounds. If he has a (football) question, he can ask it -- but he has coaches and people in charge of his development as a player."
-- Petrino was certainly upbeat about Matt Linehan's debut performance and his dad was pleased. But no one seemed more impressed than Josh McCain, one of Chalich's backups last year who has moved to receiver and caught eight passes for 93 yards and two touchdowns in the Vandals' 38-31 loss at Louisiana-Monroe. "He looked like he'd been out there all four years," McCain said.
---
---