Fri., April 17, 2015
Best guess at the 2015 WSU two-deep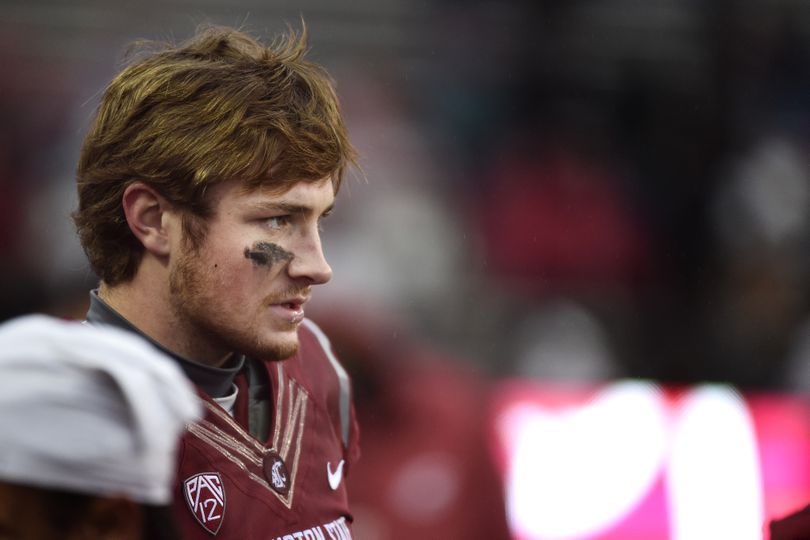 The Washington State Cougars are now two-thirds of the way through spring football practices and while there is still movement among the first, second and third units, we're starting to get an idea of where guys stand. So, I thought it would be fun to take my best guess at next year's two-deep for the season-opener against Portland State.
A couple highly-regarded junior college transfers won't be arriving until the fall, so keep in mind that I'm simply guessing where they'll end up based on their reputations. For example, I have Shalom Luani at strong safety, but I wouldn't bat an eyelash if they decide to put him at the nickel position.

I'll put some notes down below, but here is what I came up with: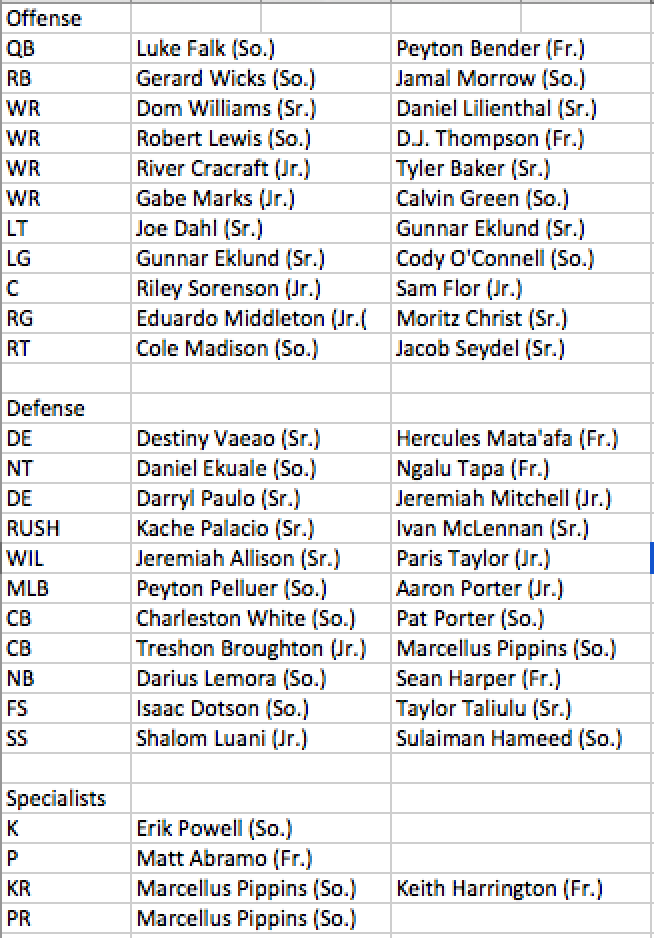 A couple things:

-- Inside receiver is in a bit of flux right now, and while Tyler Baker has played well I'm still projecting River Cracraft to take over at the Y spot once he's no longer limited in practice. The Thompsons, D.J. and John, have both played well as backup inside receivers and really, either of them could win the backup H position. For now, I have D.J. Thompson there, but it also seems like every year there's a true freshman that impresses at receiver so maybe Kyle Sweet will come in and win the spot.

-- At outside receiver Daniel Lilienthal has played well enough that I expect him to stay as the backup on the left side. While the Cougars did add a big junior college receiver in C.J. Dimry, my read is that the 6-foot-6 treetop will mostly be used in packages near the goal line, at least initially.

-- I've flipped Gerard Wicks and Jamal Morrow at running back, and I expect Keith Harrington to see the field plenty as well. Really, the three positions will probably be interchangeable and who plays the most will be based on individual opponents. Still, I can't help but remember the way Morrow wore down toward the end of last season, to say nothing of some limited time this spring, and think that the bigger Wicks might be the favored option to bear the brunt of the workload this season.

-- I feel pretty good about the front seven (six?), although I expect there will be lots of subbing and once the game gets going you'll see guys like Dylan Hanser, Reggie Coates and other sub in fairly frequently. However, I am taking a flyer on Porter at backup middle linebacker because of his reputation. If not him then expect to see Greg Hoyd III at that spot.

-- The back end took a little more guesswork, since two junior college prospects seem likely to play. In fact, I have them both starting. I also have incoming freshman Sean Harper playing, based on his reputation and body type. But Marcellus Pippins has had a good camp so don't be surprised if he's able to hold off Broughton, or if one of the newcomers ends up at a different position. They're still figuring out the best spots for some guys and you could certainly see a situation where Shalom Luani comes in, beats out Sulaiman Hameed and the coaches decide to move Hameed to the nickel spot to keep the best players on the field.

-- That's all for now, I'll let you know in the practice reports if my opinion changes as I'm sure it will. Don't forget, the Cougars are scrimmaging tomorrow at 1:20 p.m. in Martin Stadium.
---
---