Wed., April 29, 2015
Projected Idaho Vandals post-spring depth chart
It's finally over, and it ended with Matt Linehan throwing for a bunch of yards on Idaho's backup secondary.
So where do the Vandals stand at the conclusion of Paul Petrino's third spring practice?
Well, for Vandal fans the answer is hopefully better than the one-win team of the three seasons prior. But that can't be answered until at least September.
But I can answer where most position battles on the field stand. So read on.
Here is my best observation at where Idaho's depth chart roughly stands at the conclusion of spring practice. Although a lot of this isn't cut and dried, which I'll explain below.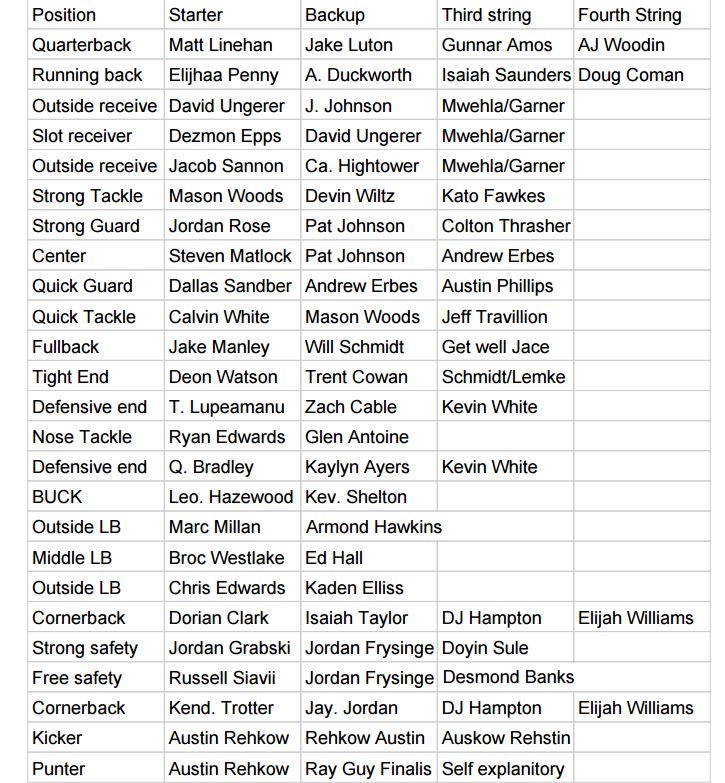 Now, some notes on this.
The offensive line is not a simple plug and play based on which position a player operates at with the second team. Patrick Johnson worked with the second team as a center, but moved to strong guard with the first team when Jordan Rose was injured. Idaho will play its five best offensive linemen and move their positions around to do so. So, Johnson must be the sixth best lineman, fitting in where ever the hole happens to be. Andrew Erbes moved to center when Johnson moved to the first team, although I'd believe Johnson would fill in for Steven Matlock should an injury occur there.
Wide receiver depth is still wide, wide, wide open. The only thing we know right now is that Epps, Ungerer and Sannon are the top three. Ungerer and Sannon worked on the outside while Epps operated in the slot in order to get the best possible matchups. Callen Hightower and Jermaine Johnson standout as the fourth or fifth receivers, but don't sleep on Michael Garner or Rueben Mwehla to break out in the fall, especially with a need in the slot behind Epps.
Linebacker depth past the first team was hard to get a gauge on with so many injuries to the group. Tony Lashley hardly participated at all in the fall, while Kaden Elliss and Armond Hawkins but rolled with the first team a lot while Chris Edwards sat out with an ankle injury. Hawkins played some SAM linebacker, moving there from cornerback this spring. Kaden Elliss might have an opportunity to see consistent minutes in games if soon-to-be defensive coordinator Mike Breske chooses to have his sideline to sideline speed in there in a rotation.
The defensive line rotated players heavily during the final scrimmage of the spring, when ones went against ones. Kaylyn Ayers, Kevin Shelton and Glen Antoine should see field a fair amount during games to spell Bradley, Edwards and Lupeamanu. Antoine is also a starter in Idaho's goal line defensive package.
Jordan Frysinger is the third safety. He filled in at both Siavii's and Grabski's spot when each missed practice.
Very little is settled at cornerback. Four players saw time with the ones during spring practice, with Kendrick Trotter being favored earlier in the spring but Dorian Clark breaking through later in the spring. Your guess is as good as mine as to who starts there against Ohio University on Sep. 3.
Finally, let's talk about quarterbacks. I get asked sometimes what it would take for Matt Linehan to lose his grip on the starter's job. Well, obviously bad form in fall would give Jake Luton plenty of opportunity to take that starting spot. But I don't see that happening. I see Linehan continuing to make progressions and to start against Ohio. But why should Petrino announce that now? Why not give Luton an opportunity to improve over the summer and see what he has in the fall? This is arguably the best quarterback situation Idaho has had since Brian Reader was backing up Nathan Enderle, if not better. There is little reason for Petrino to call the competition and have Luton only be mentally prepared to be a backup.
Because, here's the thing. Linehan has no solid claim on this job until he can consistently produce in games. He had those two impressive showings last season against Louisiana-Monroe and Western Michigan. And then he went on to tie for the second-most interceptions in the nation, getting benched against Arkansas State and not starting the San Diego State game.
Besides the obvious threat of injury (which also gave Chad Chalich playing time last season as the backup), Idaho needs Luton to be prepared to play if Linehan struggles.
So, I anticipate Linehan to hold the No. 1 spot throughout fall but that gap will only be as big as Linehan makes it when the lights are on.
---
---