Sun., Aug. 2, 2015
Once again Seahawks save a bad day for Northwest sports fans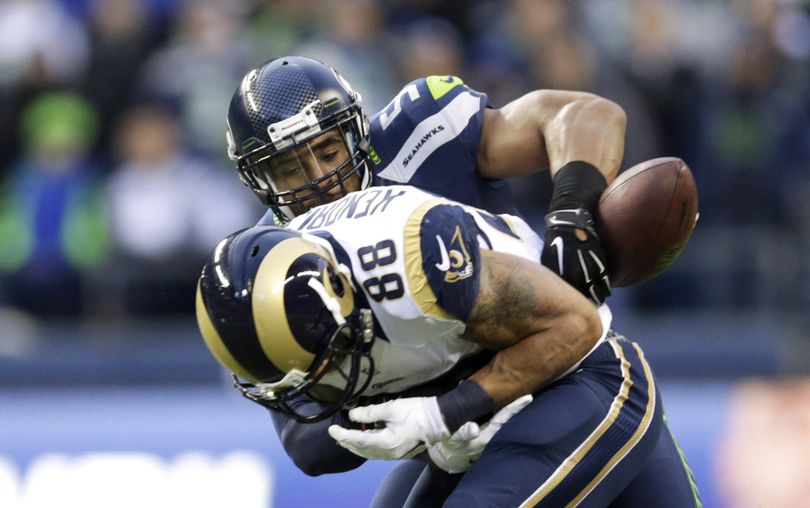 A GRIP ON SPORTS • If you are a fan of Northwest pro sports teams, then yesterday included one piece of really good news and two horrible competitions. It's hard to figure how that balances out. Read on.
••••••••••
• Because we're the optimistic sort – the laughter you hear is coming from people who know me well – we will start with the good news, which broke late last night. Bobby Wagner, as important to the Seahawk defense as anyone you can name, signed a contract extension with the team, ensure his presence in Seattle for a few more years. It was such important news, the first official word from the Hawks came from owner Paul Allen on Twitter. He even tweeted out a picture of Wagner with general manager John Schneider at a table after the contract signing. So what's the big deal? Wagner, who is entering his fourth season, has become the defense's counterpart to Russell Wilson. Wilson, who also signed an extension this week, uses his speed and brains to cause problems for opposing defenses. Wagner uses the same skill set to stymie opposing offenses. No matter how well the other 10 play, it was obvious last season while Wagner was injured the Hawk defense is diminished when he's not in the middle. That's why the team made him, for the moment, the highest-paid linebacker in the NFL. And why Seahawk fans can rejoice this morning.
• Now the rest of the story, starting at CenturyLink, where the Sounders were supposed to begin their march to the MLS playoffs. See, they were healthier, almost at full strength last night against Vancouver, their Cascadia rivals from the great north. Except the results were the same as they have been for the past few weeks. OK, not the same. Worse. Vancouver put a whipping on Seattle, winning 3-0. The Sounders have been out of sorts ever since the U.S. Open Cup loss to Portland that resulted in a Clint Dempsey suspension and an injury to Obafemi Martins. Martins is still out, though he's getting closer. Dempsey is finally back after the league-imposed vacation and his national team duty. It's time for the Sounders to start playing well again or a season that once held so much promise – at one point Seattle was easily the best team in the league – will fade into oblivion.
• That's where the M's season has been for a long time. Last night's 3-2 loss to the Twins isn't a killer. The Mariners' chances have been dead for a while now. But another blown save, this one by Carson Smith, that included two "wild pitches," well that's a new one. Wait, I do believe we've seen it before. We've seen just about every crappy way to lose a game you can possibly imagine since April and we're tired of it. The M's are just plain – what's the word I'm searching for? Horrendous? Discouraging? Abominable? Disastrous? Dead-to-me? You decide. I'm tired of thinking about them.
•••
• WSU: We woke this morning to a post from Jacob Thorpe that included links about the Cougars and the Pac-12. That made me happy because it's just another sign college football is inching closer. Jacob had a link to his feature this morning on WSU linebacker Jeremiah Allison, a story that is well worth your time. Jacob also had a blog post yesterday with more on the Pac-12 media days. ... The Register-Guard has a look at Washington State and a column on the Pac-12 Networks.
• Shock: The trip to Cleveland was a disappointing one for the Shock, as they lost 59-42 to the Gladiators. Next week's game at Las Vegas is now key to their playoff seeding.
• Indians: A four-game losing streak was thrown to the wayside last night, thanks to timely hitting and a shutout spun by the Indians' staff. Chris Derrick has the game story and a blog post from the 4-0 win at Avista that was followed by some fireworks. ... But that's not all Chris has today. He also has a story and a blog post on the Indians' representatives at Tuesday's all-star game. That all-star contest with the Pioneer League is the subject of John Blanchette's laugh-out-loud-funny column this morning.
• Seahawks: The Wagner contract news was, of course, the biggest story of the day. But it wasn't the only one, though off-field thoughts are still pretty darn dominant. (Where are you Kam Chancellor?) ... As camp inched toward the full-pads sessions, there is time to look at the new offensive weapons, the old guy on the offensive line and a couple of the new young/old guys on the defensive line. ... Really, in this day and age, how is it impossible to get the turf right? When are the 49ers going to wise up and install field turf?
• Mariners: Smith was pretty lights out while he was doing the setup duties. Then he became the closer and was just as effective. For a while. Now he's not. Though Mike Zunino (pictured waving at an early game, run-scoring wild pitch), doing his best Rob Johnson imitation, could have helped out by keeping a couple of balls in front of him in the wild 3-2 loss. ... The trade deadline has passed. And the M's have a couple of new faces on the roster and they are all happy to be here.
• Sounders: The Sounders have lost seven of their last eight matches. But Saturday night's 3-0 defeat to Vancouver also included the extra added attraction of the Whitecaps' insulting post-match celebrations. It ticked off Sigi Schmid – though he used another term to describe it – and he hopes it will tick off his team as well. ... Real Salt Lake just can't figure out how to win in D.C.
•••
• Sometimes it is hard to figure out a category to insert our local notebook on Sundays. Today is one of those days. So we put the link here. Just before we wish you a nice warm Sunday. Enjoy it. Until later ...
---
---