Wed., Aug. 5, 2015
Verbal commitments aren't always worth the paper they are written on
A GRIP ON SPORTS • Here's the deal. No one should get mad at a 17- or 18-year-old kid for changing their mind. But no one should take every 17- or 18-year-old kid at their word either. Especially not journalistic entities. Read on.
••••••••••
• What does the word "commitment" mean to you? Webster's definition includes the word promise. Basically, it's a promise to do something. A person's word. But it's not binding in any way, other than as an indicator of a person's character. Which is why I despise the emphasis put on verbal commitments in college recruiting these days. C'mon. A high school junior tells the world he's going to attend Whatsamatta U and it's treated as gospel. Then four months later he decides Whatsamatta isn't his dream school anymore and he's now headed to Badenov Tech. He's really committed this time. Again, it's treated as gospel. Why? Because recruiting is big business, in more ways than one. We all know is the lifeblood of college athletic programs. You can't win in any sport without talented players. Duke or USC or Alabama isn't Duke or USC or Alabama without four- and five-star guys. We all get that. Heck, Gonzaga isn't Gonzaga without the talented players it attracts. Coaches want commitments. One good quarterback may just lead to two really good wide receivers and a stud left tackle. So they push, and push hard. It's their job. But there is another business built around recruiting and commitments keep it humming. That would be the companies that report on recruiting, the Scouts and Rivals of the world. They do a nice job of keeping fans abreast of whom their schools are interested in and where those kids are thinking of going. But it's the commitment lists that garner the most attention. Fans check them religiously and they keep score. If Whatsamatta has 10 football players committed and six of them are four stars, its fans crow about the high-level players their school is attracting. If Badenov has 12 kids, though only five four stars, then its fans talk about the depth of the upcoming class. And the kids themselves, the ones that commit? There are a variety of reasons for making an announcement. Some recruits are genuinely ready to pick their college. They want the process to slow down. They make a choice in good faith and stick to it. But others use the commitment process differently. Some see themselves playing at a high-major school. But those schools have yet to show interest. So the player commits to a low-major school, hoping to prime the pump, to get the high-major schools interested. It works more often than you think because schools are constantly checking what their competitors are doing. A running back who may have flown under the radar commits to a school with a good reputation of identify diamonds in the rough may just end up getting a second, longer look by the big boys. And, in the end, attending the school he wanted in the first place. Then there are the kids who are pressured into a commitment by others, whether it be the coaches at Whatsamatta or by their parents or by, well, let's just call them "advisors" and leave it at that. Then they wake up one day and decide they never wanted to be a Whatsamatta Moose in the first place. They always wanted to be a Mud City Mangler. And they change their commitment. Hard to fault them. But where does that leave folks who cover college football for newspapers and the like? Between the proverbial rock and whatever a hard place is, that's where. They have to report commitments these days, it's part of the job. Even if they know – and believe me, there are kids we know about – it very well could be a sham. When that player, who has been committed for a while, changes his mind, then you have to report that as well. And go wash your hands about a dozen times.
• One other thing. I've been told Chris Peterson at Washington has some rules about commitments. He tells recruits the scholarship offer is there and will be there until they make up their mind. If they commit, it's set in stone. The school is locked in if they are locked in. But if they commit and then take visits to other schools, the offer may be pulled. (I actually was told the offer is automatically pulled but I find that hard to believe, considering the cutthroat nature of recruiting and the need to land the high-profile five-star recruits.) UW will look elsewhere, because taking visits means the recruit isn't really committed at all. So the Huskies don't have to be. Take a visit elsewhere, the offer flies away. The idea the commitment is a true two-way street appeals to me.
•••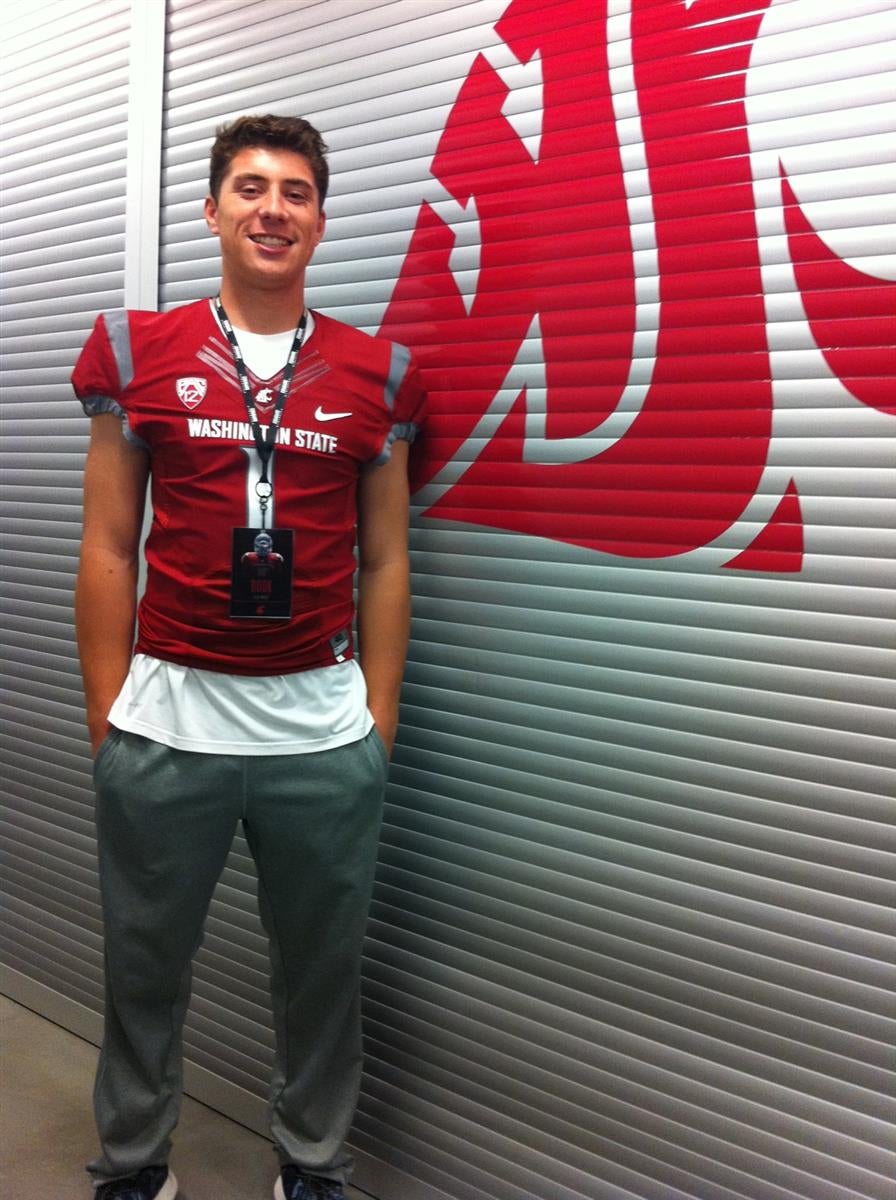 • WSU: Of course there is a news peg to hang our column on today. Quarterback Ian Book (pictured), who committed to Washington State months ago, has changed his mind. Last night he announced he is going to Notre Dame. I wonder how many of the four wide receivers currently committed to WSU made their decision because Book helped recruit them? (If you don't think players recruit other players, you haven't been paying attention.) And how many of them feel a bit betrayed. Jacob Thorpe has that news and other links in today's morning post. He also had a post yesterday on five WSU players who hold the keys to the season. ... The answer to this question is "no." The Utes won't win enough games. ... The Pac-12's basketball officiating alliance with the Mountain West is spreading to the other western conferences. ... Jacob had a link to a judicial story from Oregon. I like Austin Meek's column about the situation.
• Indians: It was an historic night at Avista Stadium on Wednesday, with the Northwest League and the Pioneer League playing an unprecedented all-star game. Chris Derrick covered the game itself – a 6-5, 10-inning win by the NWL – with this story and blog post, while John Blanchette was there as well and has this column. Jesse Tinsley covered the game and its buildup in this photo story.
• Preps: Former West Valley High baseball coach and major league player Jack Spring died Sunday at age 82. Tom Clouse has his obituary.
• Seahawks: The Hawks had the day off yesterday but that doesn't mean there is nothing to pass along. After all, it's a good day to look back at what's transpired thus far at training camp. ... The offensive line is a key position to iron out before the regular season begins. ... Chris Matthews had a heck of a Super Bowl. He wants to build off that. ... Doug Baldwin has a few things to share. ... Another look at the new defensive coordinator, Kris Richards.
• Mariners: You know what yesterday was? It was the 10th anniversary of Felix Hernandez's first major league start. A decade of Felix. The M's have won, what, 700 games in that span? ... They won their third consecutive game last night, pounding out a 10-4 win in Colorado as Nelson Cruz homered in his fifth consecutive game. ... The M's made a change in their bullpen again yesterday.
• Sounders: Seattle is only in the middle of the MLS pack these days, but the Sounders are in the Champions League, thanks to last-season's performance. They open in Vancouver tonight. ... He won't play today, but Seattle signed a European attacking midfielder to bolster the offense. The transfer window closes tomorrow and the team may make another move. For now, though, the powers that be like this move. Of course they do.
•••
• We are back on the radio today, joining Keith Osso and Rick Lukens on 700 ESPN between 3 and 6 p.m. You can listen here if you like. I'll be on a few times over the next week. You've been warned. Until later ...
---
---