Baldwin emerges from under the bus and, surprisingly, doesn't blast Harvin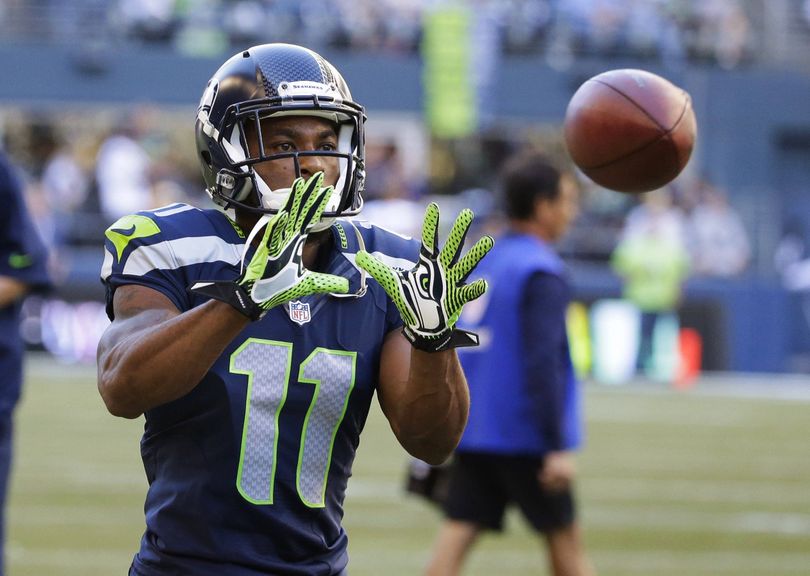 A GRIP ON SPORTS • The bible tells us to turn the other cheek. That's not the usual response in professional football, however. So when Percy Harvin came out swinging on ESPN earlier this week, it's surprising Doug Baldwin and the rest of the Seahawk receivers invoked their biblical privilege. Read on.
••••••••••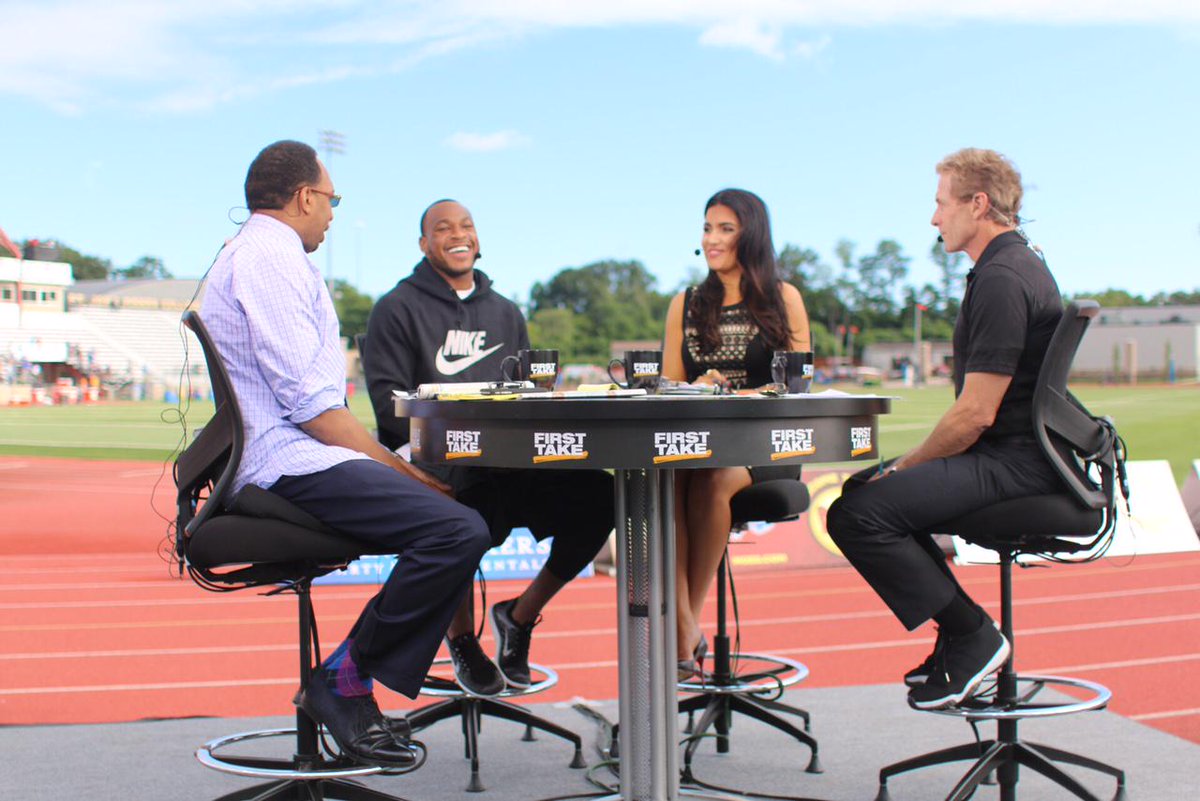 • Wednesday, Harvin, the former Hawk receiver who helped them win a Super Bowl than almost destroyed last season single-handedly, went on "First Take" (pictured) and threw some rhetorical punches at his former teammates. This is, of course, after reportedly doing the real thing about a year ago. Which meant Thursday was the day to get responses from the fellows Harvin threw under the bus. Guys like Baldwin, who was, reportedly again, involved in the altercation with Harvin. Remember, the Hawks wasted a lot of money and future capital, ie., draft picks, to bring Harvin to Seattle, with the express purpose of expanding the parameters of the offense. He did that, when he was healthy. But it didn't work – now we have a better idea why – and Harvin was soon on his way to New York, saving Seattle's salary-cap bacon. He's no longer in New York City, though. He's moved again, to upstate New York where he's the Bills problem. Which means there would be little stopping the Seattle receivers from responding in kind to his allegations they were less than welcoming to Harvin. Instead, the cheek was turned. Baldwin, instead of pulling back the curtain a bit on Harvin's stint in Seattle, kept to the code of the locker room. Maybe that's why he didn't blast the prima donna. Or maybe it is the example Russell Wilson sets, the nice guy persona off the field. Or maybe it's something else, something akin to Baldwin having possibly been decked by Harvin in their altercation – or vice-versa – and Baldwin doesn't want that incident to resurface. Whatever, he did the Christian thing and turned his cheek. In a week or two Harvin may just hit him – metaphorically again – in that one.
•••
• WSU: Even Jacob Thorpe seems to be getting excited and he's the one who has to work 60-hour weeks soon. Still Jacob's blog post this morning – early this morning – has a hint of a young boy in late December: Christmas is coming and it's coming soon. Jacob also has a story in today's paper about practice, which begins tomorrow in Lewiston (pictured from last year). ... We have quite a few links to supplement Jacob's report. Sports Illustrated believes Washington State has the easiest schedule (a relative term) in the Pac-12. ... Former Cougar Darryl Monroe is ready to succeed another former Cougar, C.J. Mizell, at Akron. ... The Huskies' defense lost some real talented folks. ... Jacob also had a basketball post yesterday, as WSU announced Oklahoma, ranked eighth in this ESPN poll, will be it's first-round opponent in the Diamond Head Christmas-time tournament.
• Gonzaga: The Zags also announced their first-round opponent in the Battle 4 Atlantis in the Bahamas at Thanksgiving-time. Of course it will be Washington, a school they haven't played in years.
• Indians: The all-star break over, the Indians got back at it in Vancouver last night. And they extended their winning streak to three games with the 4-1 victory.
• Seahawks: Jesse Williams' professional career has been derailed thus far by injury and illness. Which is an understated way of saying the defensive lineman has been hit by two major injuries and then, this past spring, a battle with cancer that cost him a kidney. He's already back on the field, however, and doesn't think there is anything strange about that. ... Earl Thomas is also cleared to practice, though it will be a while before he's in full pads. ... The Kam Chancellor holdout is still in the news, of course, with ESPN saying there may be a way to end it and others wondering why it happened and how it can end.
• Mariners: So what do the M's do the rest of the season? ... Nelson Cruz is having a spectacular year, though he doesn't like to talk about it. ... Another Fernando Rodney blown save may just be the last straw. ... It's funny to look at the 1995 season from this perspective.
• Sounders: The transfer window did close yesterday afternoon, though we may still hear of changes as teams finalize paperwork. ... Portland made a move before the window closed.
•••
• I am scheduled to be on the radio today. From 3 to 6 p.m. on 7000 ESPN with Dennis Patchin and Rick Lukens. You can listen here. Until later ...
---
---