We still have some time to be reflective on Sunday mornings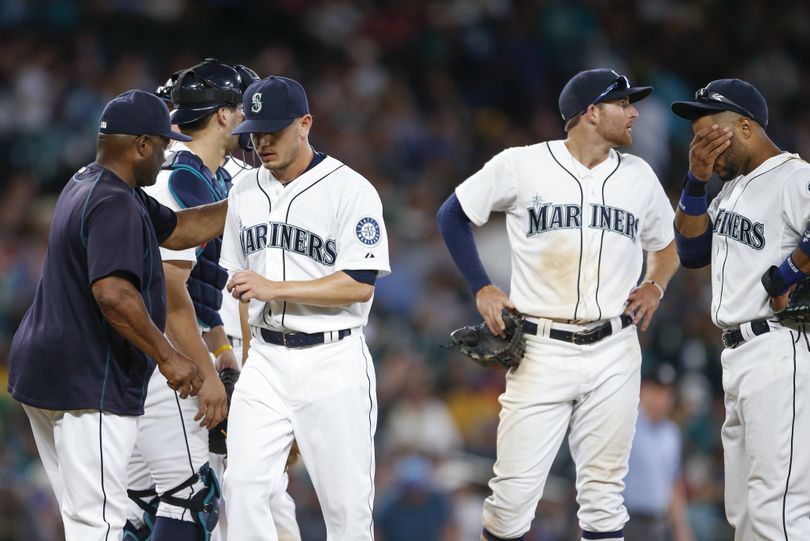 A GRIP ON SPORTS • Sunday mornings are always a good time to look back, to reflect on what's been happening in our world. It's also a good time to look ahead, to plan for the week to come. At least it is until next month, when Sunday morning will be all about football. Read on.
••••••••••
• With no college games to stew over and no NFL games on the horizon for a while, this Sunday can still be reflective. So let's do it.
• The M's are toast, of course, the type of toast that is so black you can't even scrape the burnt parts off and eat it with a ton of butter. So what happens next? Oh, about 40 more games. Then some changes. The biggest one should occur in the front office, with Jack Zduriencik getting the boot after seven unproductive seasons. But who will be the next general manager, the next guy to try to build a consistent winner in Seattle? Speculation in the national media seems to have centered round Dave Dombrowski (pictured), the ousted GM of the Tigers, who has put together several successful teams for multiple franchises. Heck, the Los Angeles Times' baseball writer had this line in today's paper: "Seattle is a crazy good baseball town starved for a winner. If the Mariners dump Zduriencik, that might be Dombrowski's best bet." Let's hope the M's power structure is smart enough to hire Dombrowski and is flexible enough to give him the freedom to succeed. By the way, replacing Zduriencik with Dombrowski isn't a win for those of us who have trouble spelling.
• Washington State opened preseason camp (I know, I'm tilting at windmills trying to get folks to drop the inaccurate "fall camp" designation, but that doesn't mean I won't continue to rail about it; that's what I'm best at) yesterday in Lewiston and it attracted a large crowd of media. You can watch coach Mike Leach's after-practice comments on this blog post from Jacob Thorpe. About halfway through the interview, there are a couple things that seem to come up occasionally when Leach meets the media. According to reports, one player had to be taken off in an ambulance – something Leach wouldn't acknowledge. That just doesn't make sense. A player is hurt, everyone sees it, why not express some empathy for that player and move on? It just seems – and we're talking about perception here – expressing concern would be the usual response of someone who cares about the young men in his charge. But maybe not. Later, Jacob asks about a couple of touted freshmen who weren't at practice. Leach wouldn't answer in any depth why they weren't there. That's his prerogative. It doesn't seem helpful but that's OK. Eventually, he got to the reasons behind not answering and, though you may not agree with them, they make sense. He said he is concerned about the players who are there, not the one who are not. That's more than appropriate. You can't coach someone who isn't part of the team. So why waste time talking about them?
• Jamie Moyer was inducted into the Mariners' Hall of Fame yesterday. If there was one aspect of Moyer, a soft-throwing left-hander, which always stood out, it was his way of using others' skills against them. If a hitter was good at pulling the ball, Moyer changed speeds and kept everything away. If a hitter liked to spray the ball all over the field, Moyer changed speeds and was willing to come inside. But that wasn't the only thing that stood out. His ability to constantly exceed expectations was also above average, and he did it again Saturday. His actions during the induction ceremony not only departed from the norm, they turned normally cynical folks like Art Thiel into supporters. That's as big a feat as striking out Derek Jeter with the bases loaded.
•••
• WSU: Jacob has you covered with the Cougars today, what with his story in today's paper on Saturday's practice as well as a morning post today with links. There is also a whole bunch of blog posts, including a transcript of his live chat yesterday and interviews with, besides Leach, Jeremiah Allison, Alex Grinch and Luke Falk. There is also a blog post with just about everything you can think of from practice.
• EWU: The Eagles open preseason camp this week trying to answer a few more questions than usual. Jim Allen goes over the main ones in this camp preview.
• Shock: Spokane will enter the playoffs as the West's No. 3 seed after last night's 51-34 AFL victory in Las Vegas. Next week Spokane will travel to Arizona, which defeated Portland 67-39 on Saturday. ... San Jose routed Los Angeles in the regular-season finale.
• Indians: Vancouver took the game, 3-1, yesterday and also the series against the Indians.
• Preps: Tom Clouse catches up with former Mead football player Qasim Hatem (pictured), who has become an Islamic scholar. ... Yes, it's Sunday, which means it's time for our local briefs column.
• Seahawks: The Hawks held a scrimmage – or a mock-game if you will – yesterday. Who stood out? It probably depends on whom you ask. ... Pete Carroll had his thoughts, as did Jimmy Graham and Jermaine Kearse. ... Offseason surgery seems to have really helped Robert Turbin. ... The offensive line seems to be reworked every season.
• Mariners: The M's had a great chance to win yesterday in the 10th, after a two-base error put Seth Smith at second with nobody out. But Mike Zunino couldn't bunt him over to third, Kyle Seager couldn't get a hit and, after the Rangers walked both Nelson Cruz and Robinson Cano, Jesus Montero couldn't make contact. Then Texas scored eight runs in the top of the 11th and that was that. ... But boy that Moyer guy was great, wasn't he?
• Sounders: The L.A. Galaxy will have, pardon me, a galaxy of stars today when they host the Sounders. Seattle, on the other hand, will have a galaxy of stars on the bench, with two of the Sounders' three designated players – guys who don't count against the salary cap – sitting out. Who would have thought the cost-conscious MLS would come to this? ... San Jose was missing some folks and lost to Houston. ... Real Salt Lake was missing their coach after a few minutes of their 4-0 loss to Vancouver.
•••
• "Your mission, Mr. Grippi, if you decide to accept it, is to sit through a two-hour Tom Cruise movie with a tub of popcorn the size of Iowa, sucking on a soda the size of Lake Erie – then not use the restroom until the movie is over. As usual, your kidneys will self-destruct by the third act." Guess what Kim and I will be doing this morning. Until later ...
---
---